Did your invitation to Saturday's royal wedding get lost on its trip across the pond? We are not amused to report that ours has also gone astray.
Well, we must stay calm and carry on from home, then, rather than joining His Royal Highness the Prince of Wales (aka Prince Charles) at St. George's Chapel for the marriage of his son, whom we fondly call Prince Harry, to Meghan Markle. We shall simply fasten on our fascinators and take our morning coats out of moth balls. And we shall host our own celebration in the happy couple's honor (or should we say honour?), even if we can't be a part of the party at Windsor Castle after the ceremony.
Roast chicken is the perfect entrée to serve to guests at your royal reception, as this is the dish that was sizzling away as Harry knelt down to propose to Meghan. But this isn't a commoner's roast chicken — we're serving Barefoot Contessa Ina Garten's recipe, which has become famous for its romantic powers. Other couples, too, have experienced the same phenomenon that the royal couple has. Glamour magazine published the recipe, now dubbed Engagement Chicken, in 2004 after several of its own staffers had said yes to proposals that were, perhaps, prompted by serving the dish.
To accompany the entrée, a bright, colorful Salade Niçoise would be ideal. In an interview with the online magazine New Potato, Ms. Markle had been asked about her ideal food day. It would start, she said, with a blueberry-and-vanilla cleanse shake and end with a dinner of seafood, pasta, and a negroni.
At lunch, she would choose to sip rosé while enjoying "a Niçoise salad [served] with some Grey Owl goat cheese and a baguette."
Ms. Markle, who used to host a lifestyle blog called the Tig (thetig.com) after her favorite Tignanello wine from the Marchesi Antinori winery in Florence, Italy, has told the site Delish.com that french fries and vino are her vices. (A woman after our own hearts as well as Harry's, isn't she?) So this salad, as well as a glass of wine, would certainly be appropriate for your own post-wedding luncheon.
Pastry chef Claire Ptak of London's Violet bakery, a native Californian like Ms. Markle, will bake the wedding cake for the happy couple and has said that she is absolutely delighted to be a part of this "exciting event." Kensington Palace, the prince's official residence, announced that the creation would be a buttercream frosted "lemon elderflower cake that will incorporate the bright flavours of spring," rather than a traditional English fruitcake.
Since Harry and Meghan are the very model of a modern couple (though he retired from the Army as a captain, rather than as a major general), instead of towering tiers we're serving contemporary cupcakes that feature the fruity and floral flavors.
Let's all raise a toast to the happy couple and treat ourselves like royalty with this special reception repast.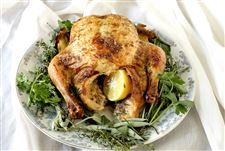 Perfect Roast Chicken (aka Engagement Chicken)
The Blade/Jetta Fraser
Enlarge | Buy This Image
Perfect Roast Chicken (aka Engagement Chicken)
"There is nothing as delicious ... as a perfectly roasted chicken," Meghan Markle once said in an interview with Good Housekeeping. "If you have an Ina Garten-level roasted chicken recipe, it's a game changer." Or, in her case, a life-changer: Meghan and Harry were preparing a roast chicken for dinner when he proposed to her.
1 whole chicken (approximately 4 pounds)
½ cup fresh lemon juice, plus 3 whole lemons (including 1 sliced for garnish)
1 tablespoon kosher or coarse sea salt
½ teaspoon freshly ground pepper
Fresh herbs for garnish (4 rosemary sprigs, 4 sage sprigs, 8 thyme sprigs, and 1 bunch flat-leaf parsley)
Position an oven rack in the upper third of the oven and preheat the oven to 400F. Remove the giblets from the chicken, wash the chicken inside and out with cold water, then let the chicken drain, cavity down, in a colander for 2 minutes.
Pat the chicken dry with paper towels. Place the chicken breast-side down in a medium roasting pan fitted with a rack and pour the lemon juice all over the chicken, both inside and out. Season the chicken all over with salt and pepper inside and out.
Prick two whole lemons three times each in three different places with a fork and place them deep inside the cavity. Chicken cavity size may vary, so if one lemon is partly sticking out, that's fine. (Tip: If the lemons are stiff, roll them on the countertop with your palm before pricking to get the juices flowing.)
Put the chicken in the oven, lower the oven temperature to 350F, and roast, uncovered, for 15 minutes.
Remove the roasting pan from the oven. Using tongs or two wooden spoons, turn the chicken breast-side up. Insert a meat thermometer in the thigh, and return the chicken to the oven; roast for about 1 hour to 1 hour and 15 minutes or until the meat thermometer reads 180F and the juices run clear when the thigh is pricked with a fork. Continue roasting if necessary. Keep in mind that cooking times in different ovens vary; roasting a chicken at 350F takes approximately 18 to 20 minutes per pound, plus an additional 15 minutes.
Let the chicken rest for 10 minutes before carving. And here's the secret: Pour the juices from the roasting pan on top of the sliced chicken. Garnish with fresh herbs and lemon slices.
Yield: Serves 6
Source: Ina Garten, barefootcontessa.com
Salade Niçoise
Meghan Markle once said in an interview that this lovely salad would be the lunch served on her perfect food day.
DRESSING:
2 garlic cloves, peeled, finely chopped
6 ounces extra-virgin olive oil
2 to 4 tablespoons red wine vinegar
Pinch sea salt
Freshly ground black pepper
SALAD:
4 boiled, peeled, quartered eggs
1 6.5-ounce jar artichoke hearts
4 very ripe tomatoes, quartered
Black olives
½ cucumber, peeled, sliced
4 spring onions, sliced
Handful green beans, topped, tailed, blanched
1 2-ounce tin anchovies in olive oil
Sea salt and freshly ground black pepper
Small handful fresh basil, shredded
For the dressing, whisk the garlic, oil, and vinegar (to taste) together in a bowl.
For the salad, arrange all of the salad ingredients, except the basil, in a shallow dish. Pour over the vinaigrette and season to taste with salt and pepper. Finish with a sprinkling of basil and serve.
Yield: 6 servings
Source: Adapted from Simon Hopkinson, bbc.co.uk
Lemon Elderflower Cupcakes with Buttercream Frosting.
The Blade/Jetta Fraser
Enlarge | Buy This Image
Lemon Elderflower Cupcakes with Buttercream Frosting
Instead of the traditional English fruitcake, Harry and Meghan's wedding lunch will offer a lemon-and-elderflower cake featuring "the bright flavours of spring," said baker Claire Ptak of London's Violet bakery. We're offering a scaled-down version of individually sized cakes.
CUPCAKES:
1 cup plus 3 tablespoons unsalted butter, softened
1⅓ cups sugar
Zest of 4 lemons (save the juice)
3 eggs
1 cup all-purpose flour
¾ cup cake flour
1½ teaspoons baking powder
¼ teaspoon salt
8½ tablespoons milk
1 teaspoon St. Germain elderflower liqueur
Drizzle:
3 tablespoons sugar
1 teaspoon St. Germain elderflower liqueur
6 tablespoons fresh lemon juice
FROSTING:
1 cup butter, softened
4 tablespoons prepared lemon curd
Juice from 2 lemons
1 teaspoon St. Germain elderflower liqueur
3½ cups powdered sugar
Make the cupcakes: Preheat your oven to 350F. Place paper liners into 16 muffin cups (using one large or two smaller tins).
In the bowl of a stand mixer, cream the butter and sugar well. Zest the lemons into the butter mixture and mix thoroughly. Beat in the eggs one at a time, making sure each one is thoroughly mixed in before adding the next.
In a large bowl, whisk together the flour, baking powder, and salt. Mix half of this into the creamed butter mixture, scraping down the sides, until barely combined.
While the mixer is still going, beat in all the milk along with the liqueur. Then add the remaining flour and mix until just combined. Scrape the bowl and give it one last mix.
Using a standard ice cream scoop, scoop the mixture into the prepared tin(s). Bake for 22 minutes, until the tops of the cupcakes are springy and an inserted skewer comes out clean.
Make the drizzle: Combine the sugar, liqueur, and lemon juice in a small pan and heat just until the sugar is melted. Do not let this boil, or the fresh flavor will be lost.
Use a skewer to poke holes evenly throughout the cupcakes. Pour the lemon drizzle over the cakes, 1 teaspoon per cupcake, and let it soak in. Let the cupcakes cool in the tin(s) for 5 minutes, then remove to a rack to cool completely.
Make the frosting: In a large mixing bowl, beat the butter, lemon curd, lemon juice, and liqueur until just blended. Add the powdered sugar 1 cup at a time, beating until thoroughly incorporated before adding the next increment. Add a touch more juice or powdered sugar to achieve the desired consistency.
Pipe the frosting onto the cupcakes. Decorate as desired and serve.
Yield: 16 cupcakes
Source: Cakes adapted from Claire Ptak, The Violet Bakery Cookbook; frosting by Mary Bilyeu
Contact Mary Bilyeu at mbilyeu@theblade.com, and follow her at facebook.com/​thebladefoodpage, bladefoodpage on Instagram, or @BladeFoodPage on Twitter.
Guidelines: Please keep your comments smart and civil. Don't attack other readers personally, and keep your language decent. Comments that violate these standards, or our privacy statement or visitor's agreement, are subject to being removed and commenters are subject to being banned. To post comments, you must be a registered user on toledoblade.com. To find out more, please visit the FAQ.