Apple recipes get to the core of cooking creativity
9/4/2018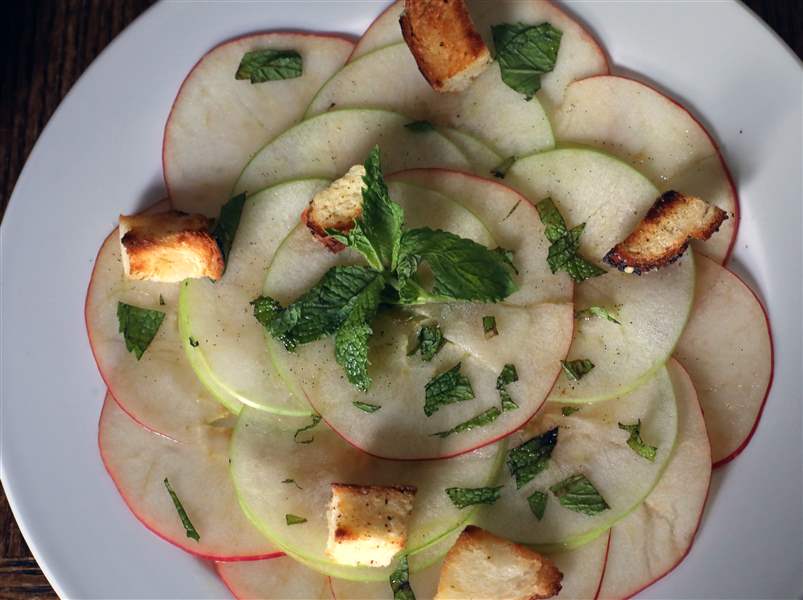 Apple Salad
The Blade/Amy E. Voigt
Buy This Image
How 'bout them apples? Early varieties of the fruit are starting to come in, so it's time to celebrate.
Of course, they're perfect for lunch boxes. They're also great for dunking into caramel and for baking into pies.
And we've also got some new recipes for you to enjoy, thanks to Christophe Adam's beautiful new book, aptly named Apples: Sixty Classic and Innovative Recipes for Nature's Most Sublime Fruit.
A French- and London-trained pastry chef, Mr. Adam begins with a tremendously useful introduction to three dozen apple varieties out of the more than 2,500 grown in the United States. He focuses upon those that are most readily accessible, though he does proudly note a few heirloom varieties from his native France.
He then goes on to share comfort-food recipes (a maple-sweetened upside down cake, apple dumplings in pastry), inspired artworks (roselike baked apples, small gelled bits of Apple Caviar), and creative takes on familiar favorites (cheesecake with a cookie crust and an applesauce glaze, a dessert pizza with apples and salted butter caramel, and a sweet risotto with apple matchsticks).
He's even thrown in a savory dish: Apple Carbonara, a pasta with apple cubes and pork belly.
We've chosen to feature a salad with paper thin slices of fruit; it showcases both Granny Smith and Pink Lady apples, for contrasts in color and flavor. Cookies with the richness of dark chocolate and the sweet-tartness of apples, and also beautiful roasted apples with a caramelized honey sauce, are also on the menu.
And we've made sure to include the recipe for Apple Peel Tempura — a fun way to use up scraps and reduce food waste.
Apple season is here. And, of course, it's the apple of everyone's eye.
Apple Salad
Refreshing Apple Salad
Christophe Adam writes: "The trusty Granny Smith is included for its acidity and the Pink Lady for its natural sweetness. One couldn't wish for more in terms of firm texture and crispness, both of which make this refreshing salad even more appetizing."
Dressing:
2 vanilla beans
Scant ½ cup water
½ cup sugar
Scant ¼ cup extra-virgin olive oil
Juice of 2 limes
Salad:
2 slices brioche or challah
2 tablespoons extra-virgin olive oil
4 Granny Smith apples
4 Pink Lady apples
1 lime
1 bunch mint
Edible pansies, for optional garnish
For the dressing: Split the vanilla beans in two lengthwise and scrape out the seeds.
Combine the water and sugar in a saucepan. Place over low heat with the vanilla beans and seeds. When the sugar has dissolved, bring to a boil. Remove from heat, cover with the lid, and allow to cool.
Strain the cooled syrup through a fine-mesh sieve into a bowl and whisk in the olive oil and lime juice. Reserve in the refrigerator.
For the salad: Preheat the oven to 350F.
Cut the brioche slices into small cubes and roll them in the olive oil to coat. Place them on a baking sheet lined with parchment or baking paper and bake for 12 minutes, turning them over from time to time, until golden. Transfer to a rack and allow to cool.
Wash the apples but do not peel them. Using a mandoline with safety guard (or electric slicer), slice them finely. Immediately coat them with the lime juice so that they do not brown.
To plate: Arrange the apple slices attractively in soup plates or bowl. Drizzle with the salad dressing and dot the brioche croutons over the top. Scatter with small mint leaves and a few edible pansies.
Yield: Serves 4
Source: Adapted from Christophe Adam, Apples
Apple and Chocolate Cookies
Apple and Chocolate Cookies
"The small cubes of apple enhance these delicious cookies," writes Christophe Adam.
2 cups self-rising flour
1 cup plus 1 scant cup all-purpose flour
2 teaspoons baking powder
1 tablespoon baking soda
1 pinch salt
2 sticks plus 4 tablespoons salted butter, softened
Seeds of 1 vanilla bean or 1 teaspoon vanilla extract
1½ cups light brown sugar
1½ cups sugar
3 eggs, at room temperature
3 apples, any baking variety
1 10-ounce bag chocolate chips, 60% cacao
Preheat the oven to 350F. Line a baking sheet with parchment paper or a silicone baking mat.
Sift the two types of flour, baking powder, baking soda, and salt together in a mixing bowl.
In a stand mixer fitted with the paddle attachment, or using an electric beater, cream the butter with the vanilla and the two types of sugar. When thoroughly combined, add the eggs, one by one, and then the sifted dry ingredients. Stop when just combined.
Peel the apples and cut them into small dices. Chop the chocolate roughly. Mix the two ingredients together.
Drop spoonfuls of cookie dough (the best tool to use is an ice cream scoop for even sizes) 2 inches in diameter on the prepared baking sheet, leaving sufficient space them to spread. Arrange the apple cubes and chocolate pieces over the surface of all of the cookies, pressing them in lightly.
Bake for about 18 to 20 minutes, keeping an eye on how they color. they should be golden around the edges but not dark. Let cool for 2 minutes on the baking sheet, then transfer them to a cooling rack with a spatula. Allow to cool completely and store in an airtight container.
Yield: About 1 dozen cookies
Source: Adapted from Christophe Adam, Apples
Roasted Apples a la mode
Roasted Apples with Honey
"Select firm apples that are slightly tangy," writes Christophe Adam, which will nicely complement the buttery honey caramel sauce that's created as the fruit bakes.
6 medium apples or 10 small apples
2 tablespoons unsalted butter, plus extra for the dish
3 tablespoons lightly salted butter
1¾ honeycomb or 5 heaping tablespoons flavorful honey
Preheat the oven to 400F. Butter an appropriately-sized ovenproof dish.
Using a small, pointed knife, score the skin of each apple in a spiral around its entire circumference.
Arrange the apples in the dish. Dot the two types of butter evenly on the apples and around the dish. Dice the honeycomb and divide the cubes evenly among the apples, or drizzle the honey around the apples.
Bake for 30 minutes, drizzling the apples from time to time with the juices in the pan. Lower heat to 350F and continue baking and basting the apples for another 15 to 20 minutes.
Serve warm or chilled.
Yield: 6 servings
Source: Adapted from Christophe Adam, Apples
Apple Peel Tempura with Honey
Apple Peel Tempura
Christophe Adam recommends using varied colors of apples in this "surprising recipe." And be sure "that the batter is very cold (that's why ice cubes are included in the ingredients list), and the oil, very hot. This guarantees a temperature shock that makes for the best tempura."
Peel of 8 apples of different varieties
4 cups oil for frying (a neutral oil such as grapeseed, sunflower, or canola)
1⅔ cups all-purpose flour
⅔ cup potato starch
1 pinch salt
2 cups hard apple cider, chilled
10 to 12 ice cubes
Powdered sugar, for sprinkling
Wash and dry the apples very carefully, ensuring that not a single drop of water remains on the peel. Set them aside.
Sift the flour, potato starch, and salt together in a mixing bowl. Make a well in the center and gradually pour in the hard cider, stirring constantly so that no lumps form. Add the ice cubes.
In a very large pot or fryer, heat the oil to 400F.
While the oil is heating, use a vegetable peeler to cut the apple skins into long strips.
Prepare a dish lined with plenty of paper towels.
When the oil has come to temperature, use chopsticks or tongs to dip the strips of peel into the batter, coating them completely. Working in batches, carefully drop them directly into the oil. Remove them when they are nicely golden and place on the paper towels to drain.
Serve warm, sprinkled with powdered sugar.
Editor's note: About halfway through the frying, remove the ice cubes from the batter so they don't thin it too much as they melt.
Yield: Serves 4
Source: Adapted from Christophe Adam, Apples
Contact Mary Bilyeu at 419-724-6155 or mbilyeu@theblade.com, and follow her at facebook.com/thebladefoodpage.