Poznan Poland: Find comfort with Polish potato soup
9/11/2018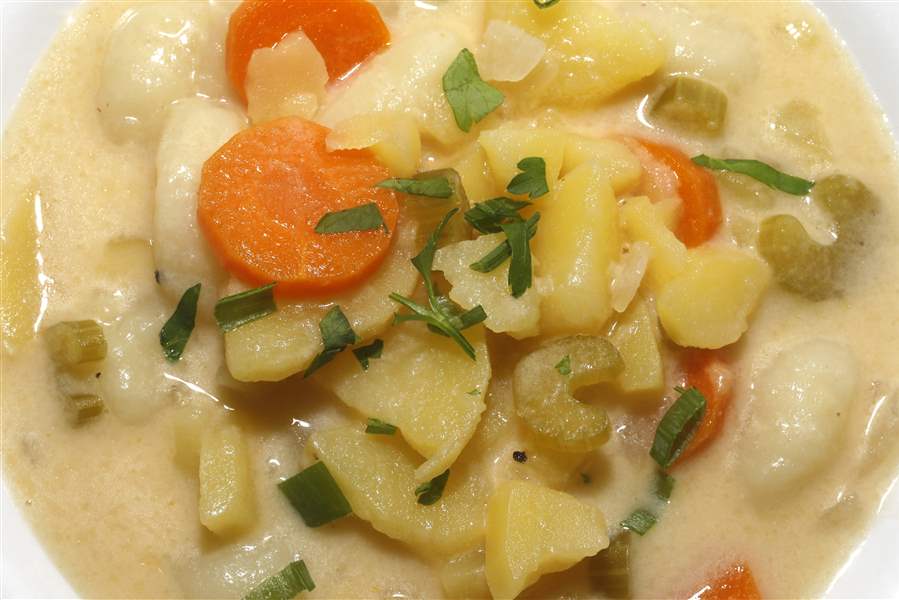 Potato Soup with Dumplings (Zupa Ziemniaczana z Knedlami) prepared by Blade food editor Mary Bilyeu at her home in Toledo on Wednesday, August 29, 2018.
THE BLADE/SAMANTHA MADAR
Buy This Image
"I've been to Poland numerous times, and I've never had a bad meal, ever," said Kathy Grabel, who was born in Poland and emigrated to the United States as a young girl. She has been involved with the Toledo-Poznan Alliance "since day one," beginning in 1991, she said enthusiastically.
Her friend Jackie Konwinski, the group's president, joined once she retired 10 years ago. Both women are very proud of the Alliance and its numerous activities and good works.
"We have visits from dignitaries," as well as student exchanges, Ms. Konwinski said. They sponsor a Polish-American student scholarship each year in addition to supporting the St. Ludwiga Special Education Center, an orphanage in Poznan (pronounced POHZ-nine) that also assists children with special needs.
The Toledo-Poznan Alliance, under the umbrella of the Toledo Sister Cities International, is the result of initial efforts by Rep. Marcy Kaptur (D., Toledo) to foster ties after the 1989 fall of Communism in Poland. Then-mayors John McHugh and Wojciech Kaczmarek affirmed a formal agreement in 1991, with separate signings in each city.
Thanks to their trips to our sister city and their own family heritages, Ms. Grabel and Ms. Konwinski are experts about Poznan's cuisine.
It's "basic peasant food," Ms. Konwinski said. It bears distinct influence from its western neighbor, Germany, some French input, and "heavy Jewish influence." People were farmers and laborers, generally, and they "lived off the land," she said.
The diet is based heavily upon "a lot of root crops, a lot of vegetables," Ms. Konwinski said. There is "always some kind of salad," Mrs. Grabel said, like mizeria [mooh-ZEHR-ia] with cucumbers and sour cream or a version of cole slaw.
Growing up, "it was always meat and potatoes," Ms. Grabel said. Veal, chicken, and beef are all served frequently, along with "a lot of pork," said Joyce Hojnicki, who visited Poland in June with a group that included Ms. Grabel.
There is "soup every day," Ms. Grabel continued. One of the many options might be barscht, the Polish variant of an Eastern European beet soup, or rosol, a classic chicken soup.
One typical dish is bigos [BEE-gohsh], a hearty stew with kielbasa and cabbage. "It's a lot of work," Ms. Grabel said. "It has to cook three to four hours." Another labor-intensive favorite is zrazy [zeh-RAH-zee]: round steak stuffed with mushrooms.
"It's getting to be fall — it's time for zrazy," Ms. Konwinski said of this cool weather dish that involves pounding the meat thin, making the filling, stuffing and tying the beef, and then the cooking. "But it's good," she said with a smile, so it's worth the effort.
Pierogi, of course, are nearly synonymous with Poland. Miss Hojnicki said that during her trip she was served several unique varieties — veal with bacon, goose pâté — and the familiar cheese and potato.
The breads in Poznan, like the rye bread called razowy [rah-ZOH-vee], tend to be darker and denser than ours. Dessert specialties include luscious layered tortes and ice cream cakes. Ms. Konwinski said that Poland has very good ice cream, much like Ohio, because of its agricultural and dairy base.
Polish coffee cake, a favorite here in Toledo, too, can either be "dense," said Ms. Konwinski, or "fluffy;" the former is called placzek while the latter is babka, though the terms are often used interchangeably.
And then there are paczki, which Miss Hojnicki noted were plain, with no filling, when served during her trip.
As for our tendency to add fruit, cream, and other fillings to these pre-Lenten pastries: "That's not Polish. It's just not Polish," Ms. Grabel insisted. Ms. Konwinski agreed, saying that paczki were traditionally plain or maybe included a raisin filling "if you dared."
Miniature paczki from Brieschke's Bakery will be served at the Alliance's annual Dozynki: a traditional harvest festival full of music, food, a silent auction and raffle, and entertainment being held at 1 p.m. Oct. 7 at the Franciscan Center, 6832 Convent Blvd., Sylvania. Joseph Zychowicz, owner of Stanley's Market, is this year's honoree for his dedicated support of the Polish community.
The cost is $30 per person and the menu, being prepared by Malczewski Catering, will also include mushroom soup, fresh kielbasa, city chicken, sweet and sour cabbage, and much more. Reservations are available by calling Ms. Grabel at 419-385-8516 by Sept. 29.
The Toledo-Poznan Alliance works hard to preserve these cherished Polish recipes, traditions, and relationships, not wanting to lose any aspect of the culture.
"We just want it to continue for generations," Ms. Konwinski said.
Potato Soup with Dumplings (Zupa Ziemniaczana z Knedlami)
6 cups water
2 cups chicken or vegetable broth (or use more water)
7 medium potatoes, peeled and sliced
3 medium carrots, peeled and sliced
3 celery stalks, sliced
1 large onion or leek, sliced
1 bay leaf, crumbled
1 16-ounce package gnocchi, cooked
2 tablespoons butter
2 tablespoons flour
½ teaspoon salt
¼ teaspoon pepper
½ teaspoon marjoram, optional
1 cup regular or no-fat sour cream
Chopped parsley, chives, or green onions
Bring water and/or broth to a boil. Put in vegetables and bay leaf; simmer for 30 minutes, covered.
Melt butter in a saucepan and make a roux by whisking in flour, salt, pepper, and marjoram (if using). Add ¼ cup sour cream and stir until smooth. Stir constantly while adding the rest of the sour cream and about ½ cup of the soup broth to thin the mixture. Stir sour cream mixture into soup; simmer soup for 10 minutes.
Add dumplings to the soup and garnish with parsley, chives, or green onions.
Yield: 10 servings
Source: Adapted from Jackie Konwinski and King Arthur Flour
Contact Mary Bilyeu at 419-724-6155 or mbilyeu@theblade.com, and follow her at facebook.com/thebladefoodpage.