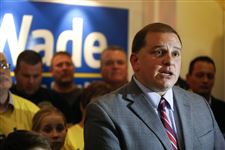 Wade Kapszukiewicz makes his victory speech for the the mayorship during his election night event at his campaign's headquarters at the Gardner Building in Toledo.
The Blade/Kurt Steiss
Enlarge | Buy This Image
Congratulations to Wade Kapszukiewicz on his decisive victory in Toledo's mayor's race. But there is no time to waste in celebrating his win.
Despite what Paula Hicks-Hudson has to say, Toledo has been largely a spectator in the area's recent business development growth. We need our new mayor to become an equal partner with the major figures who are driving this development boom, before it starts to die out.
If you were to poll the average citizen as to what the mayor should do first, you would hear "fix the streets and lower our water bills." That too has to be a priority. Sorry, Mr. K, but there will be no honeymoon for you. Find the right people to carry out your vision for the city and get to work on making it happen.
MIKE McMAHON
Robinwood Avenue
Click here to submit a letter to the editor
Suburbs being a bunch of suckers
I can't believe that any community would partner with Toledo in a regional water authority (Nov. 7, ''Rules drafted to govern regional water authority").
Anyway you cut it, Toledo and Lucas County will dominate the board and will only have to persuade or bribe one other member for a super majority.
Toledo gets the other communities to pay for most of the infrastructure work. And Toledo will keep control of the treatment plant and make money on a lease from the other members.
The other communities are in for a real eye-opener partnering with Toledo, a mismanaged city has found its patsies.
GREGG GOODWIN
Waterville
Many to blame for heroin epidemic
Where does the money to buy opioids come from?
Pawn shops, carryouts, second-hand stores, check-cashing businesses, and jewelry stores are contributing to this crisis. These businesses have been buying and selling all types of used property. Much of the merchandise and property sold comes from opioid addicts. Where does the addict get this property? Sometimes, they simply steal it.
Many of these businesses turn a blind eye to iffy transactions. Profits are more important. These "legitimate" businesses are complicit in the drug problem.
You may have been assisting a heroin addict when you got that "super deal."
BLAKE WATKISS
Berkey
Guidelines: Please keep your comments smart and civil. Don't attack other readers personally, and keep your language decent. Comments that violate these standards, or our privacy statement or visitor's agreement, are subject to being removed and commenters are subject to being banned. To post comments, you must be a registered user on toledoblade.com. To find out more, please visit the FAQ.