DUBLIN, Ohio — It was an outdoorsman's paradise Saturday at Muirfield Village Golf Club.
Sun-splashed skies, plenty of birds and eagles, and a roaring Tiger.
Bryson DeChambeau follows his tee shot on the 18th hole during the third round of the Memorial golf tournament in Dublin, Ohio.
ASSOCIATED PRESS Enlarge
With 18 holes left in the Memorial Tournament, the leaderboard, which has toiled in anonymity in recent years, is filled with star power — Justin Rose, Tiger Woods, Rory McIlroy, Adam Scott, Justin Thomas, Rickie Fowler, and Henrik Stenson all are near the top.
But they're looking up at Bryson DeChambeau, the unorthodox 24-year-old who uses single-length clubs. DeChambeau, after shooting a 6-under-par 66, is 14 under, one stroke ahead of Patrick Cantlay (66), Kyle Stanley (70), and Joaquin Niemann (70). Cantlay, who aced the par-3 No. 8, and Stanley bogeyed the par-4 No. 18.
"We'll see what tomorrow brings," DeChambeau said.
MORE GOLF CONTENT: The Blade ranks the best Toledo-area golf courses ■ With endorsement from pros, Inverness' major championship momentum builds
If the forecast comes to fruition, it could be a long afternoon, which is nothing new for the rain-plagued event. The threat of storms Sunday is 100 percent, according to Weather.com, forcing PGA Tour officials to call an audible. Players will go off both tees in threesomes starting at 7:30 a.m., with the leaders teeing off at 9:30 a.m.
Rose is 10 under, Woods is 9 under, McIlroy and Scott are 8 under, and Thomas, Fowler, and Stenson are 7 under.
"That's actually where I won from in 2010," Rose said. "I was three or four behind Rickie. Admittedly there weren't as many guys in the hunt that year, so when there are more guys in and around the lead, obviously you know you can guarantee that one of them is going to play well tomorrow. So it's going to take something low to finish it out."
VIDEO: Tiger Woods after the third round of The Memorial
Eleven players have taken a one-shot lead into the final round this season, and only two have gone on to win.
Well before the leaders were at the course or awake, McIlroy teed off for his third round at 8:11 a.m. After making the cut on the number — even par — he said Saturday was going to serve as a practice round. Take lessons from the range to the course and see the results.
The results were spectacular — an 8-under 64, the low score of the day. McIlroy made three birdies and an eagle on the front nine and three more birdies on the back, with nary a bogey on the card, rising from tied for 67th to tied for 11th.
"There was a lot of good stuff," McIlroy said. "My wedge play was very good, I drove the ball better, I was more committed to the swings I was trying to make. Then when I did get myself out of position, I made three good pars on [Nos.] 16, 17, and 18.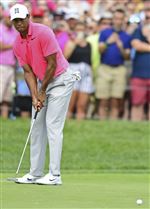 Tiger Woods putts on the 18th hole.
ASSOCIATED PRESS Enlarge
"I practiced for about an hour-and-a-half yesterday on the range, trying a few things and getting a little bit more comfortable with my swing. And [Saturday], it was just an opportunity to go out and test it and see how it held up. So I'll try and do the same thing tomorrow."
For the second consecutive day, Woods struck the ball magnificently only to be let dow by his putter en route to a 4-under 68. He led the field of 81 players in strokes gained tee-to-green and strokes gained approach, he was second in proximity and strokes gained around-the-green — and 80th in strokes gained putting.
Woods, who only missed two fairways and three greens in regulation, finished with 31 putts.
"I know I shot 68 today but, again, that's probably the highest score I could have possibly shot," said Woods, who's won the Memorial a record five times. "I played really, really well. I played beautifully, actually. Had total control of what I was doing out there and just didn't finish it off."
In his front-nine 31, Woods had an eagle and three birdies. Four of his pars came on two-putts inside 15 feet. When he birdied the par-5 No. 15, Woods was tied for the lead. When he signed his scorecard 30 minutes later, he was a couple shots back after three-putt pars on the par-3 16th and No. 18.
Woods missed a four-footer for birdie on the par-4 No. 14 and his par putt on No. 18 was more than three feet, which made dinner less tasty.
"I was at 11-under par, and I've wasted a bunch of shots the last two days and I was 4-over par in the first round," Woods said. "I am definitely not taking advantage of how well I'm hitting it. I hit the ball well enough to shoot in the low 60s. Could have been pretty easy if I had just had putted normally."
Hank Haney, Woods' former coach, took to Twitter to offer a warning to PGA Tour players. The younger generation, which includes Thomas, Fowler, and Jordan Spieth, have pined for the Woods of yesteryear so they could go head-to-head with one of the all-time greats. Haney made it clear they should be careful what they wish for.
"If Tiger wins the Memorial [with] the 3 penalty shots, 2 three putts, and the other [3-foot] missed putt[s] he's had so far," Haney tweeted, "then look out for the rest of the year because he will tear it up once he tightens things down a little more."
Contact Kyle Rowland at: krowland@theblade.com, 419-724-6110, or on Twitter @KyleRowland.
Guidelines: Please keep your comments smart and civil. Don't attack other readers personally, and keep your language decent. Comments that violate these standards, or our privacy statement or visitor's agreement, are subject to being removed and commenters are subject to being banned. To post comments, you must be a registered user on toledoblade.com. To find out more, please visit the FAQ.