Northview's Alison Work strives for top
Track star logged extra meets during indoor season
4/6/2011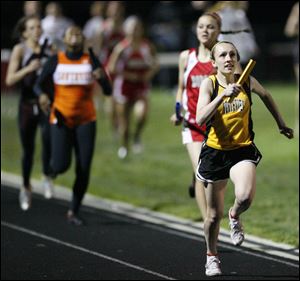 Alison Work, shown here in a May 2010 race, recently took fifth place in the 800-meter at the indoor state track and field championships at the University of Akron.
Northview's Alison Work spent more time this winter running on indoor running tracks throughout Ohio than she had during any previous winter.
Frankly, Work spent the winter months living up to her name. She put in plenty of work on indoor tracks.
Her commitment to running resulted in the Wildcats junior completing her indoor season with a fifth-place finish at the indoor state track and field championships held at the University of Akron and organized by the Ohio Association of Track and Cross Country Coaches.
A stellar indoor time of 2:22.97 by Work was among the state's best throughout all 800-meter times run during the OATCCC sponsored indoor meets held earlier this year.
"I was just hoping to finish in the top eight, so I was really surprised to finish fifth," said Work, regarding her indoor state meet finish.
Work didn't just wake up one cold winter morning and decide she would go for a run just for her name's sake. The decision to spend four to five days a week training and part of her weekends competing in indoor meets stems from an experience last spring when she proved to be one of the top 800-meter runners in the state.
Work's outdoor track season in 2010 ended with the Northview sophomore finishing eighth at the Ohio High School Athletic Association state track and field meet with a time of 2:14.86.
Finishing only 4 seconds behind the state champion (Medina Highland's Natalie Zidd, 2:10.36), she realized more work was needed in the winter.
Work was pleased about last spring's showing, but not entirely satisfied.
"I wanted to get into better shape this winter, so I would be ready for the outdoor season," she said.
The plan to run in the winter produced positive results.
"I didn't start running these kinds of times last year until a couple weeks into the outdoor season," she said. "I feel like I'm more in shape from running the indoor meets."
Northview track coach Jodie Smith said Work's improvement isn't just noticeable by quicker times, but also with her overall running style, which they worked over this winter.
"Throughout the indoor season she improved with every meet," Smith said. "She's become a smoother and stronger runner and she's very competitive."
Smith added: "Her form has improved immensely from last year and anyone can see that."
The training also helped Work with her overall confidence. She entered the outdoor track season with a few goals in mind to achieve by the end of the season.
Work wants to improve upon last season's eighth-place effort at the state meet and she would like to run faster than 2:13, which is her personal record in the 800 set during the outdoor season last year.
Smith believes the time and effort put in this winter will pay off later this spring.
"I feel, as a coach, it [the indoor track season] will add to your outdoor season," Smith said.
Contact Donald Emmons at: demmons@theblade.com or 419-724-6302