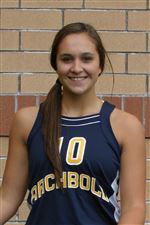 Jenny Lehman, Archbold.
School: Archbold
Year: Senior
Sports: Volleyball
Notes: All-NWOAL second team last year; carries 3.6 grade-point average; plans to play at Wittenberg
FAVORITES & MORE
School subject: Physics
Car: Camaro
Facebook or Twitter? Facebook
Store: Maurices
Musical artist: Demi Lovato
Song: "Wannabe," by Spice Girls
TV show: Friends
Movie: Killers
Actor: Ashton Kutcher
Actress: Katherine Heigl
Magazine: Seventeen
Radio station: 98.1 FM
Food: Ribs
Beverage: Cranberry-Grape Juice
Fast food: Wendy's
Can't resist snack: Peanut Butter M&Ms
Place to visit: Grandma's house
Athlete: None
Baseball team: Mud Hens
NFL team: Lions
NBA team: Cavaliers
Person I most admire: My grandma, Beverly
Person I'd like to meet: God
It really bothers me when: Chewing with mouth open
In 10 years I hope to be: An occupational therapist
My No. 1 goal this year: Finish the rest of the year with 4.0 grade-point average
Top sports moment: Winning NWOAL volleyball championship as a senior and junior
Ohio State or Michigan? Ohio State
Guidelines: Please keep your comments smart and civil. Don't attack other readers personally, and keep your language decent. Comments that violate these standards, or our privacy statement or visitor's agreement, are subject to being removed and commenters are subject to being banned. To post comments, you must be a registered user on toledoblade.com. To find out more, please visit the FAQ.