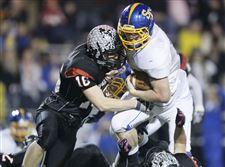 McComb High School player Mitch Schroder ,16, hits Delphos St. John's player Tyler Jettinghoff, 14, during the second half at Donnell Stadium in Findlay.
The Blade/Andy Morrison
Enlarge | Buy This Image
FINDLAY — The mag­i­cal sea­son con­tin­ues for No. 1 McComb.
The un­de­feated Pan­thers over­came a 14-point fourth quar­ter def­i­cit to Del­p­hos St. John's and scored a 28-21 vic­tory in a Divi­sion VI re­gional fi­nal Fri­day night at Don­nell Sta­dium.
McComb, which trailed 21-7 early in the fourth quar­ter, scored 21 un­an­swered points dur­ing the fi­nal 10 min­utes to earn a place in the state semi­fi­nals. The Pan­thers will face Mar­ion Lo­cal, which de­feated St. Henry 28-21 in a re­gional fi­nal.
"We were down and we came back," said McComb run­ning back Jerry Brown, who rushed for 63 yards on 22 car­ries and scored the Pan­thers' fi­nal two touch­downs on runs of four and two yards, re­spec­tively. "Ev­ery­body didn't stop play­ing, and we all kept our heads high. We were ready to play and never stopped.
PHOTO GALLERY: Click here to view images
"Del­p­hos is a heck of a team. We couldn't take any breaks or any plays off."
Ne­ver­the­less, the Pan­thers (13-0) were faced with an un­fa­mil­iar sit­u­a­tion. The Blan­chard Val­ley Con­fer­ence cham­pi­ons who av­er­aged nearly 50 points a game dur­ing the reg­u­lar sea­son were held to a sin­gle touch­down through three quar­ters by St. John's (8-5).
Yet the Pan­thers didn't fold against a team they hadn't beaten in two pre­vi­ous tries.
McComb coach Kris Alge cred­its the Pan­thers' de­fen­sive ef­fort, lim­it­ing the Blue Jays to only 10 first downs and com­ing up with an in­ter­cep­tion by Brown and a fum­ble re­cov­ery by Dal­ton Auchmuty in the fourth quar­ter to spark the come-from-be­hind vic­tory.
"They be­lieved in them­selves," Alge said. "They just kept fight­ing and I'm so proud of them. I'm so proud of our de­fense."
Cody Wil­son rushed for 23 yards on six car­ries, in­clud­ing a one-yard touch­down run with just un­der nine min­utes re­main­ing to make it 21-14. Wil­son also caught seven passes for 91 yards, in­clud­ing a 25-yarder for a touch­down from Dal­ton Buck in the sec­ond quar­ter.
"We all came to­gether as a team," Wil­son said. "We stook to­gether and we came to­gether as a fam­ily and God helped us through and it was a great ex­pe­ri­ence."
The Blue Jays, re­gional fi­nals win­ners four of the past five years, struck first. St. John's put to­gether a seven-play, 51-yard scor­ing drive that ended with Blue Jays quar­ter­back Mark Boggs find­ing An­drew Metz­ger on a post route for a 21-yard touch­down with 5 min­utes, 40 sec­onds left in the open­ing quar­ter.
The Blue Jays de­fense set up their sec­ond scor­ing drive when they stuffed Brown on a fourth-and-2 carry at the McComb 42. They needed only five plays to make it 14-0. Boggs, who com­pleted 9 of 16 passes for 228 yards, con­nected with Metz­ger on a skinny post for 31 yards to the Pan­ther 11. The drive ended when run­ning back Tyler Jet­ting­hoff scored on a one-yard TD carry up the mid­dle with 3:58 left un­til half­time.
The Pan­thers, who had been stopped on fourth down on two oc­ca­sions, needed some mo­men­tum. Wil­son pro­vided it when he re­turned the en­su­ing kick­off 64 yards to the Blue Jays' 37-yard line. McComb needed only two plays to make it a 14-7 af­ter Buck con­nected with Wil­son on a 25-yard TD pass with 3:20 left in the first half.
Buck com­pleted 15 of 19 passes for 116 yards.
The Blue Jays made it 21-7 with five-play, 96-yard drive that ended with Boggs find­ing Luke MacLen­nan for a 59-yard TD pass with 10:55 to play. Then the McComb rally be­gan.
Con­tact Don­ald Em­mons at:
dem­mons@the­blade.com,
419-724-6302 or on
Twit­ter @Dem­monsBlade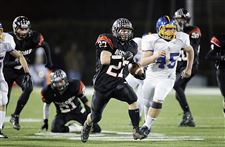 SPT mccombfb16p McComb High School player Cody Wilson, 27, returns a kickoff to the Delphos St. John's 37 yard line during the second quarter at Donnell Stadium in Findlay, Friday, November 16, 2012. The Blade/Andy Morrison
THE BLADE/ANDY MORRISON
Enlarge | Buy This Image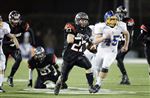 SPT mccombfb16p McComb High School quarterback Dalton Buck, 2, throws the ball over Delphos St. John's player Kody White, 57, during the first quarter at Donnell Stadium in Findlay, Friday, November 16, 2012. The Blade/Andy Morrison
THE BLADE/ANDY MORRISON
Enlarge | Buy This Image
Guidelines: Please keep your comments smart and civil. Don't attack other readers personally, and keep your language decent. Comments that violate these standards, or our privacy statement or visitor's agreement, are subject to being removed and commenters are subject to being banned. To post comments, you must be a registered user on toledoblade.com. To find out more, please visit the FAQ.