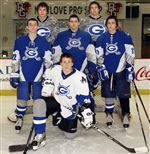 Anthony Wayne looks to win the White Division with (front) Harry Pawliski; (second row, from left) Sam Spencer, Chris Podbielniak, and Brandon Zielinski; and (back) Cal Johnson and Chris Miller.
THE BLADE/JEREMY WADSWORTH
Enlarge | Buy This Image
Good depth, plenty of experience, and offensive explosiveness are expected to propel Anthony Wayne to the top of Northwest Hockey Conference White Division.
The Generals captured the regular-season title last season and 13 starters return.
"With having a majority of the team returning from last year. We are looking to continue the success that we have had over the last few years in the White Division," Anthony Wayne coach Troy Boze said. "We have a lot of depth on offense."
The Generals are competing this season in the National Conference in the White Division along with Lake, Southview, Perrysburg, and Fremont Ross. The former NHC Blue Division was disbanded and those teams joined the White Division in two conferences.
There will be regular-season champions in each conference, and a post-season tournament will be held to determine the overall winner of the White Division.
"I think the White Division has the ability to anyone's," Boze said. "That is why we have told the team that we have to focus on the game we are playing and not look ahead."
Southview moves down from the higher level Red division, and the Cougars are expected to challenge AW.
Lake coach Craig Horvath, whose team won the NHC Blue Division title last year, said his team looks forward to the postseason tournament.
"It is prefect for our division," Horvath said.
Here's a look at the White Division National Conference teams in predicted order of finish based on a coaches' poll:
At Anthony Wayne, Boze is in his first season, and he inherits a team that went 22-12 overall and were 7-3 in the NHC.
Among 16 total players, he has seven seniors. Chris Podbielniak, a 6-foot-3 senior goaltender, returns in net.
Senior forward Cal Johnson and senior defenseman Harry Pawliski possess both talent and experience.
Sophomore Austin Pennell, who can play forward and defense, saw extensive action as a freshman.
Seniors Sam Spencer (D) and Chris Miller (F) are also among the top returning Generals.
"With seniors Chad Bialecki, Cal Johnson, and Chris Miller, we have experience," Boze said. "We also have returners Robbie Brubaker and Brandon Zielinski and sophomore newcomer Austin Pennell, who has played AAA [travel hockey] the last few years. We also picked up [sophomore] Mike McDougall, who plays a very physical style of hockey and can find the back of the net."
Defensemen Harrison Pawliski, Sam Spencer, and Cody Bowman also are back. Carson Bales has rejoined the team after missing all of last season due to an injury.
"All four defensemen have been solid so far this year and are getting better every game," Boze said.
Southview, which had competed for years in the upper tier Red Division, drops down to the White due to low numbers.
Longtime coach Wayne Collins has 14 players. But senior goalie Luke McMahon is back. Seniors Tyler Houck and Mitch McMahon return as forwards.
Junior Michael Yon is the team's leading returning scorer and earned All-NHC first team last year. Yon is a captain, along with junior defenseman Mike Dibble.
"The blue line back should be our strengths with solid defense from Mike Dibble, Kyle Fleck, Cole Snider, and goalie McMahon," said Collins, whose Cougars went 14-13-1 last season.
Lake won the Blue Division regular season title with an 8-0-0 record. Coach Craig Horvath, who is in his sixth season, led his team to a 21-11-3 record.
But he lost a lot of talent to graduation and this season has 12 players, including five seniors. Senior goalie Nick Horsman, who earned all-league first team honors, will be counted on heavily.
"Our strength should be goaltending," Horvath said. "He has the ability to steal a game when he is prepared. He needs to be mentally focused and consistent."
Junior forward Salahdin Mustapha earned All-NHC first team honors.
Senior forward Kyle Ramer, senior defenseman Jordan Ramer, sophomore defenseman Dylan Mauder, and senior defenseman Sam Rogers are the other top returning players.
"If we stay healthy and keep working hard and minimize penalties, we are as good as any team in the White Division," Horvath said. "We just have to play a full three periods."
Perrysburg has four seniors among 10 returning starters for coach Jeff LaCourse, who enters his seventh season with a 133-54-10 record.
The Yellow Jackets (7-19-4 overall, 3-6-1 last year) have 18 players. Senior goalie Cam Studer earned All-NHC first team honors. Studer has 45 career wins.
Senior defenseman Elliott Kayser scored 13 goals and had 18 assists. Sophomore center Matt Studer finished with 24 points (12 goals, 12 assists).
Senior defenseman Alex Mihlbauer had nine goals to go along with 15 assists.
"Elliott Kayser and Alex Mihlbauer are both four-year varsity players and, along with freshman Sam Rudolph, will give us a solid defensive core," LaCourse said. "Matt Studer, Alex Serrao, and Chris Sarni will lead the team offensively and should post good numbers this season."
Other top returning players are senior forward Steven Wilhelm, junior forward Luke Heckman, sophomore forward Ryan Murphy, and sophomore goalie Sam Hooper.
"We have 18 players this year, but are lacking in experience and depth," he said. "I expect our team to be near the .500 mark this year if everything comes together."
Fremont Ross and coach Micah Schumacher face a rebuilding year with 15 players.
But he has six seniors and six returning letter winners back.
Senior goalie Gaetan Brugger is a foreign exchange student from Switzerland and is strong in goal, according to Schumacher.
The Little Giants were 5-17 overall and 4-9 in the NHC in Schumacher's first season.
Senior defenseman David Serrick earned all-league first team honors.
Other players expected to make an impact include senior winger Trenton Laird, senior center Mike Cook, junior defenseman Jacob Dagg, and junior center Chris Souders.
But the team is inexperienced overall with eight first-year players.
"David Serrick is the most seasoned player on the team with many first and second year skaters," Schumacher said. "With solid goaltending we will try to work from there."
Guidelines: Please keep your comments smart and civil. Don't attack other readers personally, and keep your language decent. Comments that violate these standards, or our privacy statement or visitor's agreement, are subject to being removed and commenters are subject to being banned. To post comments, you must be a registered user on toledoblade.com. To find out more, please visit the FAQ.