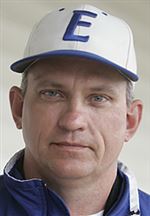 Reiser
THE BLADE
Enlarge | Buy This Image
Elmwood baseball coach Kyle Reiser collected his 500th career win last Friday when the Royals topped Woodmore in a Northern Buckeye Conference game.
Reiser, who is in his 26th season, all but one at Elmwood, shared the accomplishment with his players — past and present. He coached one season at Tinora.
"What it means is that I have had many, many great players and young men I have had the privilege of coaching during these 26 seasons," said Reiser, 52.
"There have been great memories over the years, and they've shown their loyalty to the baseball program after their playing days. I have heard from a great many of them over the last week."
Reiser entered this week with a career record of 501-194. His teams have won 16 league championships, 19 sectional titles, four district titles, and one regional title. His 2007 team finished as state runner-up.
Reiser's latest coaching milestone doesn't have him thinking about stopping anytime soon.
"I am having fun coaching, and as long as I am still having fun, I will continue," Reiser said.
Guidelines: Please keep your comments smart and civil. Don't attack other readers personally, and keep your language decent. Comments that violate these standards, or our privacy statement or visitor's agreement, are subject to being removed and commenters are subject to being banned. To post comments, you must be a registered user on toledoblade.com. To find out more, please visit the FAQ.