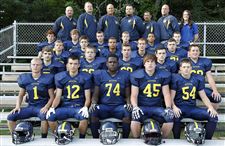 2013 Whiteford Bobcats
The Blade/Lori King
Enlarge | Buy This Image
Team photo from left:
Row 1: Colin Lake, Zach Perry, Chris Sims, Troy Diller, Joel Holtz
Row 2: Tristan Michel, Kris Wingerd, Tyler Wilson, Christian Carpenter, Logan Clark
Row 3: Jacob Shelton, Aaron Inman, John Reditt, Nathan Wingate, Kevin Kaufman
Row 4: Joe Link, Josh Beck, Cody Kiefer, Jonathan McBride, Jonathan DuPree, Austin Cairl
Row 5: Head coach Jason Mensing, coaches Bob Ondrovick, Tom Eitniear, Kris Hoag, John Nagle, Jay Gilmore, Kelsey Shearman (trainer)
ABOUT THE TEAM:
Coach: Jason Mensing, second year
Last season: 8-2, 6-1 Tri-County Conference
Returning starters: Offense, 6; defense 5
Schemes: Double wing, multiple 4-4
Top players: Seniors Colin Lake, RB-CB, 5-10, 175; Zach Perry, FS-RB, 5-10, 175; Troy Diller, TE-LB, 6-2, 200; Chris Sims, OT-DE, 6-2, 200; Joel Holtz, G/​DT, 5-9, 175. Junior Kevin Kauffman, OL, 6-2, 200.
Outlook: With 21 players, including six seniors, Mensing believes his core group of upperclassmen have talent, combined with solid overall team speed and athleticism.
Lake rushed for 808 yards last season and led the team in interceptions, while Diller is the team's returning leading receiver (478 yards).
About one-third of this year's team is new to the program. The Bobcats finished second in the TCC last year.
"We have to get them ready to play in a hurry," Mensing said. "We feel our league is going to be very, very competitive. If we play to our potential, we'll be right in the mix."
WHITEFORD SCHEDULE
Aug. 29-at Blissfield
Sep. 6-Erie Mason
Sep. 13-at Clinton
Sep. 20-Britton-Deerfield
Sep. 27-Summerfield
Oct. 4-at Whitmore Lake
Oct. 11-Morenci
Oct. 18-at Adrian Madison
Oct. 25-Sand Creek
Guidelines: Please keep your comments smart and civil. Don't attack other readers personally, and keep your language decent. Comments that violate these standards, or our privacy statement or visitor's agreement, are subject to being removed and commenters are subject to being banned. To post comments, you must be a registered user on toledoblade.com. To find out more, please visit the FAQ.