Ottawa Hills takes boys DIII golf state title; Lakota's Dull captures individual DII girls title
10/13/2013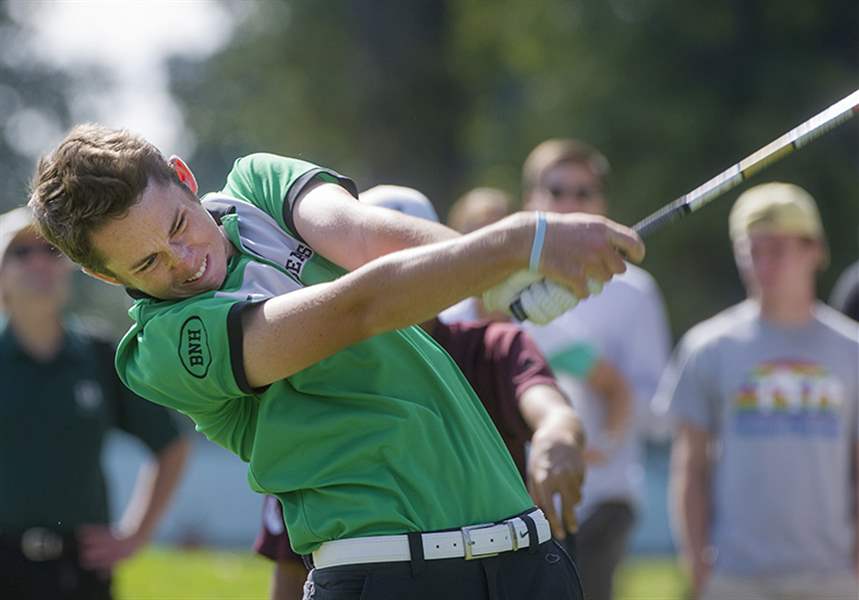 Ben Silverman of Ottawa Hills hits his tee shot on the 10th hole. Silverman finished with a two-day total of 147 after carding a 72 on Saturday.
SPECIAL TO BLADE/PHIL LONG
Ben Silverman of Ottawa Hills hits his tee shot on the 10th hole. Silverman finished with a two-day total of 147 after carding a 72 on Saturday.
COLUMBUS — Entering the final round of the Division III state tournament Saturday trailing Gahanna Columbus Academy by six strokes, the Ottawa Hills boys golf team tried to stay offensive in its pursuit of the leader.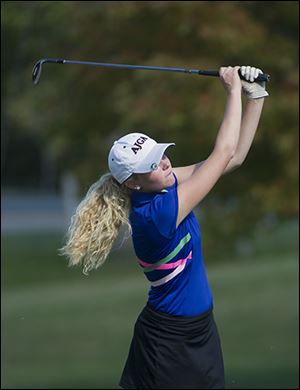 Makayla Dull of Lakota watches her shot on the 18th hole during the Division II tournament.
Having each player keep an eye on the opponent from Academy they were paired with paid dividends for the Green Bears, who went on to rally for the third championship in program history. The others came in 1974 and '82.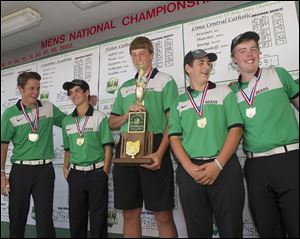 Ottawa Hills accepts their Division III championship trophy. From left is Ben Silverman, Michael Denner, R.J. Coil, with trophy, Matt Abendroth, and Ben Dayton.
Ottawa Hills senior Ben Silverman shot 14 strokes better than Academy senior Shabaz Khan, turning in a 72 that helped him finish second overall, and led his team to an overall 647 that included a 318 in the final round.
The Green Bears' performance capped a day for the area that also included an individual championship by Lakota junior Makayla Dull in the Division II girls tournament.
"We got to play with Columbus Academy and Wellington, so it was pretty much like match play," Silverman said. "Really the fans were incredible. They were definitely the loudest ones out there and there was a lot of encouragement. Our coach [Jim McGill] was pretty determined. There's no better feeling than winning the team state championship."
Silverman shot 75 in the opening round and finished behind only Powell Village Academy junior Jeg Couglin (144) with a 147.
Sophomore Michael Denner tied for 12th (163) and missed second-team all-state honors by just four strokes.
"We just tried to stay in the moment and hit every shot," Denner said. "It feels great. We've been working really hard for this."
All five of Ottawa Hill's players posted a better second-day score than the player they were paired with from Columbus Academy, which placed second with a 659.
Also competing for the Green Bears were seniors Ben Dayton (172), R.J. Coil (181), and junior Matt Abendroth (165).
"I'm a team guy, and I couldn't be more proud of how they came together and came from behind to win this tournament," McGill said. "I think it was the perfect storm this year with having young men who love the game of golf.
"We took the state championship mindset out of it this weekend and played the golf course and not look at the end prize. Our captain, Ben Silverman, jumped up on [the player he was paired with] early and big, and he was able to pass that on."
Dull led with a 69 after the opening round of the girls tournament and led the field again during the final round with a 73 for a two-day 142.
Tipp City Tippecanoe senior Lindsey Murray was second (147).
Dull tied for 10th in 2011 and tied for fifth a year ago.
"It's very exciting," Dull said. "I've been waiting all year for this. I just played consistently. I'm never nervous the day before a tournament, but last night and this morning I was nervous. After three holes I was feeling pretty good. It was nothing spectacular, just a lot of pars."
Also competing in the Division III state boys tournament was Van Buren, which shot 356 in the opening round and 358 in the final round for a two-day 714 that placed it 11th.
Seniors Sawyer Junge (173) and Mac Williams (177) led the way.
Woodmore junior Alex Gedert followed an opening-round 86 by shooting 79 on Saturday to tie for 19th (165).
In the Division II boys tournament at NorthStar Golf Resort in Sunbury, Liberty-Benton senior Jared Neiling tied for 11th (157). He shot 77 in the final round.