No. 1 and unbeaten Kenton prepares for No. 2 and unbeaten Bryan
Golden Bears face another unbeaten team
11/21/2013
Bryan quarterback Austin Schimmoeller throws over the Genoa defense during a Division IV playoff game on Nov. 8 in Genoa. He's thrown for 2,511 yards and 33 touch­downs this season.
THE BLADE/JEREMY WADSWORTH
Buy This Image
Bryan quarterback Austin Schimmoeller throws over the Genoa defense during a Division IV playoff game on Nov. 8 in Genoa. He's thrown for 2,511 yards and 33 touch­downs this season.
BRYAN — Kevin Kline took over the reigns of the Bryan football program three years ago and had high hopes for making it the talk of the town.
More than just Bryan residents are talking about the Golden Bears team that will face Kenton in a battle of unbeatens in a Division IV regional final Friday night at Donnell Stadium.
Kenton (12-0) was ranked No. 1 in the final Associated Press regular-season poll, while Bryan (12-0) was No. 2.
"Hopefully we can keep things going," Kline said. "These kids have been very good at responding [to challenges]. It's a pretty special group. It's definitely one that is going to have the asterisk next to it as one of the best teams in Bryan history."
It's the first time the Golden Bears have won 12 games, and they are making their first appearance in a regional final. Bryan has already ended seasons for two unbeaten teams in the playoffs — Genoa and Caledonia River Valley.
The Golden Bears are averaging 48 points per game behind quarterback Austin Schimmoeller. Linebacker Jake Jones anchors a defense that has limited opposing teams to an average of 15 points.
"Every day we go out there and are working our butts off at practice," Jones said. "We're doing the best we can and trying to make every body better. Coach always says, 'If practices are harder than the games, you know you're working hard.'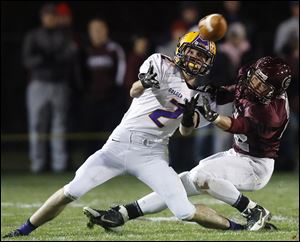 Bryan's Sean Culler makes a catch in front of Genoa's Nick Wolfe. Culler has 27 catches for 561 yards and six touchdowns.
"Every week we come back refocused, and you've got to know the goals and you've got to work for them."
Last year Bryan was stopped in Week 11, losing 21-20 to Napoleon 21-20 in a Division III regional semifinal. That motivated the Bears for this season.
"Each year we've worked this hard, but last year we got stopped by Napoleon by one point in Week 12 so we knew we had to get past that this year and we did," said senior wideout Brandon Poncsak, who scored two touchdowns in last week's 49-19 win against Caledonia River Valley.
Schimmoeller has completed 65 percent (152 of 236) of his passes for 2,511 yards and 33 touchdowns to only 11 interceptions. He spreads the wealth, as five Bears have caught at least 25 receptions. Poncsak is the team's leader with nine TD catches.
Schimmoeller's No. 1 target has been Daniel Pendergrast, who has 35 catches for 536 yards and five TDs. Derek Knisely ranks second with 32 catches for 448 yards and five TDS. Nate Rau is third (30 for 332, TD), followed by Sean Culler (27 for 561, 6 TDs) and Poncsak (25 for 392, 9 TDs).
Schimmoeller has rushed for 792 yards on 125 carries, including a team-best 16 touchdowns.
"He's a pretty special athlete for us," Kline said. "He's the one that really makes that offense go, but it's always nice when those linemen give him time."
Pendergrast leads the team with 841 rushing yards on 110 carries and 12 TDs behind a steady line led by Jason Hug (6 feet, 2 inches, 210 pounds) and Jordan Bostater (5-11, 200).
On the defensive side, Jones — a 5-11, 190-pound linebacker — has handled the leadership role for a unit that swarms to the football. He leads the team in tackles.
"Jake Jones is a tremendous player for us, and he just gets after it," Kline said. "Jones, Brock Minor, and some other seniors, they do a tremendous job of leading us and they make sure guys are getting in the right positions."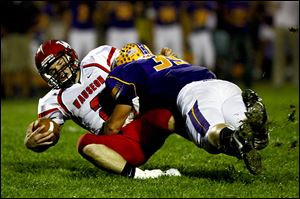 Wauseon quarterback Ty Suntken is sacked by Bryan linebacker Jake Jones. Jones leads the team in tackles this season. The Golden Bears won the NWOAL title for the second straight year.
Jones said it has been a true team effort.
"It's all about trust," Jones said. "I got my defensive line right there, and I know they're going to do what they're supposed to do. The defensive line is the reason I'm able to be the centerpiece.
"They get where they're supposed to be, and I'm able to fly around back there. Brock Minor and I are back there just making tackles."
Kenton is averaging 46.3 points and holding opponents to 7.6.
The top-ranked Wildcats (12-0) are paced offensively by senior quarterback Grant Sherman, who during the regular season was 297-of-453 passing for 4,062 yards and 46 touchdowns.
Kenton's top receiver is senior Justin Sawmiller (105 catches, 1,638 yards, 22 TDs). The Wildcat defense is led by 6-4, 240-pound University of Michigan commit Noah Furbush, a lineman who has 93 tackles. Linebacker Tristan Reichelderfer is the team's tackles leader with 128.
The Wildcats are playing in their 10th postseason, all since 1998. They won state titles in 2000 and 2001, and were runners-up in 2003 and 2011.
Contact Donald Emmons at: demmons@theblade.com, 419-724-6302 or on Twitter @DemmonsBlade.