Generals turn up heat on Cougars
Anthony Wayne's pressure wears down Southview in 49-45 win
12/20/2013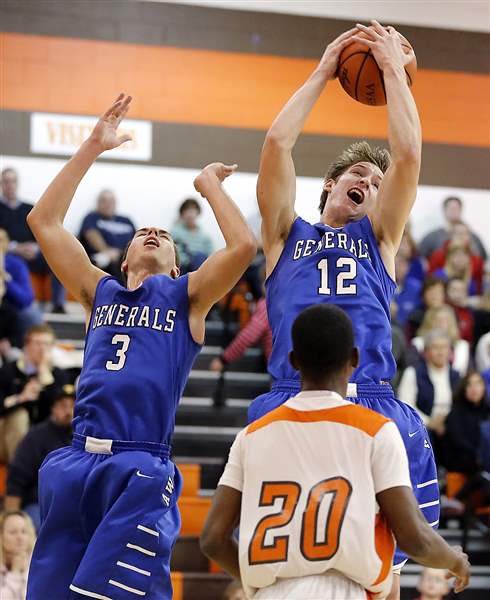 Anthony Wayne's Jake Reid pulls down a rebound against Southview on Thursday night at Southview. Reid led the Generals with 15 points. He added 10 rebounds.
THE BLADE/JEREMY WADSWORTH
Buy This Image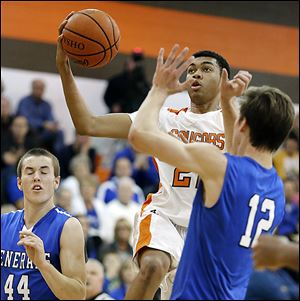 Southview's Jeremiah Roberts takes a shot against Anthony Wayne's Jake Reid (12). Roberts led the Cougars with 12 points.
Anthony Wayne turned a bevy of Southview turnovers into an insurmountable cushion as the Generals' stingy defense led to a road win on Thursday night in Northern Lakes League boys basketball.
Anthony Wayne forced 21 Southview turnovers. The Generals seized a 10-point lead late in the third quarter when they had already forced 17 Cougar turnovers. Anthony Wayne then held off a late Southview charge to take a 49-45 victory on the road.
"We tried to make sure we cut down [passing] lanes and got to their shooters," AW coach Bryan Borcherdt said. "We're a pretty athletic team across the board. Our big guys move real well."
PHOTO GALLERY: Click here.
Anthony Wayne senior forward Jake Reid (6-foot-5) finished with a double-double, scoring a game-high 15 points while pulling down 10 rebounds.
Senior guard Matt Fox chipped in with 14 points and had five rebounds.
Southview was led by junior Jeremiah Roberts, who tallied a team-high 12 points. Roberts also pulled down a game-high 15 rebounds.
Anthony Wayne (4-0 overall) remained undefeated in the NLL (3-0).
The Cougars (4-1, 2-1) committed 12 turnovers in the first two quarters and fell behind 25-20 at the half.
"We turned the ball over too many times to beat a good team," Southview coach Bruce Smith said. "We were very impatient and handled the ball very poorly. We turned it over 20 times against a team that just played zone. That's absolutely why we lost. Give them credit, they were in passing lanes, and they are long. But our patience offensively was not where we want it to be."
The Generals opened up the second half with an 8-3 run to build a 33-23 lead. They forced five Southview turnovers during the pivotal stretch.
Reid came up with a steal on Southview's first possession of the third quarter and then scored in transition.
"We knew this team liked to run and put up a lot of points, so we knew we needed to stop them on the defensive end," Reid said. "We wanted to funnel them in toward the key where all our help was. We wanted to force bad shots."
But the Cougars went on a 7-0 run to start the fourth quarter. Matt Morrison, Southview's leading scorer last season, was held without a point until he hit a 3-pointer to make it 40-33. He then drained two free throws before Roberts' putback made it 40-37 with 4:23 left.
However, Fox tallied five points over the final two minutes to hold off the Cougars.
Southview made it a two-point game with 1:50 left. But Fox made a nice move in the paint and converted for a 44-40 AW lead.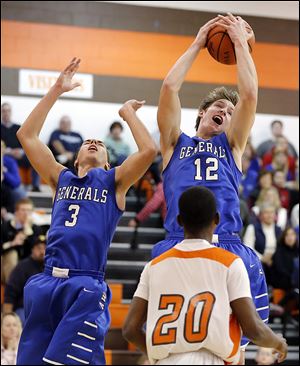 Anthony Wayne's Jake Reid pulls down a rebound against Southview on Thursday night at Southview. Reid led the Generals with 15 points. He added 10 rebounds.
The Cougars then were called for an over-and-back violation that Smith disputed, saying his player was in midair when he came down with one foot in the front court and one in the backcourt.
"That was a game-ender. But that wasn't the reason why we lost," he said.
Morrison, who finished with nine points, and Nate Hall (eight points) fouled out late in the game.
The Generals made five of six free throws over the final minute to salt it away.
AW also had trouble handling the ball at times and finished with 17 turnovers.
"The kids played hard, and that makes up for a lot of mistakes," Borcherdt said.
AW started in man-to-man and then switched to a 2-3 zone later. Both were equally effective.
"We want to be able to play a lot of different things," Borcherdt said. "That keeps offenses guessing."
Morrison averaged 16.7 points per game last year.
"We played hard," Smith said. "We just didn't play well. And there's a difference. I'm pretty happy with our defensive effort."
Reid had six rebounds in the second half. "We work a lot on getting rebounds in practice because it can win games for you," he said.
"I love going to battle with Jake Reid. He works extremely hard at both ends. He just keeps getting better. It's nice to have a post player like that to go to," Borcherdt said.
Both teams were predicted to contend for the title.
"I have a lot of respect for Southview and anytime you can win on the road in the NLL it's a good thing," Borcherdt said.
Contact Mark Monroe at: mmonroe@theblade.com, 419-724-6354 or on Twitter @MonroeBlade.