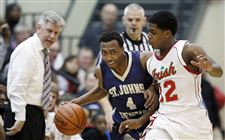 Anthony Glover, Jr., of St. John's, left, drives against Central Catholic's Jermiah Braswell during their game on Friday night.
THE BLADE/JEREMY WADSWORTH
Enlarge | Buy This Image
After the snowstorm and subzero temperatures that hit the area at the start of the week, it was a perfect remedy for cabin fever.
St. John's Jesuit and host Central Catholic staged a compelling boys basketball battle before a sold-out and energized crowd of 2,400 on Friday night at the Sullivan Center, and the visitors survived a spirited comeback bid from the Fighting Irish to take a 62-59 victory in overtime.
Titans senior guard Anthony Glover, Jr., scored seven of his team's 11 points in the extra period and finished with 22 as St. John's moved to 10-2 overall and 6-0 in the Three Rivers Athletic Conference.
PHOTO GALLERY: Click here for more photos from this game
The loss by the ninth-ranked Irish (8-2, 4-1) spoiled a superb 29-point effort from senior guard DeShone Kizer — the Notre Dame-bound football quarterback — who tallied 12 of those points after picking up his fourth foul with 6 minutes, 26 seconds left in regulation.
"Kizer's a heck of a player, and Central's a heck of a team," Glover said. "We hit them first, and we knew they were going to try to come out and hit us back. We just found a way to grind it out and get a 'W.'
"We've been in these types of situations before, and earlier in the season we would have lost a game like this, so we are continuing to grow."
It was Kizer's 3-pointer with 25 seconds left in regulation that forced overtime with the scored tied 51-51.
"We didn't hit free throws and we got out of any kind of offensive continuity," St. John's coach Ed Heintschel said of Central's rally to force overtime. "That didn't help, and then Central hit shots. The combination of those things allowed them to get back into the game. [Marcus] Winters and Kizer hit some big shots."
St. John's, which was outscored 18-6 in the fourth quarter, went 0 for 4 from the field and 6 of 10 from the free-throw line.
"The first half we just had a lot of standing around," Central coach Jim Welling said. "Offensively, there was no movement, no cutting, no screening. A lot of that had to do with St. John's defense.
"We made a few adjustments at halftime, and the kids responded. They played with a better sense of urgency on the defensive end."
But the Titans regrouped in the extra period.
Glover hit a 14-footer from the left baseline at the 2:38 mark for a 53-51 lead, and sophomore guard Gabe Kynard (eight points) followed with perhaps the pivotal play of the game.
After J.P. Celis (eight points) failed to convert on a drive to the basket, Kynard followed the miss with a tip-in and was fouled by Central's Nate Harris. Kynard then calmly sank the free throw to complete the three-point play, and St. John's owned a 56-51 lead with 1:24 to go.
"We started hitting some free throws and got the lead [in overtime], and Gabe made a great play on the follow-up," Heintschel said. "That helped a lot."
Central was not done, however, as sub Montrese Marshall nailed a clutch 3-pointer to get his team within two at the 1:02 mark.
After St. John's sub Chandler Dippman sank two free throws with 50 seconds left, Glover added one of two free throws for a 59-54 edge with 28.6 seconds left.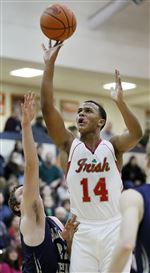 Central Catholic's DeShone Kizer shoots against St. John's defender Trevor Walsh on Friday night. Kizer scored 12 of his 29 points after picking up his fourth foul with 6 minutes, 26 seconds left in regulation.
THE BLADE/JEREMY WADSWORTH
Enlarge | Buy This Image
Kizer sandwiched a pair of buckets around another Glover free throw, and the Irish were still within 60-59 with 10.7 seconds remaining.
Glover converted both ends of a double-bonus at the 9.9-second mark for the final margin, but the game was not decided until Kizer's 3-pointer rimmed out with one second to play.
St. John's used a combination of sturdy defense and 11-of-17 shooting from the field during the first half to take a 28-18 lead to halftime.
Central seemed to right itself offensively in the third quarter, but was still behind 45-33 entering the fourth quarter after Parker Ernsthausen (13 points, 10 rebounds) and Celis closed the third with two free throws and a driving layup, respectively.
Kizer sparked Central's 18-6 fourth quarter with a four-foot bank shot off a drive, and Marcus Winters (13 points) followed with a 3 to get the Irish within 45-38.
The Titans were still up 49-42 before Kizer hit a 12-footer and Jermiah Braswell converted on a fast break to make it 49-46.
St. John's was 18 of 30 (60 percent) from the field, 23 of 33 (70 percent) from the free-throw line, outrebounded Central 30-16, and committed 18 turnovers.
The Irish were 22 of 52 (42 percent) from the field, 9 of 13 (69 percent) from the free-throw line, and committed just eight turnovers.
"This time of the year, your team can go either way," Welling said. "Now we have evidence of what we have to do to get better.
"Fighting back showed a lot of heart, but by the same token it's still a loss. It's going to be a grind over the next six weeks."
Contact Steve Junga at: sjunga@theblade.com, or 419-724-6461 or on Twitter@JungaBlade.
Guidelines: Please keep your comments smart and civil. Don't attack other readers personally, and keep your language decent. Comments that violate these standards, or our privacy statement or visitor's agreement, are subject to being removed and commenters are subject to being banned. To post comments, you must be a registered user on toledoblade.com. To find out more, please visit the FAQ.