Late 3 lifts Jackets over Generals
Moschetti's late buckets help Perrysburg to victory
1/14/2014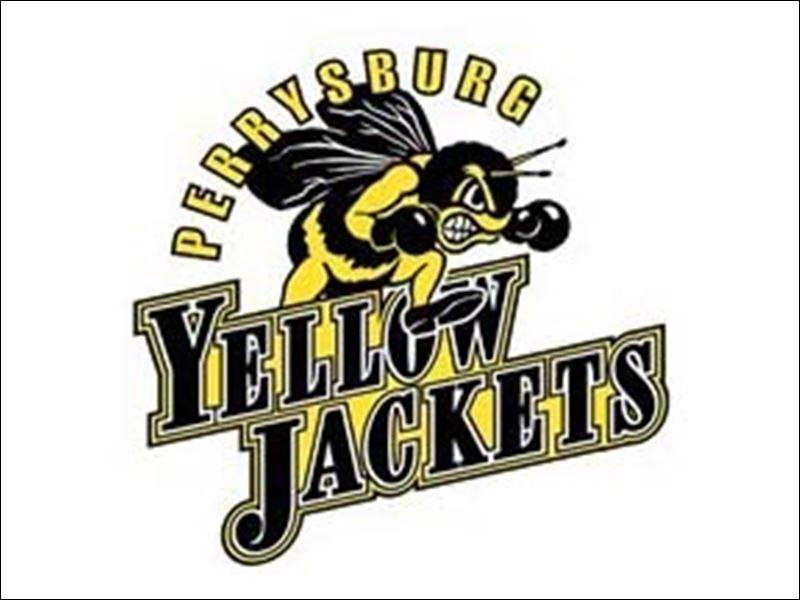 Perrysburg celebrates their victory against Anthony Wayne during basketball game at Anthony Wayne High School in Whitehouse, Ohio, today.
Call it perseverance or maybe great wherewithal, but what Perrysburg senior guard Nick Moschetti did on Tuesday night was simply amazing.
Moschetti willed his Yellow Jackets to a thrilling 48-46 road win over Anthony Wayne.
With his team down by four points with one minute, 14 seconds left, Moschetti converted on an old-fashioned three-point play. His free throw pulled his team to within two. He knocked down the game-winning bucket, a 3-pointer with 20 seconds left.
"I'm always the person who wants to take that big shot," Moschetti said. "When they put it in my hands, I knew I was going to let it rip."
PHOTO GALLERY: Perrysburg at Anthony Wayne
Moschetti, who had struggled offensively up to that point, scored six of his game-high 19 points over the final minute. Moschetti also was covered on the shot and had been 0 of 7 from 3-point range.
"My teammates and coaches have trust in me," Moschetti said. "They're always giving me the ball and they always tell me to keep shooting. They put the confidence back into me. I don't think about the past. I just keep moving forward. "
Perrysburg (11-1 overall, 5-1 Northern Lakes League) moved one game up on Springfield (7-3, 4-1) in the race for the conference title. The Yellow Jackets let a 36-32 lead to start the fourth quarter slip away as AW went on a 9-0 run. Perrsyburg outscored the Generals 12-5 over the final 3:45.
"Our kids were really poised down the stretch," Perrysburg coach Dave Boyce said. "We showed some great intestinal fortitude to get the job done the last two minutes."
Anthony Wayne (6-3, 4-2) had seized a 41-36 lead. Senior forward Jake Reid scored eight of his team-high 14 points in the fourth quarter.
"[Moschetti's] a good player," AW coach Bryan Borcherdt said. "This was two great teams going toe-to-toe and it came down to one possession and they were one possession better tonight."
Perrysburg senior center Nate Patterson finished with 17 points. Anthony Wayne junior forward Jamar Allen scored eight of his 10 points in the first quarter.
Both teams were coming off of tough losses Friday.
Moschetti, the NLL's leading scorer last season, scored his team's first points of the fourth quarter on a layup with 3:22 left.
Reid, who also had eight rebounds for AW, gave his Generals a 45-40 lead with 1:32 remaining.
Patterson, who was strong inside for Perrysburg, converted a bucket in the paint to cut it to 45-42. The Generals went back up by two points on Kyle Breymaier's free throw.
Then Moschetti took over. He drove the lane to create his own chance, scored, and was fouled.
"Things were breaking down and I got a little opening and I got the shot to go and I got fouled," he said.
Moschetti made it a two-point game on the free throw. The Jackets then forced a jump ball and possession went to them. Moschetti then calmly drained the 3 despite having a hand in his face.
"He definitely stepped up and stroked a big one," Boyce said. "He played within himself. He had some tough in and outs early in the game. He got his composure back at the end."
Moschetti said there were two other options. "But I turned out to be open and I hit the shot. Hitting that felt really good," he said.
Borcherdt called a timeout with 16 seconds left. Matt Fox, the Generals' leading scorer coming into the game, then had a shot but he missed the basket and Moschetti was there for the rebound. Patterson hit one of two free throws for Perrysburg. Then Fox, who finished 12 points, missed a shot from near half court at the buzzer.
"We are four points away from being 9-0," Borcherdt said. "We have some young kids playing. We need to learn how to close out games like this."