SIDELINES
Perrysburg picks a team approach
Yellow Jackets know roles, stay focused on NLL title chase
2/6/2014
Perrysburg 6-foot-3 senior Nick Moschetti is guarded by Springfield's Manny Durden. Moschetti leads the Northern Lakes League in scoring at 21.6 points per game and averages 6.4 rebounds.
THE BLADE/LORI KING
Buy This Image
Perrysburg 6-foot-3 senior Nick Moschetti is guarded by Springfield's Manny Durden. Moschetti leads the Northern Lakes League in scoring at 21.6 points per game and averages 6.4 rebounds.
Perrysburg 6-foot-4 senior Nate Patterson averages 12.4 points and 4.9 rebounds. He will play football at Miami (Ohio).
A perfect pick, a timely steal, or good help defense are just as important as pouring in points for the tight Perrysburg boys basketball team.
The Yellow Jackets are riding an unselfish approach to great success this season. Perrysburg has built a 15-1 record and a No. 9 ranking in the Division I state poll.
While the clear statistical leader is dynamic senior guard Nick Moschetti, he is just one among a group of six experienced players who don't care who shows up on the stat sheet.
"No one cares about their stats," said Moschetti, who leads the team in scoring and rebounding. "I may score most of the points, but I give credit to my teammates for making that extra pass or setting a screen. Everyone is doing their job and being unselfish."
Moschetti leads the Northern Lakes League in scoring with 21.6 points per game. The 6-foot-3 pure shooter also ranks among the NLL leaders in rebounding (6.4).
But Moschetti and his teammates prefer to talk about the Yellow Jackets' 8-1 start in the NLL. Perrysburg was predicted to finish second behind Springfield but has knocked off the Blue Devils twice.
"Everyone on our team knows their role, and everyone plays to win," Moschetti said. "Everyone does an excellent job when one person gets down. We are a close group of guys, and we help each other up."
Coach Dave Boyce, who in his 14th season with a career record of 230-72, said he has always stressed "the whole team thing."
"The pride within the program is that they are here for the team first," Boyce said. "We try to make the extra pass, help on defense, pick each other up.
Perrysburg's Matt Kaczinski, right, battles Anthony Wayne's Hunter Johnson. Kaczinski, a senior, averages 9.2 points and 4.9 rebounds.
"A lot of time the guys that score will get the press. But it's also the guys who step up with a pick, make a pass, or get a deflection. That is something we impress up and down the ladder."
Senior forward Nate Patterson, who is second in scoring (12.4), said the seniors have been supporting each other since the seventh grade.
"It's team chemistry," Patterson said. "We all know our roles and help contribute. We don't worry about credit. We play as a team and have each other's back."
Perrysburg has won or shared the NLL title seven times under Boyce. The Yellow Jackets won those championships over a span of nine years from the 2001-02 season to 2009-10, including four straight from 2004-05 to 2007-08.
"The one thing we impress upon our kids in the program is that everyone has a role," Boyce said. "We've also had good consistent coaches. The kids here are competitive. They are achievers."
Boyce said this year's team has the advantage of having experience and balance. Perrysburg has scored 67.4 points per game and shoots 55.5 percent from 2-point range and 45.9 percent from 3.
"All five starters have solid experience," he said. "We have good inside-outside balance."
Patterson, a 6-4 center, averages 4.9 rebounds per game. A standout tight end, Patterson will play football at Miami (Ohio).
Senior forward Matt Kaczinski shoots 57.4 percent from 3-point range and chips in with 9.2 points and 4.9 rebounds per game.
Junior guard Quinn Thomas contributes 7.7 points and 5.1 assists per game.
Senior guard Matt Mesker scores 5.2 points and dishes out 3.1 assists per contest.
Sophomore guard Trevor Hafner also has provided nice complementary offense on the outside with 5.6 points and 3.1 assists per game.
"Then you have [Moschetti], who can do a little bit of everything," Boyce said. "You combine that experience with basic unselfishness."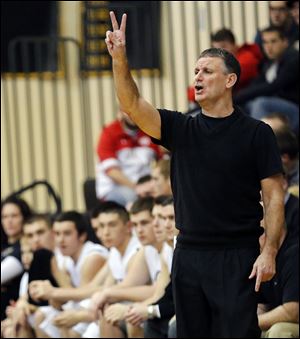 Dave Boyce is in his 14th season as Perrysburg coach. His teams have won seven NLL titles.
Moschetti, a three-year starter, led the NLL in scoring with 17.3 points per game as junior. Boyce said what separates Moschetti is his form.
"He has touch. He has the correct shooting fundamentals," Boyce said. "He developed a move to the right and left. He has a spin move and can finish. He can hit the 3. This year he's bigger and stronger."
Moschetti has handed out 5.1 assists per game. He shoots 52.5 percent from the floor, including 41.4 percent from 3-point range.
"For me, [experience] slows the game down, and I can understand those situations," Moschetti said. "Nate and Matt have been in big moments in other sports. They don't crack under pressure."
Moschetti himself seems to thrive at crunch time. In a tight road game against Anthony Wayne, he scored six points in the final minute, including a game-winning 3-pointer with 20 seconds left.
"It just comes with always being around and you're used to it. I've played in a ton of big games," Moschetti said.
"It's good that they trust me to put the ball in my hands. If I can help my team, I will."
Moschetti is looking to play in college and has received interest from Division II and III schools. He has a 3.5 grade point average. Purdue is interested in having him as a walk-on, Boyce said.
"It's an honor to be able to play at the next level. But No. 1 is school," he said. "I won't be going to the NBA, so I want to make a living when I'm older."
But Moschetti said he and his senior teammates have some unfinished business. Perrysburg has not won the NLL since 2009-10.
"It would be big if we see the banner with our name on it," Moschetti said. "That's one of our goals, and we're working to achieve that."
Perrysburg suffered its only loss on Jan. 10 — 45-42 at Southview. But the Yellow Jackets rebounded with the big road win against AW (48-46).
And then Perrysburg secured its signature win, a decisive 71-42 road victory against preseason favorite Springfield on Jan. 21.
"We did a lot of things right that night," Boyce said.
Yet the Jackets remain just one game ahead of the Blue Devils (6-2) and two in front of the Generals (6-4) and Cougars (6-4). The rematch with AW will take place Tuesday and with Southview on Feb. 14.
"We're in the race to win the race," Boyce said. "It's something our kids strive for every year. But we don't look ahead to any perceived big games. We take each game as if it is most important. Our goal is always to play in big games in February. It's a long haul. We want to be there at the end."
The furthest a Perrysburg team has gone in the postseason under Boyce was the regional semifinals in 2008. This is the third time the Yellow Jackets have been in the top 10 in the state poll.
"One thing I wanted to do was to become a state-level program," said Boyce, a Cardinal Stritch graduate who also has coached at Northwood and Galloway Westland.
"This group is confident in themselves. They have goals," he said.
Patterson said the state poll gives the team a little reassurance.
"We don't focus on that, but it's good to have that," he said. "We're just playing to have fun and to be a team."
Contact Mark Monroe at: mmonroe@theblade.com, 419-724-6354 or on Twitter @MonroeBlade.