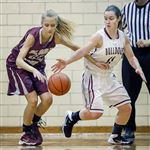 Rossford's Margo Jackson, right, steals the ball from Genoa's Erica Harder. Rossford improved to 13-6 on the season.
THE BLADE/JEREMY WADSWORTH
Enlarge | Buy This Image
Genoa's Ciara Albright reached the 1,000-point milestone during Thursday night's Northern Buckeye Conference meeting with Rossford.
Albright had it going at will throughout the first half on her way to a a game-high 26 points, including 18 before halftime.
But her efforts to steer Genoa to a road win at Rossford came up short as the Bulldogs hung on for a 62-61 victory.
Albright swished her last basket right before the final buzzer, but it came about six inches inside the 3-point line at the top of the half circle. A 3-pointer would have sent the game into overtime.
"I think she just lost where she was at because she knew that there wasn't much time," Genoa coach Mike DeStazio said. "Give her credit because there were no timeouts left. We had put all of our shooters in the game, and we were hoping to just get the ball up court."
Albright's final shot followed a pair of missed free throws by Rossford's Margo Jackson with 5.2 seconds remaining and the Bulldogs holding on to a 62-59 lead.
Rossford's Julie Hotz and Cheyenne Davis delivered 15 and 14 points, respectively, to lead the Bulldogs (13-6, 9-4 NBC). Regan Clay also finished in double-digits with 10 points, and Jessica Pietrasz scored nine.
"It was a typical NBC game between the better teams," Rossford coach Eric Simon said. "It's like this every night. Teams like to get out and run, and I thought it was a game of waves, and we just happened to have a wave at the right time."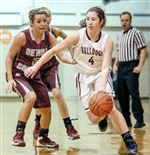 Rossford's Julie Hotz drives past Genoa's Ciara Albright. Hotz led the Bulldogs with 15 points. Albright led all scorers with 26 points, surpassing 1,000 for her career.
THE BLADE/JEREMY WADSWORTH
Enlarge | Buy This Image
Genoa led by as many as 11 points in the first half before Rossford fought back and went in front by as many as seven points late before hanging on for the victory. The Bulldogs sank 7 of 10 foul shots during the fourth quarter.
"We got back on defense instead of letting them score on fastbreaks," said Hotz of her team's adjustments after halftime.
The Bulldogs also utilized more zone in the second half to defend against a hot-shooting Albright, who was limited to only eight points over the final two quarters.
"We just settled down," Simon said. "I don't like to make any excuses, but it was Senior Night, and we were a little over-pumped when we started. We had eight turnovers in the first quarter, and we average 12 a game."
The Comets' coach credited the Bulldogs with making a strong push in the second half and taking charge of the momentum to take the lead. Rossford closed out the third quarter with a 46-40 advantage over Genoa (14-6, 8-4 NBC).
"They're a good team, and we gave it all we had," DeStazio said. "It came down to a couple of possessions."
Yet, early on it looked like Genoa was on its way to sweeping the series after winning the first meeting earlier in the season.
After closing out the first quarter with a 16-14 edge, Genoa increased its lead to 25-14 when Haley Pickard scored two of her 16 points with 4:35 left in the second quarter.
But Rossford responded by closing out the period with a 15-6 run and trailed by two at the break.
The Comets led by as many as 11 points in the first half before the Bulldogs slowly chipped away at the lead and went into halftime trailing 31-29.
Albright carried Genoa throughout the first half. She scored from inside and outside on her way to 18 points before the break.
Hotz led Rossford with nine points before the break.
Contact Donald Emmons at: demmons@theblade.com, 419-724-6302 or on Twitter @DemmonsBlade.
Guidelines: Please keep your comments smart and civil. Don't attack other readers personally, and keep your language decent. Comments that violate these standards, or our privacy statement or visitor's agreement, are subject to being removed and commenters are subject to being banned. To post comments, you must be a registered user on toledoblade.com. To find out more, please visit the FAQ.