The last time the Perrysburg girls soccer team played in Columbus for a state title, the current group of Yellow Jackets roamed the halls of the junior high school with dreams of being on the same big stage.
Perrysburg players celebrate with the regional championship trophy. The Yellow Jackets went on to win a state semifinal match over Massillon Jackson this week and will face Loveland Friday in Columbus for a state championship.
The Blade/Lori King
Enlarge | Buy This Image
Some of the current players that will contend for the 2017 state championship Friday were ball girls for the 2012 Perrysburg team that won it all. Others sat in the stands at what then was Columbus Crew Stadium cheering on their heroes.
Those kids have turned into starters for a Perrysburg team back in the Division I state title game. The No. 7-ranked Yellow Jackets (17-2-3) play No. 2 Loveland (21-1-0) at 7 p.m. at MAPFRE Stadium.
"It's such a dream," junior forward Addie Graham said. "I remember going there in seventh grade and thinking, 'Wow this is so cool. I want to be here one day.' I've been thinking back to those memories and how cool it was for them to win and hoping we'd get a chance to be there. Everything is parallel to that 2012 year."
That Perrysburg team became the first girls program from northwest Ohio to win a state soccer title, beating Mason 1-0. Led by senior forward Maddy Williams, who is now a senior at Purdue, and goalie Chloe Buehler, the No. 1-ranked Yellow Jackets captured the school's first state title in any sport since 1991.
VIDEO: Perrysburg in state soccer championship match
Current players on the Perrysburg girls soccer team back in 2012 when, when the Yellow Jackets played for the state championship in Columbus. Perrysburg goes for the second title in school history Friday, when it faces Loveland.
"We were those little girls that watched that 2012 team play in Columbus, and it's amazing to be the ones back out on that field," senior forward Kristina DeMarco said. "I remember sitting in the Columbus Crew stands and watching the 2012 team win. It's surreal to be the ones to get to go back."
Coach Jorge Diaz, who teamed with co-coach Margaret Bernard to lead the Jackets to that championship, said this year's team is similar.
"This is special," Diaz said. "At the beginning of August, I felt this team had the same makeup. When we started beating Clay, Strongsville, Brunswick ... I knew."
Sophomore goalkeeper Lily Yoder, who has made 97 saves, was in fifth grade in 2012.
"This feels amazing, especially to go with my best friends," Yoder said. "Five years ago when they went, I was in fifth grade up in the stands. Just to do this is amazing. I've dreamed of this since I was at that game. So just going feels great."
This year's group has outscored the opposition 76-20.
The Yellow Jackets, who have won nine games in a row, have prevailed through seriously tight tournament games. Perrysburg beat St. Ursula 1-0 to win the district title. It then took three consecutive overtime wins to extend the run. The Jackets defeated Notre Dame 1-0 in a regional semifinal before knocking out Strongsville 1-0 to capture the regional title.
DeMarco scored the game-winner 4 minutes, 21 seconds into the first overtime of Tuesday's state semifinal to eliminate No. 10-ranked Massillon Jackson 1-0.
"This is an amazing feeling," DeMarco said. "We've been working all season for this. We're going back to Columbus, and it's surreal."
DeMarco and Graham, both forwards, have formed a formidable force up front.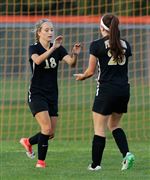 Perrysburg's Addie Graham (18) celebrates scoring a goal with Kristina Demarco against Sylvania Southview. Perrysburg faces Loveland in Columbus Friday in the Division I state championship match.
THE BLADE/JEREMY WADSWORTH
Enlarge | Buy This Image
Graham leads the team with 60 points. The diminutive attacker has scored 24 goals and has 12 assists. DeMarco, the Division I district player of the year, leads the team with 21 assists and has scored 13 goals for 47 points.
Diaz, who had tears in his eyes as he hugged his young son during Tuesday's postgame celebration, said this team can compete with anyone in the state and is confident even in tight games.
He said the coaching staff decided to beef up the team's schedule to prepare for a deep tournament run. The Yellow Jackets played nonconference games against Rocky River Magnificat (a 3-3 tie), Springboro (a 3-1 loss), and Strongsville (a 3-2 win).
He also said the local teams provided stiff competition as well. Perrysburg captured a seventh consecutive title in the highly-competitive Northern Lakes League.
"The teams in northwest Ohio are tremendously tough. So we're very thankful to be here," Diaz said. "Any of those teams [Notre Dame, St. Ursula, Anthony Wayne] could be here. My kids have a lot of heart and grit, and they hate losing."
Loveland, which has won eight consecutive games and at one point was ranked No. 1 in the coaches' poll, also has needed overtime to advance. The Tigers, who have outscored their foes 77-5, won the regional title against No. 6 Springboro in overtime, then knocked off Powell Olentangy Liberty 2-1 in overtime in the other state semifinal.
Loveland also has two big scoring threats. Colleen Swift leads the Tigers with 57 points (20 goals) and Brice Grieshop has 46 points (18 goals). Goalkeeper Lauren Parker has 48 saves.
Diaz said his team has been playing great defense and just needs to put balls on net. He said Yoder, who started as a freshman, is playing at a high level.
"Lily has come along tremendously over the course of the playoffs and that builds confidence for our kids," he said. "We're peaking at the right time."
Graham was the ball girl for the 2012 team.
"I was on the field," she said. "I had this bright pink hat on and I was the ball girl throughout the whole 2012 year. Now, this is our chance."
Contact Mark Monroe at mmonroe@theblade.com, 419-724-6354, or on Twitter @MonroeBlade.
Guidelines: Please keep your comments smart and civil. Don't attack other readers personally, and keep your language decent. Comments that violate these standards, or our privacy statement or visitor's agreement, are subject to being removed and commenters are subject to being banned. To post comments, you must be a registered user on toledoblade.com. To find out more, please visit the FAQ.