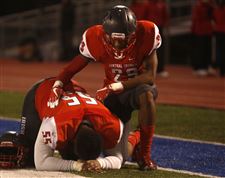 Central Catholic's De'Marko Criag Jr. (55) is consoled by teammate Matthew Griffin after a 16-7 loss to Trotwood-Madison in the state semifinals.
The Blade/Kurt Steiss
Enlarge | Buy This Image
PIQUA — If Cen­tral Cath­o­lic was go­ing to have a chance at up­set­ting top-ranked Trot­wood-Madi­son in Fri­day night's Divi­sion III state foot­ball semi­fi­nal, the Fight­ing Ir­ish needed a su­perb ef­fort on de­fense.
Cen­tral got that, ex­cept for one big play by the Rams late in the game.
Bot­tled up for most of the game, Trot­wood's All-Ohio run­ning back Raveion Har­grove broke off a 77-yard touch­down run with 4:48 re­main­ing, ic­ing his team's 16-7 vic­tory at Pi­qua's Al­ex­an­der Sta­dium.
Be­fore that play, the ever-dan­ger­ous Har­grove — who came in with 2,000 rush­ing yards and 28 touch­downs on the sea­son — had been held to 47 yards on his first 17 car­ries, and Trot­wood's only pre­vi­ous points in the game had come off of Cen­tral spe­cial-teams mis­cues on two blocked punts.
VIDEO: Central Catholic falls in state semifinals
"The de­fense showed up to­night," said 18th-year Cen­tral coach Greg Demp­sey, who has guided the Ir­ish to three state cham­pi­on­ships since 2005. "Spe­cial teams de­cided the game, and a lot of pen­al­ties hurt us.
"The de­fense didn't hurt us at all. They gave up one touch­down and peo­ple were count­ing on them giv­ing up five to­night. They gave ev­ery­thing they had and played an awe­some game."
After the Ir­ish (11-3) had grabbed a 7-0 lead on Jase Bowen's 1-yard run around right end with 4:42 into the first quar­ter.
The Rams (14-0) blocked a Bowen punt and Taron Britt re­cov­ered in the end zone for a touch­down with 39 sec­onds left in the first.
Trot­wood's sec­ond punt block on Bowen re­sulted in a safety and a 9-7 lead with 6:32 left in the third quar­ter.
"The spe­cial-teams break­downs killed us to­night," Demp­sey said. "Nine out of the 16 points — do the math. And, we've got to con­vert and fin­ish some drives, which we didn't do.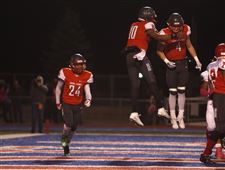 Central Catholic's Troy Durden-Scott Jr. (10) and Jase Bowen celebrate an early touchdown during Friday's state semifinal game.
The Blade/Kurt Steiss
Enlarge | Buy This Image
"The lit­tle things add up in big games like this, es­pe­cially against a team that's that good."
Har­grove fin­ished with 127 yards on 21 car­ries.
These two teams have met five times in the past six years in the play­offs, with Cen­tral win­ning the first three, and Trot­wood tak­ing the last two.
The Ir­ish beat T-M 16-12 in the 2012 Divi­sion II state cham­pi­on­ship game, then topped the Rams in the 2014 and 2015 D-III semi­fi­nals. An in­spired Trot­wood took some re­venge last sea­son, blank­ing Cen­tral 36-0 in a state semi­fi­nal played at Lima Se­nior.
Per­haps mo­ti­vated by that lop­sided loss, and look­ing for re­demp­tion, the Ir­ish brought their A-game de­fen­sively.
The Rams came in av­er­ag­ing 52 points per game, and their of­fense man­aged just 235 yards and seven points in this game, which was not de­cided un­til Har­grove's late touch­down run ba­si­cally put the game out of reach for a Cen­tral of­fense that to­taled 200 yards.
The Ir­ish de­fense also kept the Rams' stand­out quar­ter­back, Markell Ste­phens-Pep­pers pretty much un­der wraps. He was 10-of-22 pass­ing for 74 yards, and rushed 10 times for just 17 yards. He en­tered the game with 35 touch­down passes.
"We came to play to­night," Demp­sey said. "We gave them ev­ery­thing that they could han­dle, I think. I'm not big into moral vic­to­ries, but we're not leav­ing with any re­grets in terms of our ef­fort, and the pas­sion we played with to­night."
Central Catholic's Troy Durden-Scott Jr. finds running room during Friday's state semifinal game against Trotwood-Madison in Piqua. Central Catholic lost, 16-7.
The Blade/Kurt Steiss
Enlarge | Buy This Image
The lone Ir­ish scor­ing drive cov­ered 48 yards on eight plays af­ter Cen­tral gained pos­ses­sion af­ter a short 23-yard punt by the Rams.
Ir­ish quar­ter­back Troy Dur­den's runs of 10 and 3 yards were fol­lowed by Bowen's 8-yard carry out of the wild­cat for­ma­tion to the Rams' 1-yard line. He scored on the next play.
"Our se­niors lived up to the ex­pec­ta­tions of our pro­gram, which are pretty high," said Demp­sey of his team's fourth con­sec­u­tive state semi­fi­nal ad­vance­ment and fifth in six sea­sons. "To­night stings, but this was a spe­cial sea­son. I can't be any prouder of the team.
"It wasn't easy get­ting here com­pared to what it was the past cou­ple years, and these guys grinded it out and still got us here. They gave us a chance to win to­night, and that's all you can ask from a fi­nal-four game."
Contact Steve Junga at sjunga@theblade.com, 419-724-6461, or on Twitter @JungaBlade.
Guidelines: Please keep your comments smart and civil. Don't attack other readers personally, and keep your language decent. Comments that violate these standards, or our privacy statement or visitor's agreement, are subject to being removed and commenters are subject to being banned. To post comments, you must be a registered user on toledoblade.com. To find out more, please visit the FAQ.