CANTON — A football season for the ages ended in agonizing fashion for an exceptional Eastwood team in the Division V state championship game Friday.
The top-ranked Eagles put forth a tremendous effort before a crowd of 9,778 at Tom Benson Hall of Fame Stadium, but the offense sputtered at times and the defense faltered late as Eastwood fell 21-14 in overtime to third-ranked Wheelersburg in a defensive stalemate.
Eastwood's Ceyleon Damron gallops for a touchdown during the state championship game against Wheelersburg.
The Blade/Kurt Steiss
Enlarge | Buy This Image
Playing in the first state title game in school history, the Eagles (14-1) limited a potent Pirates attack to just 207 yards. But Wheelersburg (15-0) scored with just 17 seconds left in regulation to send it to overtime.
In a battle of unbeatens that lived up to expectations, Wheelersburg then scored the decisive touchdown on a trick play in overtime — a halfback pass from Xander Carmichael to Tanner Holden.
Eastwood sophomore running back Jaden Rayford, who rushed for 136 yards in the game and 2,208 this season, then had a first down on a carry inside the 5-yard line. But Rayford was hit hard and fumbled the ball. The Pirates' Cole Lowery recovered it to stun the Eagles and end a season of unprecedented success.
"All you see on that play is a competitor who wanted to win," Eastwood coach Craig Rutherford said. "There have been numerous cases where he dragged three or four guys into the end zone, and I think that was what he was expecting to do. That's why we love him so much. That was the last play of the game, but if he had not taken it to them in an extremely physical game, we would not have had the opportunity there."
In overtime, the Pirates faced fourth-and-1 at the Eastwood 11 and appeared to be trying to pick up the first down on a run. But Carmichael took the handoff, jumped in the air, and hit Holden with a quick pass for the go-ahead score.
"We had only run it in practice," Wheelersburg coach Rob Woodward said. "We didn't ever display it. We went to the Rolodex. It was a good tool to have in the toolbox."
Eastwood was down by a point with 5:14 left in regulation, when Rayford broke off a 31-yard yard gain — his longest of the game — to get to the Pirates' 10. Rayford then scored on a 4-yard run up the middle for a 12-7 lead. The Eagles added the two-point conversion on a pass from Jake Pickerel to Zach Henline to take a 14-7 edge with 1:27 left.
However, Wheelersburg then hit pass plays of 18, 19, and 13 yards with less than a minute left to get into scoring position.
"We thought we had them back there, and they had a guy make two great catches," Rutherford said.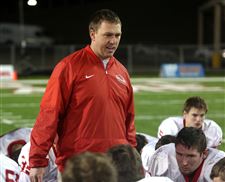 Eastwood coach Craig Rutherford addresses his team after the state championship game in Canton. The Eagles lost in overtime to Wheelersburg, 21-14.
The Blade/Kurt Steiss
Enlarge | Buy This Image
The Pirates then tied it at 14 on a well-designed 12-yard screen pass from Trent Salyers to Makya Matthews with 17 seconds left, finishing off a 75-yard drive in 1:03.
"Those are plays we resort to only when we really need it," Woodward said.
Eastwood had won more games than any other in school history, including the program's first regional title by averaging 39.6 points and 317 rushing yards per game. But the Eagles were limited to 227 total yards, including 175 on the ground.
"That is the best defense we've played against, and we struggled to get our blocks at times," Rutherford said. "But we kept fighting and gave ourselves a shot to win at the end."
The Eagles scored the game's first touchdown in the second quarter but did not score again until late.
Eastwood forced Wheelersburg, which had averaged 41.6 points and 414 yards of offense, to punt eight times. The Pirates finished with just 207 total yards.
"We had limited them for so much of the game, but when you have the playmakers they have, at some point, one will open up and they hit a bunch of big plays on that last drive," Rutherford said.
Eastwood grabbed a 6-0 lead on a 7-yard scamper by Ceyleon Damron with 3:45 left in the second. Damron stiff-armed the defensive end to get around the left side. However, Jacob Hahn missed the point-after attempt.
Wheelersburg then responded to take a 7-6 lead after an eight-play drive that covered 67 yards in 2:57. The Pirates scored on a 1-yard quarterback sneak by Salyers with 42 seconds left before halftime.
"It's exactly what you would expect out of a state championship game," senior lineman Addison Clark said. "We fought hard. But they were extremely physical and fast."
Linebacker Cory Coffman, who had six tackles and a sack, was proud of the effort.
"I truly believe we left it all out there. I'm extremely proud of what we accomplished," Coffman said. "In a couple of days, it will be easier to realize what we did was extremely special. We gave it our all and just came up short."
Pickerel, who completed 2 of 7 passes for 52 yards, said despite the loss, it will be a game to remember.
"I'm so proud of the seniors," Pickerel said. "We'll never forget this. No one will ever forget this season. Twenty years from now, these seniors will get together and we'll still talk about this game."
Eastwood's Jaden Rayford celebrates with assistant coach Dwight Fertig after a big play in Friday's Division V state championship game against Wheelersburg in Canton. Eastwood lost the game in overtime, 21-14.
The Blade/Kurt Steiss
Enlarge | Buy This Image
The Eagles lost nose guard Dalton Andrews to a knee injury in the first half. The Eagles still held Wheelersburg to just 17 rushing yards.
"We lost one of our best players, and we continued to have guys step up," Rutherford said. "We shut down the run game. We played a great defensive game against a team that scores a lot of points."
Eastwood defensive end Antonio Salinas, an All-Ohio first-teamer, finished with three sacks and six tackles for loss.
Woodward complimented the Eagles' effort.
"That was an outstanding football team we just played," Woodward said. "It was 14-0 versus 14-0 and it was a great matchup in a state title game. That is the best offensive line we've seen all year and the running back runs so hard. Their defense is so fast."
Rutherford said Rayford, who set a school record with 36 touchdowns, had nothing to hang his head about.
"He's hung on to the ball so well. He hardly ever fumbles. I think it was just a guy who wanted to win so badly. He kept fighting and they knocked it loose," Rutherford said. "All year we've gone out and won games together. It's never been about one guy. We got a great effort from a bunch of guys."
Sayler completed 17 of 29 passes for 179 yards. Holden, the D-V co-offensive player of the year, had seven catches for 46 yards.
"It was everything we expected it to be," Rutherford said. "We were right there. I'm proud of the effort and where they've taken our program. It's still a dream come true. I wish it would have ended differently but these guys worked together and overcame so much to get to where they are at. Someday — not now because it's hard — but they will look back and say they are proud to be the state runner-up."
Contact Mark Monroe at: mmonroe@theblade.com, 419-724-6354, or on Twitter @MonroeBlade.
Guidelines: Please keep your comments smart and civil. Don't attack other readers personally, and keep your language decent. Comments that violate these standards, or our privacy statement or visitor's agreement, are subject to being removed and commenters are subject to being banned. To post comments, you must be a registered user on toledoblade.com. To find out more, please visit the FAQ.