Spotlight athlete: Christian Wagenhauser, Southview
12/28/2017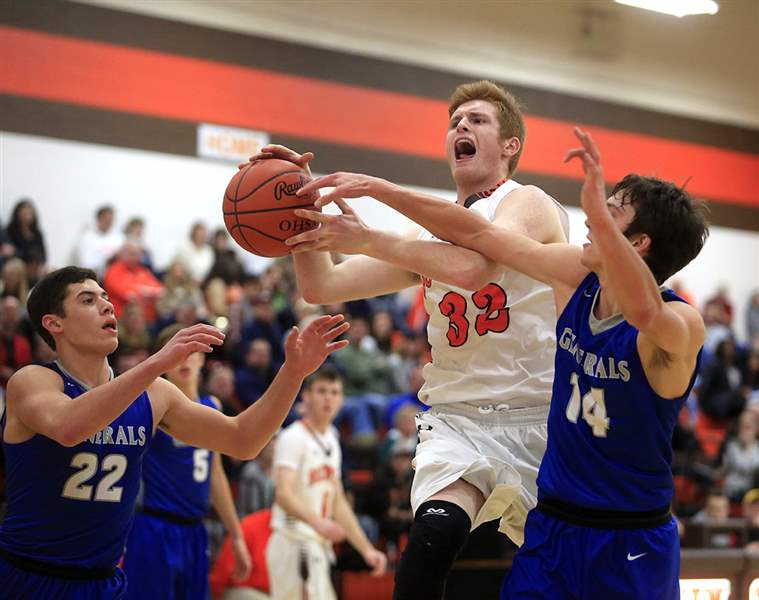 Southview's Christian Wagenhauser (32), left, lets out a yell as he goes up for a layup while defended by Anthony Wayne's Andrew Murphy (14), during a game Dec. 15.
THE BLADE/KURT STEISS
Buy This Image
Wagenhauser
Opposing teams know how big 6-foot-7 center Christian Wagenhauser is for Southview. The Cougars also have a strong understanding of that, as the senior who missed 14 games last year with a broken leg has been a key part of a team off to a 5-0 start before Thursday's game vs. Notre Dame-Cathedral Latin in Southview's annual holiday tournament.
Wagenhauser paced the Cougars in a 60-38 win Dec. 22 against Perrysburg with 14 points, including 10 before halftime. During one key stretch, he made three consecutive buckets.
"The middle was open, so that's what got me going," Wagenhauser said afterward. "My shots were rattling around the rim and they fell in a couple plays in a row, so that got us out to a decent lead in the first half."
Wagenhauser averaged 3.3 points per game after his return from injury last year at Southview — his first year with the Cougars after transferring from St. John's Jesuit — but he's proved more adept at scoring in his senior campaign. He had 20 points in a 69-52 win Dec. 15 against Anthony Wayne in NLL play and had six points during a game-breaking 10-0 Southview run during the team's 70-55 win Dec. 5 against Waite.