The good news is Genoa wrestling coach Bob Bergman believes his team is hitting its stride.
That's bad news for the rest of the Northern Buckeye Conference, as the five-time NBC champions are halfway toward a sixth straight league crown.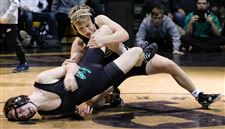 Genoa's Julian Sanchez, top, defeats Delta's Cole Mattin for the championship in the 126-pound weight class at the Perrysburg Invitational Tournament on Saturday.
THE BLADE/JEREMY WADSWORTH
Enlarge | Buy This Image
The Comets showed off their prowess to a ton of area schools on Saturday, winning the prestigious Perrysburg Invitational Tournament with 218 points. Genoa held off Wauseon (201) and the host Yellow Jackets (135.5) for the title.
"The thing is there's so many great individual teams here like Wauseon, and we knew it would be a neck-and-neck challenge," Bergman said. "We just try to wrestle our best."
The Comets placed three champions in their respective flights.
Junior Julian Sanchez defeated Delta's Cole Mattin 5-3 to improve to 11-2 overall and win the 126-pound title.
Dylan D'Emilio, also a junior, improved to 13-0 at 132 with a pin of Legacy Christian freshman Clint Brown, in 3:14.
VIDEO: Perrysburg Invitational Tournament
Junior James Limongi won the 160 title with a 2-1 victory over Wauseon's Xavier Torres. Limongi improved to 15-3.
"We've gone to a lot of individual tournaments, and this is one of the first events we've had with a full lineup," Bergman said.
"Our middle lightweight wrestlers are the core of the team."
There were a couple of surprises for the Comets. Senior Seth Moore was unseeded at 170 yet took third with an 8-0 major decision against Perrysburg's Ethan Garee. At heavyweight, junior Noah Koch also came in unseeded but made it all the way to the finals before an 8-3 decision loss against Firelands standout Sean Lipscomb.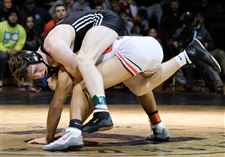 Genoa's James Limongi, top, defeats Wauseon's Xavier Torres in overtime to win the 160-pound championship match at the Perrysburg Invitational Tournament.
THE BLADE/JEREMY WADSWORTH
Enlarge | Buy This Image
Before the Perrysburg meet, the Comets traveled to Medina for a holiday tournament and finished fourth overall. The Comets were the highest-scoring team in Division III, which is Genoa's division for the state meets later this winter.
The focus shifts back to NBC play for the Comets, who have already beaten Woodmore, Lake, Otsego, and Fostoria. They can sweep the regular-season competition with wins Tuesday over Eastwood and Elmwood. The Comets then travel to Rossford on Jan. 17 for the final NBC meet before the Feb. 11 conference championships.
Wauseon junior Gavin Ritter improved to 19-4 with a win over Genoa's Oscar Sanchez at 113. The Indians also got wins from Hunter Yackee (138), Mauricio Barajas (145), and Trent Davis (182).
Other area champions included Perrysburg's Ricardo Oviedo (120), Gibsonburg's Brad Mendoza (170), Elmwood's Dylan Hinton (195), and Maumee's Brandon Phillips (220).
Guidelines: Please keep your comments smart and civil. Don't attack other readers personally, and keep your language decent. Comments that violate these standards, or our privacy statement or visitor's agreement, are subject to being removed and commenters are subject to being banned. To post comments, you must be a registered user on toledoblade.com. To find out more, please visit the FAQ.