For all that has changed about St. John's Jesuit in the past 39 years, students today still have at least a few things in common with all who have passed through its halls since 1979.
Students still have to wear shirts and ties, they still call their lunch room the Commons, and Ed Heintschel – after all these years – is still winning games as their basketball coach.
St. John's Jesuit head coach Ed Heintschel, center, is embraced after winning his 700th high school basketball game Saturday evening. The Titans beat Lakewood St. Edward, 59-45.
The Blade/Katie Rausch
Enlarge | Buy This Image
Heintschel earned his 700th victory on Saturday on a home court that now bears his name, a 59-45 win against visiting Lakewood St. Edward.
The Titans' coach became just the fourth person in Ohio history to reach the 700-win plateau.
PHOTO GALLERY: St. John's coach Ed Heintschel wins 700th game
At the final buzzer, there was a brief ceremony for Heintschel, a student section holding up "700" signs, and even a few tears from the man who made St. John's basketball relevant.
"It was a pretty emotional moment, especially with my kids being here," Heintschel said.
Vincent Williams, Jr., scored 19 points for the Titans (9-2), while Houston King and Ryan Christie chipped in 12 and 11, respectively.
St. John's took the lead on King's 3-pointer midway through the second quarter and never lost it. The Eagles (11-3) never came closer than five points in the second half.
For Heintschel, 39 years after he started as the Titans' varsity coach, his life's work is still about the young men who pass through St. John's and helping them develop along the way.
Truth be told, Heintschel never expected that he would be St. John's coach in 2018. Some of his first students are grandfathers, and his own son has been graduated for more than a decade.
"It is crazy. It really is," Heintschel said. "What happens is you get attached to kids and the players who are coming up, and you say, 'Well, I want to see this guy through,' and then another guy comes along, and you want to see him through."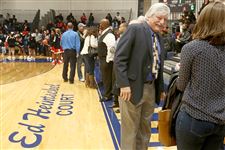 St. John's head coach Ed Heintschel, right, won his 700th game as the Titans' coach on Saturday.
THE BLADE/KATIE RAUSCH
Enlarge | Buy This Image
Heintschel said he didn't want to "pull the rug out" before Williams and King were seniors, the latest group of Titans he couldn't bear to leave.
"That doesn't necessarily mean I'm done now," Heintschel said, smiling. "We'll cross that bridge when we come to it."
The Titans played inspired on Saturday, holding a talented Eagles team to 25 points in the final three quarters.
King said being part of the latest milestone for Heintschel was a special experience.
"He's like another father figure," King said. "I know he deserves it. I saw a couple tears come down, and that's how you know he really loves the game. It just made me want to work even harder, seeing how much it meant to him."
Most of the Titans had not seen their coach display that particular emotion after the game, but it was sign that the night held a special place for Heintschel.
"He doesn't really show his emotion," Williams said. "This the first time seeing him show his emotion that much. It was great."
The current St. John's players were not born when the Titans were coming to state prominence in the early 1990s, and they were in diapers when Brian Roberts was becoming a star in the early 2000s.
St. John's has made untold upgrades to its campus, started an academy, and welcomed back many of Heintschel's former students as teachers.
Yet he's still roaming the sideline under the dome and stomping to get his players' attention.
And crossing off milestones along the way.
"When I think back through the years, back to the early 90s, and think of all the stuff that's happened since the 90s – and I'm still coaching," Heintschel said. "It flabbergasts me, to tell you the truth."
Contact Nicholas Piotrowicz at npiotrowicz@theblade.com, 419-724-6110 or on Twitter @NickPiotrowicz
Guidelines: Please keep your comments smart and civil. Don't attack other readers personally, and keep your language decent. Comments that violate these standards, or our privacy statement or visitor's agreement, are subject to being removed and commenters are subject to being banned. To post comments, you must be a registered user on toledoblade.com. To find out more, please visit the FAQ.