What to watch in high school sports: Feb. 8-14
2/8/2018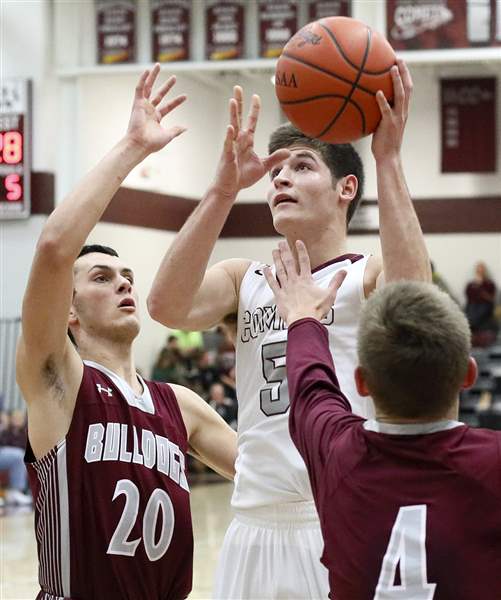 Genoa's Jacob Plantz (5) shoots against Rossford in a game earlier this year. The Comets face a big NBC game Friday night vs. Woodmore.
THE BLADE/JEREMY WADSWORTH
Buy This Image
This week's look at the top high school athletics events in the Toledo area (weather permitting) includes basketball games with big conference impacts and a state championship on the wrestling mats.
Thursday, Feb. 8
Girls basketball: Eastwood at Lake, 7:30: The visiting Eagles (14-5, 10-2 NBC) need to win to remain tied for first place in the Northern Buckeye Conference with Elmwood. Lake's Flyers (14-5, 9-3) must prevail to stay in contention.
Friday, Feb. 9
Boys basketball: Genoa at Woodmore, 7:30: Genoa (15-3, 10-0 NBC) travels down route 51 a few miles with hopes of clinching at least a share of a second straight Northern Buckeye Conference title. The host Wildcats (14-3, 7-3), who have been the surprise of the conference this season after being picked to finish last in the conference, will try to delay the Comets' celebration.
Sunday, Feb. 11
Wrestling state team dual tournament at St. John Arena, Columbus: In Division II, Wauseon, which was state runner-up in this event to Ohio wrestling powerhouse St. Paris Graham the past two years, got a break when Graham opted to enter the Division I state team dual tourney, where they are seeded No. 1. That left Wauseon as the top seed in D-II. The Indians open with an 11 a.m. quarterfinal match against No. 8 seed Washington Courthouse Miami Trace, and if they advance would meet the Canfield/Urichsville Claymont quarterfinal winner in a 3:30 p.m. semifinal. If Wauseon reaches its third straight final, it will most likely face eith No. 2 seed Mentor Lake Catholic, or No. 3 seed Akron St. Vincent-St. Mary in the 7:30 p.m. championship dual.
In Division III, top-seeded and No. 1-ranked Genoa makes its first appearance in a state team dual tourney. The Comets open with a quarterfinal match against No. 8 seed Bethel-Tate at 11 a.m. A win would send Genoa to the 3:30 p.m. semifinal against either No. 4 seed Versailles or No. 5 Apple Creek Waynedale.
Swanton is the No. 3 seed in the D-III event, and will take on No. 6 Nelsonville-York in a 1:15 p.m. quarterfinal. If the Bulldogs prevail, they would advance to a 3:30 p.m. semifinal match against either No. 2 Massillon Tuslaw or No. 7 Galion Northmor. The D-III final is set for 7:30 p.m.
Tuesday, Feb. 13
Girls basketball: Liberty-Benton at Ottoville, 7:30: One of the marquee matchups of the season among small-school teams in northwest Ohio has the visiting Eagles (18-1) coming in ranked No. 7 in the Division III state poll, and host Ottoville (19-1) ranked No. 2 in Division IV.
Wednesday, Feb. 14
Girls basketball: City League playoff semifinals at Start: At 6 p.m., top-seeded Rogers (17-3, 10-0 CL) faces No. 4 seed Scott (5-15, 4-6). At 7:30, No. 2 seed Start (11-7, 7-2) takes on No. 3 seed Bowsher (12-8, 6-4). Rogers is seeking its seventh straight City championship. The finals are Friday, Feb. 16 at Bowsher at 7:30.