CANTON — Southview focused on St. Francis' regional dominance in Division I swimming this year.
"St. Francis has won 52 consecutive district titles," Southview's R.J. Kondalski said. "That's pretty incredible. Their coach is amazing, and they just keep getting faster and faster."
From left: Aiden Sorensen, Sam Curran, Isaac Ginsberg, and R.J Kondalski of Southview celebrate their second-place finish in the boys 200-yard medley relay at the Ohio High School Div. I Swimming Championships in Canton.
SPECIAL TO BLADE/PHIL LONG Enlarge
The Cougars opened the finals with a runner-up finish behind St. Xavier in the 200 medley relay in 1:33.05. Kondalski was joined in the relay by senior Sam Curran, senior Aidan Sorensen, and sophomore Isaac Grinberg.
In the 100 butterfly, Grinberg placed fifth in the final at 49.87.
Kondalski, a silver medalist in 2017, again finished second in the backstroke, this time to Cincinnati St. Xavier senior Justin Grender, who set a state record in Friday's prelims. Kondalski, who finished the back in 48.95, also made the awards podium in the 100 freestyle at 46.45 to take eighth.
RELATED CONTENT: St. Ursula, BG swimmers earn state titles
As he turned toward a swimming career at Ohio State, Kondalski reflected on a high school grind of arriving at the Northview pool, where Southview trains, each day at 5:15 a.m.
"I can't imagine my life without swimming. It became so much a part of my life. I've enjoyed it so much," he said.
St. Francis — which finished fifth as a team to now-10-time champion Cincinnati St. Xavier in Division I — placed fifth in the 200 free relay (sophomore Brady Ireland, junior Connor Bishop, senior Griff Littlehale, senior Jacob Sobczak) in 1:24.99.
St. Francis also placed seventh in the 400 free relay (Ireland, Bishop, Sobczak, junior Max Rutledge) in 3:07.37.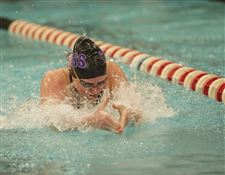 Alexis Prenzlin of Fremont Ross swims the breaststroke leg of the girls 200-yard medley relay at the state championships in Canton.
SPECIAL TO BLADE/PHIL LONG Enlarge
Fremont Ross' girls placed sixth in the 200 medley relay final (MaKennah Fitzgerald, Alexis Prenzlin, AnneMarie Moses, Olivia DeRodes) in 1:45.27.
Another team whose home is the St. Francis pool that produced a state championship for northwest Ohio is St. Ursula, which won the 200 free relay in Division II competition Friday.
St. Ursula found itself in the heady position of taking the fastest 200 free relay time into the final. The No. 2 qualifying time belonged to Gates Mills Hawken, the answer in girls swimming to St. Xavier's boys. Hawken has won every girls Division II team championship since the OHSAA split the meet into two divisions in 2000.
Brent Ransom, the St. Francis coach, has been paying attention to St. Ursula.
"They have an excellent group of young swimmers," he said. "They're going to be really good."
St. Ursula arrived ahead of schedule, winning the relay in 1:36.23. Three of the relay members are freshmen — Audrey Cesar, Molly Dynda, and Corrine Staneart. They were joined atop the awards podium by junior Catherine Kight.
Runner-up Napoleon (junior Abby Allison, senior Allison Williams, junior Jenna Pilkington, freshman Kaylee Nagel) was close behind in 1:36.92.
Arrows coach Dave Eisenstein said his team was ready for this. His team finished third with 148 points, trailing Hawken with 345 and Hathaway Brown with 157.
"Our girls don't care about the situation or the pressure," Eisenstein said. "They just get in the pool and race."
St. Ursula senior Sarah Hack set the tone in the first race of the weekend, swimming the opening (backstroke) leg on a 200 medley relay that finished fifth in the final in 1:47.93. Sophomore Kayla Kreger, junior Kelly Metzger and Kight rounded out that relay.
Bowling Green's C.J. Layne made a splash in Division II boys by winning the 100 breaststroke. His 55.83 was well ahead of the 57.11 put up by Cincinnati Mariemont's Ian Mikesell, who had finished ahead of Layne in 2017.
Layne is just a sophomore, but his experience in the pool is deep. He was only 19 days old when he took his first dip in a pool — his parents are swim coaches who wanted him to learn water safety was the start.
In boys Division II, Bowling Green junior Jack Burrows took fourth place in the 100 free (46.28) and fifth in the 50 free (21.35).
In girls Division II, Wauseon senior Syndney Darnell finished seventh in the 100 butterfly (57.36).
Guidelines: Please keep your comments smart and civil. Don't attack other readers personally, and keep your language decent. Comments that violate these standards, or our privacy statement or visitor's agreement, are subject to being removed and commenters are subject to being banned. To post comments, you must be a registered user on toledoblade.com. To find out more, please visit the FAQ.