Archbold, Stritch to meet again on tournament trail
3/8/2018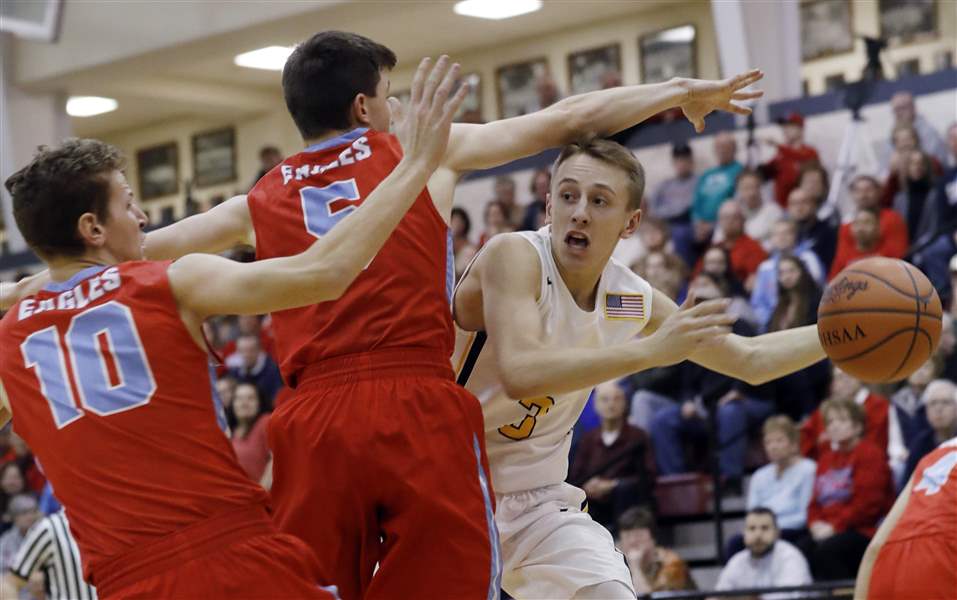 Archbold's Eli Miller looks to pass under pressure from Eastwood's Brendan Halko (10) and Grant Hirzel during a Division III district semifinal at Central Catholic High School. Archbold won, 53-45.
The Blade/Katie Rausch
Buy This Image
Archbold fell behind by a point midway in the fourth quarter, but the polished veteran Blue Streaks used their composure and perfect free-throw shooting down the stretch to take a 53-45 victory Thursday against Eastwood in a Division III boys basketball district semifinal at Central Catholic's Sullivan Center.
All-Northwest District senior guard Bryce Williams led the 11th-ranked Streaks (20-3) with 15 points, and 6-foot-5 junior wing Rigo Ramos added 14 for Archbold, which will play for the district championship at1:30 p.m. Saturday here against fifth-ranked Cardinal Stritch.
The Cardinals (23-1) advanced by beating ninth-ranked Genoa, 59-53, in the second semifinal.
Archbold's Eli Miller looks to pass under pressure from Eastwood's Brendan Halko (10) and Grant Hirzel during a Division III district semifinal at Central Catholic High School. Archbold won, 53-45.
PHOTO GALLERY: Division III district at Central Catholic
"We took some bad shots and turned it over a couple times, and they took advantage of it," Archbold coach Doug Krauss of Eastwood's late-game rally. "A good team does that. We called a couple sets and we converted, we took care of the ball, and we went to the foul line and connected. We were pretty good from the foul line tonight.
"Our kids persevered. You've got to be strong. There's no place for the meek and mild."
Archbold led 15-13 after one quarter and, after surrendering the lead when Eastwood went on a 9-0 second-quarter run, bounced back to take a 25-22 halftime lead.
The Eagles (18-7), who were led by 15 points apiece from senior forward Tyler Haas and senior guard Cade Boos, pulled within 32-31 on a Haas bucket with 3 minutes, 14 seconds left in the third, but trailed 36-31 entering the fourth.
After tying the game twice early in the fourth, Eastwood took its final lead at 42-41 on one of three fourth-quarter 3-pointers by Boos, this one with 4:35 to go.
Archbold then responded with a 3 from Ramos, a driving laup from Eli Miller, and a conventional three-point play from Williams to take a 49-42 lead with 2:07 left.
"We've played in so many close games and we've learned how to close games out," Williams said. "Our experience is huge because we don't get too frustrated. "We trust each other to make the plays, and we don't panic. We can get a bucket when we have to, and we hit some huge shots tonight."
Boos connected on a long, banked-in 3 with 1:19 left to make it 49-45, but the Eagles could get no closer.
"We've got experience, but they've got tournament experience," Eastwood coach Todd Henline said of Archbold, which has four returning starters from its state final-four team of a year ago. "They're the team that represented our region last year at state, and they've been in tight games like this.
"Once their back got to the wall, they made some nice plays. They had two big plays where they penetrated and kicked out for a 3, and give their kids' credit. They hit both of those big shots. They're a veteran team and a veteran coaching staff, and it shows in tight situations."
The Blue Streaks were 15-of-29 (52 percent) from the field, including 5-of-12 on 3ss, and went 18-for-20 at the foul line. They committed 10 turnovers while forcing just five, and were outrebounded 24-22.
Eastwood was 18-of-51 (35 percent) from the field, including 4-of-15 on 3s, and was 5-for-7 at the line. Haas had a game-high 10 rebounds.
Stritch, champion of the Toledo Area Athletic Conference, had the final answer in a back-and-forth battle against Northern Buckeye Conference champion Genoa.
All-district sophomore guard Joey Holifield led the Cardinals with 18 points, including 16 in the second half. Junior point guard Jordan Burton had 15 points, and senior center Terrance Taylor added 12 points.
The Comets were paced by all-district junior guard Jacob Plantz and junior forward Andrew Bench, who had 18 points each.
VIDEO: Cardinal Stritch-Genoa
Cardinal Stritch's Little Anderson pulls down a rebound during a district semifinal matchup against Genoa. Cardinal Stritch advanced with a 59-53 win.
The Cardinals led 10-8 after one quarter before the Comets (20-5) took a 22-21 edge to the break. Stritch went to the final quarter up 42-39 got no closer than two points from there.
Key for the Cards was a 10-4 surge that started on Burton's buzzer-beating basket to end the third, and was capped by his 8-foot bank shot on a break for a 50-43 edge with 4:57 left.
"We've been preaching all year that it's defense," Stritch coach Jamie Kachmarik said of the game-long strategic chess match. "We went to a box-and-one to try and change up things, and they made some adjustments and did a good job with it. "Then we went back to a man-to-man because we weren't rebounding in the box. We made a little bit of a run, and then they started getting Bench the ball inside, so we went back to the box and rebounding out of it this time. That was the big momentum changer."
After Genoa got within 50-48 on a three-point play from Andrew Bench with 4:12 remaining, Stritch was able to stay composed, and iced the win by hitting 9 of 12 at the free-throw line in the final 1:54.
"They've played in these games before," Kachmarik said of his team, which advanced to last year's regional semifinals before falling to Archbold. "We've been in a lot of big games the last two years, and they want it.
"Our guys are hungry. They're basketball players, and they want to keep playing. They have the hearts of lions."
Contact Steve Junga at: sjunga@theblade.com, 419-724-6461, or on Twitter @JungaBlade.