BOWLING GREEN — Third-ranked Northern Lakes League champion Perrysburg proved too much for Three Rivers Athletic Conference champion Whitmer in Thursday's Division I softball district final at Bowling Green State University.
The Yellow Jackets blanked the Panthers 9-0 behind senior ace pitcher Bri Pratt and a potent offense that banged out 13 hits.
Pratt raised her season record in the circle to 21-0 by yielding just one hit and striking out 14 Whitmer batters.This victory followed three straight seasons in which Pratt and the Jackets had lost in district finals — to Springfield in 2015 and 2017, and to Clay in between.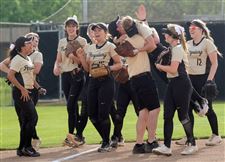 Perrysburg head coach Ryan Demars hugs outfielder Abby Seely after she made a big play against Whitmer during a Division I softball district championship game Thursday.
THE BLADE/JEREMY WADSWORTH
Enlarge | Buy This Image
"Finally!" Pratt said. "It feels so good. Every year we had just gotten cut short at districts, and it hurt so bad. To finally get over that hump is just amazing."
PHOTO GALLERY: Perrysburg 9, Whitmer 0
RELATED CONTENT: Hitchcock throws 1-hitter to lift Eastwood to district title
Freshman designated player Taji Pickett was 2 for 3 with a double and three runs batted in, and classmate Kylie Griggs, the Jackets' leadoff hitter, added a double and scored Perrysburg's first run.
That proved to be the only run Perrysburg (27-2) needed as Pratt cruised throughout.
"I felt pretty good about coming here today," Perrysburg coach Ryan DeMars said. "Bri Pratt is a senior, and she's pitched in all four district championship games. She just kind of had that look that she wasn't going to let us not win this game. It was a great effort by everybody."
VIDEO: Perrysburg tops Whitmer for district title
The Yellow Jackets advanced to Wednesday's 2 p.m. regional semifinal at Clyde High School, where they will face eighth-ranked Elyria, the defending state champion.
"We've had a really good offense all year," DeMars said. "Sometimes it doesn't click, but we have the capability, and today they came ready to play.
"The key was the first inning, with Kylie Griggs getting the leadoff double, and then us scoring on the squeeze to break it open. Any time our girls have a lead in a game, and we have Pratt on the mound, they feel good about that, and the defense was spectacular."
Highlighting the defense was left fielder Abby Seely's lunging catch at the fence in fifth inning on a long drive hot by Whitmer's Lillian Harris.
Only a third-inning single by Whitmer leadoff hitter Brooklynn Esser prevented a no-hitter by Pratt, who had also thrown a one-hitter (with 13 strikeouts) in the Jackets' 5-0 district semifinal win against Bowling Green here on Tuesday.
The Panthers (21-5), who reached the regional finals last season, had only two other baserunners, both on walks by Pratt.
Perrysburg wasted no time grabbing a lead, ignited by Griggs in the bottom of the first inning. After she lined a 1-0 pitch from Amanda Combs to the gap in left-center for a double, she was bunted to third by Seely, then slid home safely on a successful squeeze bunt by Mars Deemer.
The Yellow Jackets upped their lead to 3-0 in the fourth and broke things open with four runs in the fifth, plus two more in the sixth.
In the fourth, Brooke Miller led off with a single to center, then was bunted to second by Kate Dheel. Pickett's double to fence in center plated Miller, and pinch-runner Marissa Thomas later scored from third on Reyann Kruger's ground single just fair inside the first-base bag.
In the fifth, a single by Seely and walks to Pratt and Miller were followed by Pickett's two-run single through the middle, and a two-run double by Halie Monhollen.
Seely (2 for 3) singled in the sixth and continued to second on an outfield bobble, then scored on Deemer's single to right. Singles by Pratt and Miller (both 2 for 3) were followed by a bases-loaded walk to Dheel, which scored the game's final run.
"We were facing one of the best pitchers in the state, and she hit everything she wanted to hit," Whitmer coach Duane Lanham said. "We just couldn't find her. "When you only get one hit in a ballgame, you're not going to win many games, so hat's off to Perrysburg.
"They're a great team, and I think they will represent out area very well. They could get to the final four, if not win it. They have the ability and the talent to do that."
Contact Steve Junga at sjunga@theblade.com, 419-724-6461, or on Twitter @JungaBlade.
Guidelines: Please keep your comments smart and civil. Don't attack other readers personally, and keep your language decent. Comments that violate these standards, or our privacy statement or visitor's agreement, are subject to being removed and commenters are subject to being banned. To post comments, you must be a registered user on toledoblade.com. To find out more, please visit the FAQ.