Consistently going up against schools with larger enrollments and competing for athletes with the school's strong spring sports teams, Ottawa Hills boys lacrosse coach Tim Best believes he has found a special mix with his 28-man roster this season.
That was on display Monday night, as Ottawa Hills got three goals each from juniors Nick Durfee and Joe Boesel, and two apiece from senior Peter Boice and junior Jake Sigler as the Green Bears earned an 11-7 victory against Cuyahoga Valley Christian Academy in a Division II regional semifinal game on their home field.
Moments after the team's emotional victory, the Green Bears ran as a group to one end of the field to give their victory bell a ring in what will be the final home game for them this season, but still made sure to get in their customary post-game sprints.
VIDEO: Ottawa Hills advances to regional final
"It's great for this program," Best said. "For a school this size to advance this far against schools that attendance-wise are so much bigger, it means a lot. It's a milestone for the school and the seniors know it. They wanted to ring that bell. This is their last game here and the seniors came out and they wanted it. They were out there running after the game. I left it up to them and they made sure to get their sprints in after the game."
With an enrollment of 123 boys according to the latest Ohio High School Athletic Association data, Ottawa Hills was going up against a school with twice the enrollment in CVCA (240) and, with only two divisions in the sport, that has been the case for much of the year.
In this game, it was Durfee and Boesel leading the offensive charge, but Best said the beauty of his team is on any given night it could be someone different in the starring role.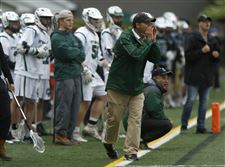 Ottawa Hills head coach Tim Best yells from the sideline during the fourth quarter of the Division II regional semifinal against CVCA at Ottawa Hills High School in Ottawa Hills.
THE BLADE/LORI KING
Enlarge | Buy This Image
"It's a total ball-movement offense," Best said. "We could get three from Durfee and three from Boesel this game and next game we are getting three from [Matthew] Mintun and [James] Silk, who knows. They share the ball and they really take a lot of pride in that. Our dynamic is that we have key people in every facet of the game. Our defense really did a great job tonight and has all year and Sam Szyperski was great on the face-offs."
Neither team scored until 3 minutes, 9 seconds left in the first quarter, as Ottawa Hills took a 3-0 lead on goals in the final three minutes from Sigler, Silk, and Durfee. CVCA got a goal back with 10.3 seconds left.
"The first goal was huge for us," Boesel said. "We really needed to get started fast. We were playing a really big school and a really good school, and it was a huge boost to score first."
The Green Bears got goals from Durfee and Boesel in the second to lead 5-2 at halftime.
"We were moving the ball around quick and cutting," Durfee said. "We were getting a lot of good shots off, but they had a good goalie and he was saving everything low. We noticed that and we started shooting high and they were falling for us."
Ottawa Hills stretched its halftime lead to 6-2 and 7-3 in the third, but CVCA scored three consecutive goals — two by Daniel DiBlasi and one by Jack Atwood — to cut the Green Bears' lead to 7-6 going to the fourth.
Ottawa Hills took back the momentum that was with the Royals, with two goals from Boice and two from Boesel in the final quarter to ensure the victory.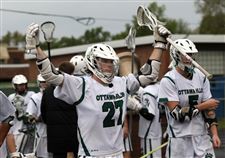 Ottawa Hills' Peter Boice celebrates after ringing the bell for defeating CVCA in the Division II regional semifinal at Ottawa Hills High School in Ottawa Hills.
THE BLADE/LORI KING
Enlarge | Buy This Image
"This group has a lot of camaraderie," Boice said. "All these guys have been playing together since third or fourth grade on school teams and travel teams and we've all been together. We really started to gel as a team a couple of games ago and we've been able to keep that up."
In the regional final, the Green Bears will face top-seeded Rocky River, which beat St. Francis de Sales 6-3 also Monday. The Knights got goals from Justin Kenner, Trevor Doren, and Evan Ansted.
Rocky River knocked out Ottawa Hills of the postseason last year.
"It's unbelievable really," Durfee said. "This is our best season as a lacrosse team whether we've been a club or a varsity sport. We've all been playing together for a long time. We never really felt like this was a club sport. It's always been a varsity sport for us. We're just really thrilled to be here and we are looking forward to the next game."
Contact Brian Buckey at: bbuckey@theblade.com, 419-724-6110, or on Twitter @BrianBuckey.
Guidelines: Please keep your comments smart and civil. Don't attack other readers personally, and keep your language decent. Comments that violate these standards, or our privacy statement or visitor's agreement, are subject to being removed and commenters are subject to being banned. To post comments, you must be a registered user on toledoblade.com. To find out more, please visit the FAQ.