It is no big secret that to win consistently in fastpitch softball, having an ace pitcher in the circle is not just helpful but mandatory.
The 2018 high school softball season in northwest Ohio has had one of its best collections of aces ever, and the performances of their respective teams stands as proof.
Five of these pitchers have led their teams to regional semifinals, and this quintet does not even include three of the top arms in the area — sophomores Taylor Turner of Springfield and Caitlyn Kowalski of Notre Dame, as well as senior Amanda Combs of Whitmer — whose teams all lost in Division I district tournament play last week.
But the five aces who remain alive on the tourney trail have each been vital to their team's fortunes, some with their potent bats as a bonus.
Perrysburg senior Bri Pratt, who will pitch at Miami (Ohio) University, has the third-ranked, two-time defending Northern Lakes League champion Yellow Jackets (28-2) set for a 2 p.m. Division I regional semifinal matchup Wednesday against defending state champion Elyria (25-4) at Clyde High School.
The 5 p.m. D-I semifinal at Clyde features Anthony Wayne and its ace, junior Jenna Hardy, who had committed last year to Eastern Michigan before that university dropped its softball program. The Generals will take on Brecksville-Broadview Heights.
In a 2 p.m. Division II regional semifinal Thursday at Tiffin University, senior ace Ashley Riley has her third-ranked Oak Harbor Rockets (25-5) in another battle with top-ranked perennial state power LaGrange Keystone (31-0). Last year Riley and the Rockets fell 2-0 to Keystone in a regional final at Tiffin.
Unbeaten and fifth-ranked Eastwood (27-0) and its junior strikeout machine Ashley Hitchcock have a 2 p.m. Division III matchup Wednesday at Findlay High School against Fairview (17-6). The Eagles lost 4-0 to Cardington-Lincoln in last year's regional final at Findlay.
In Division IV, for the fourth straight year, Gibsonburg (17-5) is headed to the regionals, where it will face North Baltimore (16-5) in a 2 p.m. semifinal Wednesday at Findlay's Marathon Diamonds. Golden Bears senior ace Aubrey Fleming, in her second year as the No. 1 pitcher, last season had her only loss in the regional final on a walk-off home run in the bottom of the eighth inning against Carey. The Bears entered that game at 26-0 and ranked No. 1 in D-IV.
VIDEO: Local aces, their coaches talk about their success
Perryburg's Bri Pratt has allowed just five earned runs this year for a Yellow Jackets team set to play in a regional semifinal Wednesday.
THE BLADE
Enlarge | Buy This Image
Bri Pratt, Perrysburg
A four-year starter for Perrysburg, Pratt, who was recently named first-team All-Ohio for the second straight year, has been downright dominant in 2018.
In 132⅓ innings, she has yielded only 46 hits and nine total runs (five earned) in posting a perfect 22-0 record, 223 strikeouts, and an 0.26 earned-run average. In a 5-0 district semifinal win over Bowling Green, Pratt pitched a one-hitter with 13 strikeouts. In a 9-0 win over Whitmer in the district final, Pratt threw another one-hitter, this time with 14 strikeouts.
The latter win ended a string of three straight district final losses by Perrysburg and Pratt.
"Quite simply Bri Pratt is an amazing player and person," Perrysburg coach Ryan DeMars said. "She is the ultimate team player. She cares deeply for her teammates and never wants to let them down.
"Her leadership and commitment to the team has been a major key to our team's success this year."
Pratt has thrown two no-hitters and five one-hitters this season, and her single-game strikeout high was 15 against Brecksville-Broadview Heights, Anthony Wayne's regional semifinal opponent.
Pratt has also been one of the Yellow Jackets' top hitters with a .448 batting average, two home runs and 34 runs batted in. Perrysburg's other top hitter include Mars Deemer (.521, 2 HR, 29 RBIs, 25 runs), Brooke Miller (.489, 3 HR, 34 RBIs, 31 runs), Kate Dheel (.443, 4 HR, 21 RBIs), and Abby Seely (.424, 36 runs).
"It means the world to me and our team," Pratt said of reaching the regional round after the three near misses. "We've worked so hard for this, and we've really done all we could and just had fun while doing it.
"The key this year is just everyone being all in. Everyone always wants to be at practice, and everyone's always pushing themselves. That's been a big determinant for this season."
Anthony Wayne's Jenna Hardy has come back from injury to regain the No. 1 starter spot for the Generals.
THE BLADE/JEREMY WADSWORTH
Enlarge | Buy This Image
Jenna Hardy, Anthony Wayne
Anthony Wayne was cruising along last year at 15-0 and ranked No. 1 in Ohio when Hardy suffered a season-ending knee injury. The junior has returned in 2018 and bounced back admirably.
She is 15-4 with 167 strikeouts and a 1.43 ERA in 112⅓ innings. Hardy blanked NLL rival Springfield 4-0 on a two-hitter in the district final last week. With her commitment to EMU now a moot point with the Eagles dropping softball, Hardy is now the recruiting target of several other Division I college programs.
"Jenna's freshman year she waited in the shadows as our No. 2 pitcher behind all-stater Kaitlyn Ray," Generals coach Ron Myers said. "Last year, Jenna was off to an incredible start before she suffered a knee injury in our league game against Springfield.
"She was out for the postseason and missed the entire summer travel-ball season. This year, Jenna emerged from tryouts as our No. 1 pitcher, even with [freshman] Lauren Curry in the program who is committed to pitch in the Big Ten at Northwestern.
"Jenna throws mid- to upper-60s [mph], and has several pitches with great movement."
Anthony Wayne, which lost 3-2 to Amherst Steele in the 2016 regional semifinals, is back in quest of the school's second state championship. The 2003 Generals (26-5) won the D-I state title under coach Carolyn Vogtsberger .
Leading AW offensively have been Sydney Pennell (.481, 33 RBIs, 21 runs), Jade Ramer (.463, 14 RBIs, 21 runs), Cailey Miller (.460, 1 HR, 18 RBIs), Olivia Thomas (.456, 3 HR, 17 RBIs, 24 runs), and Alyssa Ansara (.425, 1 HR, 29 runs).
This is the Generals' third regional appearance in the last five years.
Oak Harbor's Ashley Riley has been a first-team All-Ohio choice each of the past two seasons.
NOT BLADE PHOTO Enlarge
Ashley Riley, Oak Harbor
Named to the D-II All-Ohio first team the past two seasons, Riley was also second-team All-Ohio as a sophomore in 2016. She also has been named the Outstanding Performer in the Sandusky Bay Conference's Bay Division the past two years.
A true double-threat, Riley has been an ace in the circle and a major offensive weapon.
This season, she has worked 163⅔ innings and posted a 24-4 record with 154 strikeouts and a 2.22 ERA. She also leads the Rockets at the plate with a .546 average with 10 homers and 36 RBIs.
In her pitching career at Oak Harbor, Riley is 81-13 with 838 strikeouts and a 1.29 ERA. She has 16 career home runs and 112 RBIs.
"Ashley is a very talented athlete that has become one of the most decorated pitchers in the area," Oak Harbor coach Chris Rawski said. "She has a rare combination of power and spin that allows her to be successful.
"Ashley is also one of the most feared hitters in the area. She has helped to elevate the Rocket softball program to another level."
The Rockets' other top hitter include Seree Petersen (.462, 31 RBIs, 33 runs), Emily Lenke (.452, 1 HR, 28 RBIs, 40 runs), Kaytlynn Sandwisch (.434, 1 HR, 34 RBIs, 33 runs), and Dani Epling (.407, 1 HR, 32 runs).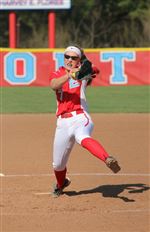 Eastwood's Ashley Hitchcock is a perfect 27-0 this year for the Eagles.
Ashley Hitchcock, Eastwood
In terms of strikeouts, Hitchcock, a junior who has committed to the University of Toledo, has been the area's top ace both this season and in the first three years of her career.
Like Pratt, Riley, and Fleming, Hitchcock is both a stopper in the circle and a weapon in the batter's box.
She is a perfect 27-0 pitching with 352 strikeouts in 157 innings, while allowing only 52 hits and 18 total runs (16 earned) for an 0.71 ERA. Hitchcock is also batting .562 with seven homers, 49 RBIs and 42 runs scored.
In her career in the circle, Hitchcock is 74-4 with 952 strikeouts in 469⅓ innings.
"Ashley is one of best in the state as a pitcher and an all-around player," Eastwood coach Joe Wyant said. "The reason Ashley is so talented is because of her work ethic and the time she has put into the sport.
"Softball is built around pitching, and we are very lucky to have a good one."
Hitchcock moved to the Eastwood district from Wauseon. In three seasons with her pitching, the Eagles have not lost a game in Northern Buckeye Conference play. Hitchcock was named first-team All-Ohio the past two seasons, and was second team as a freshman in 2016.
"Being a part of the program at Eastwood has been a really good opportunity," Hitchcock said. "I moved here when I was a freshman, and I was welcomed by everyone here. We have such a great team.
"This year we have an amazing team, and I think we're going to make a great run in the tournament. The big key to success for us has been that we have had [good] work ethic."
The Eagles' other top hitters include Maddy Dyer (.648, 6 HR, 38 RBIs, 51 runs), Carmen Bejarano (.463, 20 RBIs, 31 runs), Meghan Melcher (.442, 2 HR, 33 RBIs, 22 runs), and Alissa Ray (.434, 6 HR, 42 RBIs, 47 runs).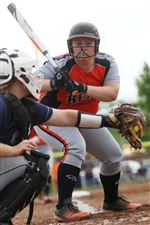 Gibsonburg's Aubrey Fleming is a dual-threat who can make noise in the circle or at the plate.
The Blade
Enlarge | Buy This Image
Aubrey Fleming, Gibsonburg
A four-year varsity player, Fleming has been the Golden Bears' No. 1 pitcher the past two seasons, leading Gibsonburg to a No. 1 state ranking in 2017.
This year, Fleming is 17-5 pitching with 96 strikeouts in 129⅔ innings and an ERA of 3.40. She is also batting .486 with six homers, 38 RBI, and 30 runs scored.
Last season, Fleming also pitched every game for the Golden Bears, posting a 26-1 record and a 1.35 ERA en route to first-team All-Ohio honors.
"Aubrey is the catalyst of our team and a big part of our success this season," Gibsonburg coach Marty Brown said. "Not only is she a quality pitcher, she has been hitting in the cleanup spot for most of the season.
"It's easy to see that she is a threat on both sides of the ball."
Fleming will play next year at Division III Muskingum University in New Concord, Ohio.
"To be a part of this program has just been a great ride overall," Fleming said. "The girls have been amazing, and we always work hard, even despite all the rain delays we've had this year.
"Our intensity has been crazy the last four years, and it's been pretty great. To be a part of it has made me who I am today, and it's made me stronger mentally, especially as a pitcher."
Gibsonburg's other top hitters entering regional play have been Mariana Alejandro (.556), Libby Henderson (.507, 4 HR, 26 RBIs, 35 runs), Jasmine McNett (.462, 7 HR, 25 RBIs, 30 runs), and Coral Kocsis (.452, 4 HR, 18 RBIs).
Contact Steve Junga at sjunga@theblade.com, 419-724-6461, or on Twitter @JungaBlade.
Guidelines: Please keep your comments smart and civil. Don't attack other readers personally, and keep your language decent. Comments that violate these standards, or our privacy statement or visitor's agreement, are subject to being removed and commenters are subject to being banned. To post comments, you must be a registered user on toledoblade.com. To find out more, please visit the FAQ.