Maumee's Ben Schoen on path to hockey stardom
5/23/2018
Ben Schoen watches the action as he waits to hit the ice May 11 at Tam-O-Shanter in Sylvania. One of the nation's top young players, he has signed with Youngstown in the United States Hockey League.
The Blade/Katie Rausch
Buy This Image
Gifted with great hockey sense and on-ice vision well beyond his years, young Ben Schoen has been on an upward trajectory that has already put him in rare air.
Schoen, who turned 16 last Friday, has displayed an explosiveness and play-making ability since he put on skates. The Maumee teen became one of the youngest prospects in the country to accept a full ride to a major Division I college program when he was in eighth grade.
The prodigy, who just completed his freshman year at Anthony Wayne High School, verbally committed to play at Miami University when he was 14. Schoen also has played overseas in Italy against the top young players in the world.
"I've always loved to skate. It's fast. I love the wind and the breeze," Schoen said. "I've always been a smaller guy, so I try to be quick and have good vision. I can dish the puck out to guys.
"I was always one of the best kids. I've been lucky, I guess."
VIDEO: Ben Schoen shows off his skills
The young forward was recently signed by the Youngstown Phantoms of the United States Hockey League, the top junior league in the country. The last two seasons, Schoen has played on the elite Little Caesars team based in Detroit coached by former Red Wings forward Kris Draper and has trained alongside current NHL players.
Former Toledo Storm forward Nick Parillo, who runs camps and clinics at Tam-O-Shanter in Sylvania, has worked with Schoen since he was 8.
"Ben is explosive and has been since he was young," Parillo said. "That separated him at a very young age from his peers. Ben has been able to improve on other aspects of his game. Not only is he quick but he can see the ice well. This combination makes for an elite player at any age."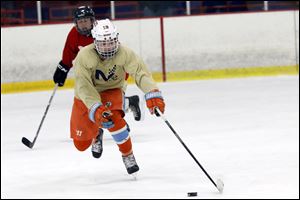 Ben Schoen pushes the puck up the ice during a game at Tam-O-Shanter in Sylvania. The Maumee native played for Detroit youth power Little Caesars last season.
Youngstown essentially used its top draft choice by tendering an offer to Schoen, as the signing forced the team to forfeit a first-round draft pick. League rules also stipulate that players who sign pre-draft tenders not only will make the team but must play in more than half of the squad's games, if healthy.
He also has been drafted by Sarnia in the Ontario Hockey League, a breeding ground for some of the world's best young players, many of whom go on to NHL careers.
By age 10 Schoen was already competing against Division I caliber players from across the United States and Canada. At age 13, Schoen earned a spot on a U.S. National Team that competed in Italy.
"I started to realize I was one of the top players in the country and that I could do something," he said.
The last two seasons, Schoen has been playing for Draper in the Little Caesars Under-15 AAA program. The team played its home games first at the venerable old Joe Louis Arena and then at the state-of-the-art Little Caesars Arena when it opened last year. The players even got to skate with Red Wings players Henrik Zetterberg and Dylan Larkin.
"It was like heaven as a kid. Those are all the guys you look up to," Schoen said.
Far from being overwhelmed, the young forward also lit it up with 78 points (37 goals, 41 assists) in 67 games. His team won the NHL Cup (U-15 AAA) in Boston in January and the Michigan state playoffs in March before finishing second overall in the United States at U-15 AAA Nationals in April.
Top talent
Dan Jones, the strength coach for the Toledo Walleye, trains Schoen at his facility in Sylvania. Jones said Schoen already has great confidence and intelligence.
"He believes he can play with the best," said Jones, who works with the many of the area's top young prospects at Elite Athletes Only. "He has great hockey IQ. He sees the ice very well."
Youngstown Phantoms officials said Schoen, who is 5-foot-7 and 126 pounds, is an elite level scoring threat.
"Ben possesses an elite skill set and hockey IQ and as a result not only is he a great player, he makes all players around him better," Phantoms coach Brad Patterson said. "He has an extremely bright future."
Parillo said Schoen also has good lateral movement with the puck. Parillo, who instructs all of the rising talent in the area, said Schoen also possesses a much-needed passion for the game.
"So far in his young career he is where he needs to be," Parillo said. "When genetic ability and work ethic are aligned in a young player ... look out. Ben has both. Everything is pointing in the right direction."
Schoen is a member of a bumper crop of top young players in northwest Ohio. Gordi Myer of Sylvania played on the Ohio State team that reached the NCAA Frozen Four this spring, while Grant Meyer (Genoa) and Sylvania native Joey Sofo (Sylvania) each just completed their first seasons at Division I schools Canisius and Alaska Anchorage, respectively.
The pipeline of players headed to Division I isn't drying up anytime soon. Toledo native Brendan Furry (Niagara) and Pemberville's Hayden Rowan (Yale) are expected to begin college careers next season. Sylvania native Mitch Miller (North Dakota) and Perrysburg native Tanner Dickinson (Ohio State) each recently made D-I pledges.
"Northwest Ohio is smaller," Schoen said. "It's cool to represent my region. I take pride in that."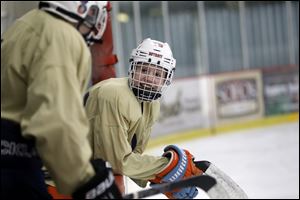 Ben Schoen jokes with a teammate as they wait to hit the ice.
Great skate
Schoen was just 3 when it quickly became clear he had a natural gift.
"My dad had me throw on these roller blades, and before I knew it I was doing crossovers and skating backward all over the place," he said. "We have videos of it. I still watch it today. The roller blades were almost bigger than me. My mom and dad were freaking out. So my dad was like, 'Whoa, let's get him on skates.'"
Schoen said he remembers just enjoying the speed as a toddler. "It was sweet to be able to go fast," he said.
When it became time to play in actual games, Schoen's competitiveness took over. When he was 8, he was already playing on his first travel team with and against older players.
Since then, he has competed in some of the biggest youth and select tournaments in North America. He said one in Edmonton stands out.
"It was in a big mall," Schoen said. "There were 3,000 people there screaming. Half the crowd was American fans and the other half Canadian fans. That's when I realized how sweet it was and that was what I wanted to do."
The coaching staff at Miami began showing interest in Schoen when he was 13.
"When they offered me a full ride I was like "Whoa!? This early?' I was only in the eighth grade," he said. "There were only five other kids my age in the country who were offered full rides. So it was a big deal."
Yet he still waited three months before accepting the offer because other colleges, including the University of Michigan, had also expressed interest.
While Schoen has been drafted into the OHL, he has told teams that he plans to attend college. Players in the OHL get paid and are no longer eligible to play collegiately in the U.S. The USHL is the top junior league in the country and is strictly amateur, allowing former players to compete in NCAA hockey.
Schoen will have to leave his family and friends to play in Youngstown for the upcoming school year. He will attend Ursuline High School in Youngstown and will live with a sponsor family.
"They say this is the biggest step," he said. "This is no joke. We thought it all out. I'll be living with a billet family. It's a big change as a 16-year-old, but I felt it was the next big step for me."
Schoen said he hopes to be drafted into the NHL when he turns 18.
"That's the ultimate goal," he said. "It's hard. This is the path I need to take. Nothing is stopping me now."
Schoen grew up playing basketball and baseball, but hockey has always been his passion. Now, he's all-in with the sport and will find out how far that can take him.
"I like having the puck on my stick and making plays," he said. "When I'm on the ice I forget about everything else. When I step on the ice I'm just having fun. I'm always super excited about playing. I love the game."
Contact Mark Monroe at mmonroe@theblade.com, 419-724-6354, or on Twitter @MonroeBlade.