First in a series.
With the book closed on the 2017-18 high school sports year, it is time to reflect on the top team and individual achievements of the fall, winter, and spring seasons produced in the northwest Ohio and southeast Michigan area.
Here is a look at the best of the best, starting with the fall sports championships.
BOBCATS PERFECT: It is hard to argue with perfection, and thus the 2017 Michigan Division 8 state football championship won by coach Jason Mensing's Whiteford Bobcats ranks No. 1 as the area's top team accomplishment in the fall.
In posting a 14-0 overall record, the Tri-County Conference champions simply steamrolled their way to the school's first state football title, outscoring opponents 737-183, an average of 52.6 to 13.1 per game.
It was the second most points ever scored in a season by a Michigan team, and Whiteford closed the deal on its state-title run, outscoring five playoff foes 249-88. That run was capped by a 42-21 victory over perennial state power Saginaw Nouvel Catholic in the D-8 championship game at Ford Field in Detroit on Nov. 24. The Bobcats built a 34-7 halftime lead and cruised, outgaining Nouvel 484 yards to 275.
"We had a group of selfless individuals with a tremendous work ethic and a desire to achieve excellence," Mensing said following the season. "In addition, we had some tremendously talented young people who grew on the experiences that they had in victory and defeat throughout their experience.
"Our season will be a lifetime memory for our players, our staff, and many in our community."
For Mensing, the title capped a three-year climb that included a 10-3 finish in the state semifinals in 2016, and a 13-1 state runner-up season in 2017.
Leading that climb was Bobcats quarterback Thomas Eitniear, who was 37-4 as a three-year starter. He passed for 1,403 yards and 17 touchdowns as a senior, and rushed for 919 yards on 90 carries with 16 TDs.
Eitniear was joined on the Michigan coaches association D-8 all-state first team by offensive tackles Lucas Tesznar and Jarret Atherton, running back Logan Murphy, and defensive lineman Matthew Taylor. Mensing was named state and Blade coach of the year.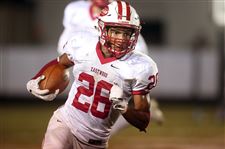 Eastwood's Jaden Rayford ran for more than 2,000 yards on an Eagles team that was undefeated until falling in the OHSAA Division V state title game.
THE BLADE
Enlarge | Buy This Image
OH, SO CLOSE: In his first season as head coach at Eastwood after taking over for his father, 35-year Eagles coach Jerry Rutherford, Craig Rutherford's team was within 17 seconds of closing out a perfect 15-0 season in the Ohio Division V state championship game Dec. 1 at Tom Benson Hall of Fame Stadium in Canton.
Instead, Wheelersburg rallied to a 21-14 overtime win to cap its own 15-0 championship run.
Eastwood had taken a 14-7 lead with just 1:27 remaining on Jaden Rayford's 4-yard touchdown run and quarterback Jake Pickerel's two-point conversion pass to Zach Henline.
But the Pirates marched 75 yards on seven plays to tie the game with 17 seconds left in regulation. Facing fourth down at the Eastwood 11 in overtime, Wheelersburg scored on a jump-pass play.
On Eastwood's overtime possession, Rayford (30 carries, 136 yards) lost a fumble to end the game after dragging tacklers inside the 5-yard line for what would've been a first-and-goal.
Rayford (2,208 rushing yards, school-record 36 TDs) was a third-team All-Ohio selection as the Eagles outscored foes 37-9 per game.
Leading Eastwood's defense were first-team All-Ohio lineman Antonio Salinas and linebacker Tyler Schmeltz. Offense lineman Addison Clark was picked to the All-Ohio second team.
"The trip to the state finals is something the players and coaches will never forget," Craig Rutherford said of the Eagles' best season in school history. "It's still fun to think back on the way the community supported our guys and how hard our team wanted to play for the fans."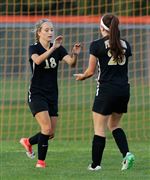 Perrysburg's Addie Graham (18) celebrates scoring a goal with Kristina Demarco during the 2017 season. Perrysburg made it to the state title game before falling.
THE BLADE
Enlarge | Buy This Image
SOCCER SECONDS: The other two top team efforts of the fall season were both concluded on the pitch at MAPFRE Stadium in Columbus with tough losses.
First, on Nov. 10, the seventh-ranked Perrysburg girls (17-3-3) reached the Division I state final before losing 1-0 to second-ranked Loveland.
The next day, the third-ranked Ottawa Hills boys (20-1-2) had their only setback of the season with a 1-0 loss to top-ranked perennial power Cincinnati Summit Country Day.
The Yellow Jackets of Perrysburg coach Jorge Diaz were led by senior forward Kristina Demarco (13 goals, 21 assists), who was named first-team All-Ohio, Addie Graham (24 goals, 12 assist), and goalkeeper Lilly Yoder (101 saves).
The Green Bears of coach Nate Baer were led by two junior standouts — first-team All-Ohio midfielder Kevin Hileman (35 goals, 26 assists) and second-team all-state forward Dylan Schreder (25 goals, 12 assists).
WHITMER ENDS IRISH STREAK: Since pounding Central Catholic, 42-0, in the regular-season finale to win the 2012 Three Rivers Athletic Conference football title en route to a Division I state runner-up finish that year, Whitmer could not beat the TRAC champion Irish the next four seasons.
But on Sept. 29, the Panthers finally broke through, winning 21-14 at Central on the way to a perfect 10-0 regular-season and No. 2 final state ranking in Division I. The win stopped Central's 30-game TRAC winning streak, and ultimately a four-year conference title run by the Irish.
Leading the offense for coach Ken Winters' Panthers was sophomore first team All-Ohio quarterback Riley Keller, and heading up Whitmer's stingy defense were first-team All-Ohio linebacker Kaleb Breitner and second-team All-Ohio defense back Sam Stickels.
Whitmer rallied late for playoff wins over Lorain (31-28) and Lewis Center Olentangy (32-29) to move to 12-0 before falling to Olentangy Liberty (34-7) in the regional finals.
Central Catholic rebounded to advance to its fourth straight Division III state semifinal before falling to top-ranked and eventual state champion Trotwood-Madison, 16-7. Central (11-3) was paced by its defense, led by three seniors — first-team All-Ohioans De'Marko Craig (lineman) and Dallas Fields (linebacker), as well as second-team All-Ohioan Dominique Kimble (lineman).
Nathan Cousino of Whitmer led a Panthers cross country team that won its first conference title since 2002.
THE BLADE
Enlarge | Buy This Image
PANTHER RUNNERS RULE: Paced by record-setting senior Nathan Cousino, the Whitmer boys cross country team made some major strides in breaking barriers during the 2017 season.
With Cousino, junior Jacob Harris, and senior David Main placing 1-2-3, the Panthers won the Three Rivers Athletic Conference team title for its first boys league crown since 2002 in the former Great Lakes League. A week later, Cousino broke Jim Bournes' 25-year-old school record in winning the Division I district meet, running a 15:12.98 to lead the Panthers to another team title.
Whitmer then took the D-I regional crown and placed seventh in the state meet on Nov. 25 at National Trail Raceway in Hebron. Cousino placed ninth individually, Harris was 15th, and Main was 31st at state.
The top area D-I boys finisher was Bowling Green senior Zach Applegate, who ran a 15:24.6 on the 5,000-meter course to take fourth. Applegate was also the regional champion.
VOLLEYBALL SUCCESS: St. Ursula had been knocked off its familiar perch atop the TRAC by rival Notre Dame in 2016 and 2017, but the Arrows of coach Sydney Antonio gained a measure of revenge in Division I tournament play by outlasting Notre Dame in five sets to win a regional semifinal Nov. 2.
But for the second straight year, the Arrows were eliminated from the tourney by Cleveland St. Joseph in the regional finals.
In Division II, TRAC member Central Catholic handed 10th-ranked Oak Harbor its only loss in a 24-1 season in an Oct. 26 district final. The Irish were then defeated by Lexington in a D-II regional semifinal.
Third-ranked Northern Buckeye Conference champion Eastwood (26-1) was also unbeaten during the regular season, losing its only match in the Division III regional final against top-ranked eventual state runner-up Coldwater.
GOLF: Led by the top-25 individual finishes of seniors Lily Rinker (sixth, 145), Pinya Pipatjarasgit (10th, 148), and Audrey Hales (22nd, 155), coach Jim McGowan's St. Ursula team finished third at the 36-hole Division I girls state golf tournament Oct. 20-21 at Ohio State University's Gray Course.
Bowling Green sophomore Macy Hanus placed ninth individually with a 147.
Lakota freshman Kyleigh Dull shot a 146 to place fourth individually in the Division II girls state tourney Oct. 13-14 at the Gray Course.
Led by seniors Jack Kunkel (seventh, 151) and Andy Riggs (11th, 153), Northview placed ninth at the Division I boys state tournament Oct. 20-21 at the OSU Scarlet Course. In D-II boys, Archbold placed eighth at the state meet held Oct. 13-14 at NorthStar Golf Club in Sunbury.
Contact Steve Junga at sjunga@theblade.com, 419-724-6461, or on Twitter @JungaBlade.
Guidelines: Please keep your comments smart and civil. Don't attack other readers personally, and keep your language decent. Comments that violate these standards, or our privacy statement or visitor's agreement, are subject to being removed and commenters are subject to being banned. To post comments, you must be a registered user on toledoblade.com. To find out more, please visit the FAQ.