Bowling Green passes final non-league test by downing Otsego
9/7/2018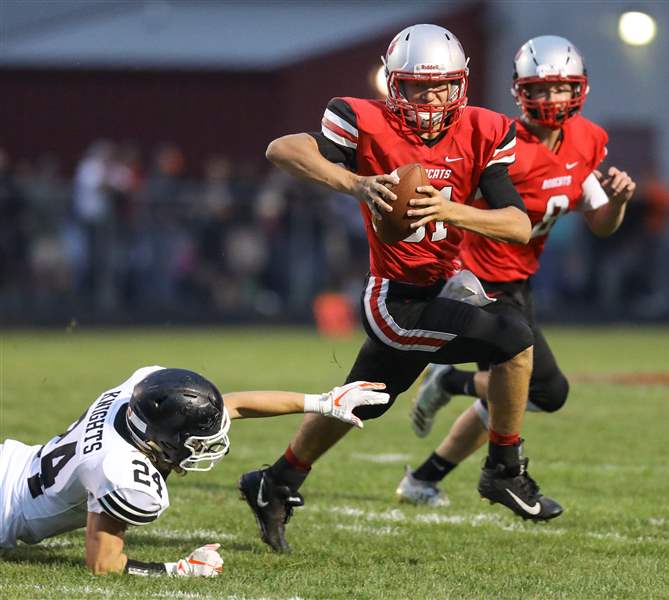 Bowling Green quarterback Bryce Hoehner eludes Otsego linebacker Kodey Miller to score a touchdown.
THE BLADE/JEREMY WADSWORTH
Buy This Image
BOWLING GREEN — In a final nonleague test, Bowling Green passed with flying colors as the Bobcats got it done in the air, on the ground, and defensively in a 45-14 thumping of Otsego on Friday.
Senior running back Adam Iler, who rushed for a game-high 118 yards, scored on runs of 4 and 10 yards to help the Bobcats build what turned out to be an insurmountable 31-14 lead at halftime.
Senior quarterback Bryce Hoehner threw for one score and scored on a 25-yard run in the second quarter.
BG then marched 84 yards on nine plays to start the second half with a decisive score. Jackson Bevins, who rushed for 62 yards, scored on an 8-yard run to put the Bobcats up 38-14.
"We asserted our will in the first half," Hoehner said. "That made their defense tired. And then the whole third quarter we ran the clock out."
PHOTO GALLERY: Bowling Green 45, Otsego 14
WATCH: BG's Dirk Conner, Bryce Hoehner discuss their win over Otsego
Bowling Green (2-1), which forced a running clock early in the fourth, amassed 513 yards of total offense. The Bobcats, who punted just once, rushed for 342 yards.
"It was a good team effort," BG coach Dirk Conner said. "We were solid all the way across the board. Our kids played together and focused. It's a good W for us."
Hoehner completed 9 of 10 passes for 171 yards, including a 29-yard scoring strike to Brayden Dean-Scheele.
"We're really effective. They have to respect the run, so when the safety is coming down we can throw deep and we'll get some big plays doing that," said Hoehner, whose only incompletion came when he spiked the ball to stop the clock.
Conner said BG has not had the balanced attack in past seasons.
"We want to run the football but when we can throw it very efficiently … it frees up a lot of other things," Conner said. "We feel we're very balanced on offense. We have weapons at every position where we can take advantage of what the defense is giving us and not force things."
VIDEO: Bowling Green-Otsego
Bowling Green beat St. John's 15-8 in Week 1, then lost 21-14 at Eastwood last week.
"[Last week] was lackluster. The energy wasn't there. It refocused us," Conner said.
The Bobcats play at Springfield to open Northern Lakes League play next Friday.
Otsego (2-1), which had beaten Evergreen (37-21) and North Baltimore (57-0), will host Fostoria to open play in the Northern Buckeye Conference next Friday.
Otsego struck first on a 16-yard scoring pass from All-Ohio quarterback Mitchell Downs to Austin Meier. The point-after attempt was blocked but the Knights went up 6-0.
Four minutes later, Bowling Green took a 7-6 lead on a 4-yard scoring romp by Iler and the Bobcats would not trail again.
BG defensive back Eli Brown intercepted Downs and returned it five yards for a touchdown to give BG a 45-14 lead on the second play of the fourth, forcing a running clock.
"We were down [after the Eastwood loss], but we knew we had to focus on Otsego," Hoehner said. "We knew we had to bounce back. Mitchell Downs is a great football player. We have a lot of respect for him. Our defense prepared for him."
On the second play of the second quarter, Bowling Green grabbed a 14-6 lead, when the Bobcats cashed in with a triple option play. Hoehner pitched to Iler at the last moment and Iler went around left end to score from 10 yards out.
But the Knights recovered a BG fumble and five plays later, Otsego tied it on a 14-yard scoring strike from Downs to Meier, who had 53 receiving yards. Downs ran in the two-point conversion to tie it at 14 with 7:22 remaining in the quarter.
The Bobcats then took a 21-14 lead with 5:17 to go before halftime. Hoehner kept the ball on fourth-and-2, went around left end, got the edge, and broke a tackle with a nifty spin move for a 25-yard score.
Bowling Green grabbed a 28-14 advantage with 1:07 left in the first half on a 29-yard touchdown pass from Hoehner to Dean-Scheele.
Then with the ball at their own 31-yard line and 24 seconds remaining before halftime, the Bobcats drove to the Knights' 14. Kicker Ethan Warner, a freshman, booted a 31-yard field goal as time expired to give Bowling Green a 31-14 lead.
Nick Foster later came up with an interception for BG before Otsego forced a turnover on downs.
BG limited Otsego to just 244 yards of offense and allowed Downs, who earned All-Ohio second-team honors after he passed for 2,522 yards and 32 touchdowns, to throw for just 123 passing yards.
"That's a good Otsego football team," Conner said. "They are going to win a lot of games. We played more man coverage tonight than probably the last two years combined. Mitchell is a very smart quarterback. That was out of respect for him. If we sat in zone, he would dink and dunk us."
Bowling Green was picked to finish fourth in the NLL behind Springfield (2-1), which is picked to finish third.
"We have tons of confidence," Hoehner said. "We had a lot of confidence coming out of Week 1 against St. John's. But then we had a letdown against Eastwood. We just have to avoid that letdown and prepare for Springfield."
Contact Mark Monroe at: mmonroe@theblade.com, 419-724-6354, or on Twitter @MonroeBlade.