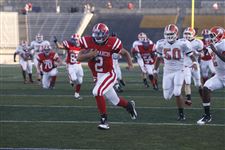 St. Francis' Andy Meinert will lead the Knights against Southview Friday night.
THE BLADE/JEREMY WADSWORTH
Enlarge | Buy This Image
The 2011 high school football season kicks off Thursday night with one of the area's longest running and most competitive rivalries -- the 89th installment of the Napoleon-Defiance series -- this year at Defiance.
Most Ohio and Michigan teams begin play Friday night, including one marquee matchup in the area which is more of a fledgling rivalry -- four-time defending Northern Lakes League champion Southview (10-1 last year) and former longtime City League power St. Francis de Sales (4-6) at the Glass Bowl.
HIGH SCHOOL FOOTBALL PREVIEW 2011
In recent seasons the Napoleon-Defiance meeting has been dubbed the River Rivalry, and it added a River Rock Trophy in 2009. Napoleon's Wildcats captured the trophy that year with a 10-7 victory, and retained it last year with an 18-7 triumph over the Bulldogs.
Fourth-year coach Tory Strock's Wildcats are beginning their first year in the Northern Lakes League. Napoleon holds a 48-38-2 edge in the series, which began in 1916.
Defiance head coach Jerry Buti starts his 22nd season owning an 11-10 record against Napoleon. But his Bulldogs are just 3-7 in the past 10 meetings. Defiance's last win over Napoleon was 21-20 in 2008.
Last season -- when Napoleon finished 6-4 and Defiance 1-9 -- was the first time during that 10-year span that the winner of the rivalry game did not qualify for that season's state playoffs.
The Southview-St. Francis game also has launched successful seasons for the winning team in its brief two-year run.
Southview was coming off a 15-0 Division II state title season in August of 2009 when coach Jim Mayzes' Cougars opened at the Glass Bowl against a St. Francis squad that had gone 5-5 in 2008.
The Knights surprised many with a 27-8 win over Southview, launching a memorable 11-2 season. It was the final campaign for 26-year Knights coach Dick Cromwell, the City League's all-time wins leader. Cromwell was 208-85-1 at St. Francis and 251-119-2 in 34 seasons overall.
Last season, Southview turned the tables at the Glass Bowl, rallying to a 36-22 win, spoiling the debut of Knights coach Mike Blochowski. It was the first victory of the Cougars' second 10-0 regular season in three years.
"It's motivational for our program in the off-season to have a respected school like St. Francis to play the first game," Mayzes said. "If you look at those two seasons, for the team that won that game, it was a big deal.
"It is only one game, but it certainly gets the momentum going. You feel like you haven't wasted your time in the off-season. You're not dragging yourself around for that second week when you win the first one."
On paper, this year's Cougars-Knights meeting might appear to be a battle between Southview's speed and St. Francis' size, although Mayzes doesn't agree.
"I'm not saying they're not big," Mayzes said, "but our left tackle is 6-foot-1, 305 pounds; our right tackle is 6-2, 275; our guards are about 225, and our center is 240 [254-pound average]. Does that sound small?"
The Knights feature five third-year starters on their offensive line, including a tight end -- a quintet that averages 6-3 and 271 pounds.
"I hope that [speed] is in our corner," Mayzes said, "but St. Francis has some running backs that look awfully fast to me, and they've got some linebackers that are flying around 100 miles an hour."
St. Francis is one of five former CL teams which have moved to the new Three Rivers Athletic Conference.
"It's become a rivalry real quick," Blochowski said of facing Southview. "It's a natural because we have so many kids [at St. Francis] from the Sylvania area and they have friends at Southview. They want to do well against each other because it's for bragging rights. The last two years, the team that won went on to have an outstanding season."
Whitmer (12-2) -- which won its second straight City League title last year before falling 23-13 in a state semifinal loss to eventual Division I champion Lakewood St. Edward -- closed the 2010 regular season with a 33-7 win over Tremainsville Road rival Start.
Coach Joe Palka's Panthers, preseason favorites in the new TRAC, will open at home Friday against Start, now in a non-league setting.
The Spartans, 2-8 in 2010, last beat the Panthers in 2005 (34-26), a year before Palka arrived. Whitmer is 46-16 with four playoff appearances under Palka.
St. John's Jesuit (11-2), the 2010 CL runner-up, suffered both its losses against Whitmer last season, including 14-10 in the regional final. Coach Doug Pearson's Titans, also now in the TRAC, open Saturday night at Rogers with a non-league matchup against Highland Park from suburban Detroit.
Central Catholic (8-3), a D-II playoff qualifier for seven straight years (2005 state champion) and the CL champion from 2005-08, also begins its first season in the TRAC with a non-league test Friday against a Michigan team. Coach Greg Dempsey's Irish host Detroit Crockett (11-2), a D-4 state semifinalist last year.
Maumee (8-4), which avenged a 2009 playoff loss to Avon Lake by upsetting the Shoremen in last year's postseason, hosts Waite Friday night. Coach John Boles' Panthers, NLL co-champions with Southview in 2009, tied for second in the league last year.
Genoa (12-1), winner of the final four Suburban Lakes League titles, begins its first season in the new Northern Buckeye Conference. Coach Mike Vicars is 46-5 with four playoff appearances in his four seasons guiding the Comets, who open at home Friday versus non-league foe Ottawa Hills.
Archbold (11-1), which last year ended Patrick Henry's string of eight straight Northwest Ohio Athletic League titles, opens with a non-league test Friday at Hicksville.
Toledo Christian (8-3), which last season snapped Northwood's run of four straight Toledo Area Athletic Conference crowns, begins 2011 with a non-league game at Delta. Last year Delta's Panthers rallied from a 27-point deficit to edge TC 43-42 in week one. This game will be the debut of the Eagles' new head coach Scott Gibson.
In Michigan, Bedford (11-1) is coming off its best season in school history, having won the Southeastern Conference's Red Division for the second straight year, and advanced to the D-2 regional final. Coach Jeff Wood's Kicking Mules start out on the road Friday night at Carleton Airport.
Contact Steve Junga at: sjunga@theblade.com or 419-724-6461.
Guidelines: Please keep your comments smart and civil. Don't attack other readers personally, and keep your language decent. Comments that violate these standards, or our privacy statement or visitor's agreement, are subject to being removed and commenters are subject to being banned. To post comments, you must be a registered user on toledoblade.com. To find out more, please visit the FAQ.