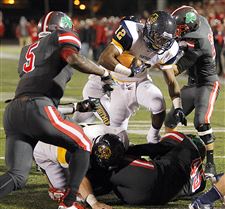 Whitmer running back Tre Sterritt (12) scores a touchdown against Central Catholic's Paul Moses (5) and Chris Green (45).
THE BLADE/JEREMY WADSWORTH
Enlarge | Buy This Image
Wow!
That was about all that was left to say after the visiting Whitmer Panthers turned Friday night's Three Rivers Athletic Conference football showdown into a lopsided 42-0 victory over Central Catholic before a standing-room-only crowd of 7,800 at Gallagher Stadium.
What looked like a dead-even matchup between two unbeaten teams — Central ranked No. 1 in Division II, Whitmer No. 5 in D-I — was nowhere near that.
The Panthers (10-0, 7-0 TRAC) topped the Irish (9-1, 6-1) 383-179 in total offense, and took full advantage of Central's four first-half turnovers to win their fourth straight league championship and 28th consecutive regular-season game.
"That's an unbelievable effort on our kids' part," first-year Whitmer head coach Jerry Bell said. "Our defense played lights out. We challenged them the entire week. We told them, if they played Whitmer football the way it's supposed to be played, that they could have this kind of outcome.
"Our offense came ready to play, our O-line played real well, and special teams played a huge factor in this."
PHOTO GALLERY: Whitmer vs. Central Catholic
Whitmer senior quarterback Nick Holley, who has been sterling in leading the Panthers all season, didn't disappoint. He rushed 22 times for 122 yards and two touchdowns, plus was 6-of-11 passing for 126 yards and two more TDs.
"It's a great win," Holley said. "Everybody picked us as the underdogs at the beginning of the season, and we always knew we had something to prove. It was kind of David versus Goliath, and we felt like we had something to prove. That's what we did."
Nick's twin brother, Nate, was part of a Whitmer defense that did the rest, blanking an Irish offense that came in averaging 51 points per game.
Just about everything that could go wrong in the first half for the host Irish did, and the Panthers were able to capitalize for a 21-0 lead by halftime.
On its first possession, Whitmer faced a fourth-and-9 situation at the Central 29. When Holley passed to Chris Boykin (five catches, 125 yards) near the line of scrimmage along the right sideline, the Irish defense looked to have the play and the drive snuffed out.
But Boykin broke the grasp of two Irish defenders, and continued down the sideline for a touchdown and a 7-0 lead just 2:29 into the game.
Central's second bad omen came when Irish receiver Michael Anderson hauled in a 16-yard pass from DeShone Kizer (7-of-19 passing, 55 yards), but was forced to exit the game with a collar-bone injury.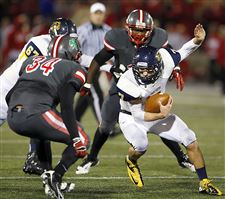 Whitmer's Nick Holley tries to elude Central Catholic's Ian Butler. Holley rushed 22 times for 122 yards and two touchdowns. He threw for two more touchdowns.
THE BLADE/JEREMY WADSWORTH
Enlarge | Buy This Image
Three plays later, another big Central play ended on a double-negative note.
Irish senior running back Amir Edwards, who entered the game with 1,260 yards rushing and 22 TDs, was tackled by Nate Holley after a 19-yard gain.
Holley stripped the football and recovered the fumble at the Central 10. "We knew turning the ball over was going to be big," Nate Holley said. "We stressed that in practice, and that's what we did tonight."
Worse yet, Edwards left the game just 6:15 in with an apparent head injury.
The Central defense forced a punt, but the offense gave up the ball again on its next chance. Irish back Paul Moses fumbled, Whitmer's Joenathan Mays recovered at the Irish 23, and two plays later Panther back Tre Sterritt scored on a three-yard plunge with 34.3 seconds left in the first quarter.
Kizer then joined the turnover parade, throwing his first interception of the season on the second play of the second quarter. It was the seventh pick of the season for Marcus Elliott, who returned the ball 18 yards to the Irish 42.
Whitmer again cashed in on field position, this time with Nick Holley hitting Boykin on a three-yard TD pass 9:14 before halftime.
Central made it four straight drives ending in turnovers on the next play from scrimmage, a second fumble from Moses.
"Central has a great offense and to stop them you've got to make them one-dimensional," third-year Panther starting linebacker Jack Linch said. "I think we did that. We stopped the run and we made them pass, and our coaches did a great job of scheming things. Our defense played lights out."
If Central had any hope of a comeback, the Irish needed a good start to the third quarter. But Whitmer had none of that, needing just three plays after the kickoff to find the end zone again.
Holley's 50-yard pass to Boykin set up his own 10-yard TD run around left end, and the Panthers were up 28-0 just 55 seconds into the third quarter.
"We had happen to us what we've been doing to people all year," Irish coach Greg Dempsey said. "We got a little bit of our own medicine tonight, and we have to rebound. I have to do a better job of having our team ready to go from the start.
"Whitmer played a great game. They came in ready to go, and you saw the result."
The Irish then launched a 17-play, 71-yard drive that stalled at the Whitmer 13, and the Panthers were in firm control. They responded with their own monster 18-play drive, one that covered 87 yards, consumed 8:28 off the clock, and ended on Holley's second TD, a two-yard run with 8:16 remaining.
Whitmer added a 15-yard TD run from Me'Gail Frisch (11 carries, 96 yards) with 4:30 to go.
Twitter@JungaBlade.419-724-6461 or on sjunga@theblade.com, or Contact Steve Junga at:
Guidelines: Please keep your comments smart and civil. Don't attack other readers personally, and keep your language decent. Comments that violate these standards, or our privacy statement or visitor's agreement, are subject to being removed and commenters are subject to being banned. To post comments, you must be a registered user on toledoblade.com. To find out more, please visit the FAQ.