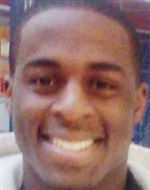 Khane Collins
School: Bowsher
Year: Senior
Sports: Football, track
Notes: Football — All-City league first tem and all-district second team last season when he led Rebels with 1,000 yards rushing on 141 carries; track — All-CL second team as a sprinter; hopes to play football in college
FAVORITES & MORE
School subject: Math
Car: Jeeps
Facebook or Twitter? Twitter
Store: Dick's Sporting Goods
Musical artist: Drake
Song: "The Language" by Drake
TV show: SportsCenter
Movie: Training Day
Actor: Denzel Washington
Actress: Lauren London
Magazine: Sports Illustrated
Radio station: 97.3 FM
Food: Pasta
Beverage: Gatorade
Fast food: Taco Bell
Can't resist snack: White Cheddar Cheez-Its
Place to visit: Daytona, Fla.
Athlete: Barry Sanders
Baseball team: Yankees
NFL team: Cowboys
NBA team: Heat
Person I most admire: Tony Romo
Person I'd like to meet: Tony Romo
It really bothers me when: Someone talks while someone else is talking
My No. 1 goal this year: Help team earn a playoff berth
Top sports moment: Winning 2012 City League football championship
Ohio State or Michigan? Ohio State
Guidelines: Please keep your comments smart and civil. Don't attack other readers personally, and keep your language decent. Comments that violate these standards, or our privacy statement or visitor's agreement, are subject to being removed and commenters are subject to being banned. To post comments, you must be a registered user on toledoblade.com. To find out more, please visit the FAQ.