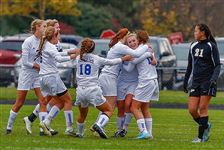 Anthony Wayne's Jesse Mattimoe, center, is congratulated by teammates after scoring the only goal of Saturday's district title match against Perrysburg during the first half.
THE BLADE/KATIE RAUSCH
Enlarge | Buy This Image
As Taylor Hill left the goal crease to make her most significant save, one thing went through her mind.
"I saw the ball coming over and I knew that it couldn't go in," said Hill, a senior goalie for the Anthony Wayne girls soccer team. "I thought, 'it just can't.' I had to keep the ball out and hog the net, if you would say."
Hill stopped a one-on-one shot with less than two minutes left in regulation, and her final save helped the third-seeded Generals defeat No. 2 seed Perrysburg 1-0 for the Division I district championship Saturday at Timberstone Junior High School.
Click here to view related gallery.
"This means so much," Hill said of the win. "We knew they were a good team coming in and they've always been a good team. This is the first time we've actually been able to beat them, and not only hold a shutout, but beat the state champs."
Anthony Wayne (13-3-2) will play Notre Dame Academy at 7 p.m. Tuesday at Lake High School in a Division I Region 2 playoff game.
Jesse Mattimoe scored the game's only goal in the 37th minute. Mattimoe booted a long shot from the right wing that was out of the reach of Sarah Baer (six saves), the Yellow Jackets' 6-foot-1 goalie.
"Anthony Wayne, plainly, just played defensively," Perrysburg co-coach Jorge Diaz said. "We were a little bit impatient, but we didn't play our best game. Kudos to them. They had a good team, tons of great seniors and they were right there with our seniors. They did awesome, and Taylor Hill made some great saves.
"What comes around goes around sometimes, and maybe somebody else gets the credit this year."
Perrysburg (13-3-3) had a pair of chances to tie the game in the second half, part of a stretch in which it seemed to plant itself in Anthony Wayne's end of the field. In the 60th minute, the Yellow Jackets deflected a shot off a corner kick towards the top of the net, but the ball banked off the crossbar above Hill (13 saves) and the Generals were able to clear the ball.
Four minutes later, Hill backed into the goal mouth to play Allex Brown's shot from the right side, batting it away from the cage to maintain her team's one-goal lead.
"They put a lot of pressure on us, and it was high intensity, the whole game," Hill said. "In order for us to keep the shutout, we had to hold back, stay calm, and not panic, and clear the ball out."
Then came Hill's stop in the final two minutes of regulation — a play that, otherwise, could have become the equalizing goal for the Yellow Jackets.
"The bottom line is," Perrysburg co-coach Margaret Bernard said, "they put a goal away, and we couldn't."
Contact Rachel Lenzi at: rlenzi@theblade.com, 419-724-6510, or on Twitter @RLenziBlade.
Guidelines: Please keep your comments smart and civil. Don't attack other readers personally, and keep your language decent. Comments that violate these standards, or our privacy statement or visitor's agreement, are subject to being removed and commenters are subject to being banned. To post comments, you must be a registered user on toledoblade.com. To find out more, please visit the FAQ.