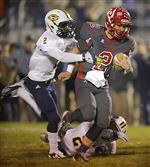 Bedford's Brad Boss tries to shake off Saline's Tyrone Miller during the first quarter. The Mules are now 11-0.
THE BLADE/ANDY MORRISON
Enlarge | Buy This Image
Nevermind the temperature flirting with freezing.
For Jeff Wood, an ice shower had never felt so good.
The sixth-year Bedford coach — drenched with the remains of a near-full water cooler — fought back tears late Friday night and told his team that the Kicking Mules' 36-29 comeback win over visiting Saline was the biggest of his career.
The players roared. Who could argue?
A late fourth-down stand. An even bigger fourth-down touchdown. Then bedlam.
Click here to view related gallery.
Alec Hullibarger's game-winning two-yard touchdown run with 42 seconds left in this Division 1 second-round playoff showdown between Southeastern Conference rivals was only the punctuation mark to a heart-thumping night.
Hullibarger had four touchdowns — two receiving, two running — quarterback Brad Boss ran for 205 yards on 25 carries and threw for a pair of scores, and Bedford (11-0) remained perfect to advance to play the winner of today's game between Detroit Catholic Central and Walled Lake Western.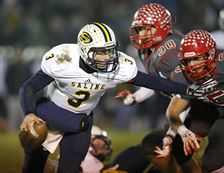 Saline quarterback Trent Theisen finds a wall of Bedford defenders as he tries to turn the corner. The Kicking Mules' defense came up with a key stop in the fourth quarter to help secure the victory.
THE BLADE/ANDY MORRISON
Enlarge | Buy This Image
"We've had some huge wins," Wood said, "but that is the biggest. It feels great. I am going to hug and kiss my wife to death. I am going to hug every kid. They played their hearts out."
Said Boss: "Words can't describe it. The wildest game of my life."
For Bedford, it was the stiffest test of the season. Former Whitmer coach Joe Palka's Hornets (9-2) took down the Mules in the regular season and playoffs last year, had won every game since its Week 5 loss at Bedford by at least three touchdowns, and often appeared in control on Friday.
Bedford trailed 22-8 late in the first half and by a touchdown midway through the fourth quarter. Yet playing for the memory of teammate Colton Durbin, who was killed in a car accident last month, the Mules always had an answer.
Trailing 29-22, Bedford set off on an 11-play drive that would come down to fourth-and-goal at the 5-yard line.
Boss rolled right and turned back to throw just as a Saline lineman prepared to sling him to the turf. Yet he got just enough on a floating pass to Hullibarger, who raced up the left sideline for the tying score with 5:23 remaining.
A frightening scene delayed the game 15 minutes on Saline's ensuing drive as senior defensive back Connor Clements of Bedford was taken via stretcher off the field. (Wood did not have an immediate update on Clements, who was seen moving).
Bedford's Alec Hullibarger celebrates a touchdown in the fourth quarter. He scored four touchdowns on the night.
THE BLADE/ANDY MORRISON
Enlarge | Buy This Image
The overflow crowd chanted Clements' name, and judging by the result, his teammates returned purposefully. On the next play — a fourth-and-1 gamble by Palka at the Saline 36 — Bedford stuffed the Hornets for no gain.
The Mules gained possession in a tie game with 4:05 left and, with their offensive line moving earth, bruised down the field. Six plays later, Hullibarger scored the game-winner.
"It was one of the most fun games I've ever been a part of," Hullibarger said. "This was for Colton."
Wood said the crowd "witnessed one of the greatest wins in Bedford history."
"We lost Colton, we lost Connor — his backup — and we won that freaking game," he said. "Our kids are excited. They deserve this. This whole week. we prepared because knowing [Saline] was going to come after them, and they did. Our kids played great."
Boss led Bedford on a 12-play, 77-yard opening drive capped by Clements' four-yard touchdown run to push the Kicking Mules ahead 8-0 and touch off the wild night. Saline answered two plays later with a tying 52-yard touchdown run by Griffin Wooley — his first of three scores — and later went ahead 22-8 on Dominic DiMelis' 50-yard interception return just before halftime.
Boss found Hullibarger for a 26-yard touchdown to pull within a score with 11 seconds left in the first half, and Hullibarger tied the game at 22 with a 32-yard run in the third quarter.
Hullibarger finished with 107 yards rushing.
Contact David Briggs at: dbriggs@theblade.com, 419-724-6084 or on Twitter @DBriggsBlade.
Guidelines: Please keep your comments smart and civil. Don't attack other readers personally, and keep your language decent. Comments that violate these standards, or our privacy statement or visitor's agreement, are subject to being removed and commenters are subject to being banned. To post comments, you must be a registered user on toledoblade.com. To find out more, please visit the FAQ.