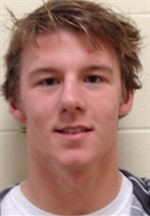 Dimmerling
HANDOUT NOT BLADE PHOTO Enlarge
The most successful season in Perrysburg football history continues Friday, but the Yellow Jackets will be without their main weapon in a Division II second-round game.
Perrysburg (9-2) meets undefeated Avon (11-0), the No. 3 ranked team in the state, at 7:30 p.m. at Huron Memorial Stadium. But the team's all-everything quarterback, Gus Dimmerling, will not be able to play after breaking two ribs last week.
"Gus was our offense so far this year," Perrysburg coach Matt Kregel said. "But honestly, I think we have the most talented backup we've ever had."
Kregel said sophomore Trevor Hafner will take over for Dimmerling, who was injured on the second-to-last play of a 28-21 win against Akron Ellet.
"Trevor throws a better deep ball," Kregel said. "It's time for the next guy to step up."
Hafner has completed 8 of 12 passes for 211 yards and three touchdowns this season.
Avon, the West Shore Conference champion, knocked Perrysburg out of the 2012 playoffs in the first round with a 28-11 win.
Dimmerling rallied his team with a four-yard TD run with 7 minutes, 41 seconds left last Friday as Perrysburg won a playoff game for the first time. He set a school season record with 1,688 passing yards, surpassing Steve Slocum (1,535). Dimmerling has also run for a team-high 1,207 yards and 15 TDs.
Senior running back Mark Delas is the second-leading rusher (550 yards and 12 TDs). Kregel said Kadin Llewellyn (358 rushing yards) must step up along with four receivers: Scott Freeman (396 receiving yards), Matt Kaczinski (391), Nate Patterson (339), and Seth Durham (315).
Durham's 10 interceptions this season is a school record, and he has 15 career picks. Matt Mesker has a team-high 110 tackles. Llewellyn leads with four sacks.
Avon defeated St. Francis de Sales 38-14 in the first round, and the Eagles have outscored opponents 436-148.
Avon quarterback Tommy Glenn has completed 164 of 253 passes for 2,389 yards and 26 TDs. Gerett Choat has 146 carries for 931 yards and 15 TDs.
The Eagles' top reciever is Braeden Friss (64 catches, 945 yards, 13 TDs). The defense is led by DL Shaun Traine and LB Kevin Maloney.
Avon has made the postseason four straight years and five of the last six. The Eagles reached the regional final last season and the state final in 2011.
— Mark Monroe
Guidelines: Please keep your comments smart and civil. Don't attack other readers personally, and keep your language decent. Comments that violate these standards, or our privacy statement or visitor's agreement, are subject to being removed and commenters are subject to being banned. To post comments, you must be a registered user on toledoblade.com. To find out more, please visit the FAQ.