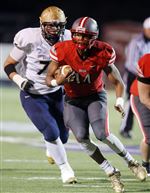 Central Catholic quarterback DeShone Kizer runs the ball against Tiffin Columbian. He has 2,630 yards passing and 403 rushing.
THE BLADE/JEREMY WADSWORTH
Enlarge | Buy This Image
During Central Catholic's playoff run to a Division II state football championship last year, the Fighting Irish played their regional final against Avon at Clyde, which is the hometown of Irish quarterback DeShone Kizer's mother, Mindy.
Friday night at Bowling Green State University's Doyt Perry Stadium — in a second twist of postseason fate — Kizer and the second-ranked Irish (12-0) will play their Division III regional final against the Clyde Fliers (11-1).
Mindy (Swartz) Kizer, the daughter of former Fliers assistant football coach Ralph Swartz and his wife, Georgia, was a 1991 Clyde graduate who competed in volleyball, basketball, and track.
Mindy's older brothers Gary (1988 grad, football and basketball) and Scott (1990, football and wrestling) were also Clyde athletes.
With these family ties and his numerous trips to visit his grandparents in nearby Green Springs, and to attend football games as a youth, Kizer admits those connections will likely provide a distraction Friday night.
He is also confident that won't be the case for long.
"After shaking hands with some of the coaches, and after the first couple of snaps in the game, I'll get right back into my game-day mode," Kizer said. "It's weird. Clyde is a small city and you would never expect to meet them in a football game like this.
"It might be a little bit of a distraction, but my having committed to Notre Dame really brings a distraction to every game. Coaches tend to hype their guys up to play against guys like me and [Irish standout linebacker] Chris Green. It makes them want to come out and play faster and harder and stronger than they usually do."
Greg Dempsey — who carries a 14-year, 130-36 coaching record at Central into this contest — is also pretty certain Kizer's Clyde ties won't hinder his standout quarterback.
"DeShone's been in a lot of big games, and he always wants to do well and give his team the best chance to win," Dempsey said. "He just focuses on moving the chains."
The 6-foot-5, 220-pound Kizer has excelled at moving the chains during his three-year career as the starting quarterback, a span in which the Irish have gone 34-5 overall.
This season he is 129 of 207 passing for 2,630 yards and 29 touchdowns with five interceptions. He has also rushed 47 times for 403 yards and six TDs and punted for a 41.2-yard average.
But what has made Central so dominant, especially during the past eight weeks, is the emergence of Kizer's supporting cast at the offensive skill positions.
Sophomore running back Tre'Von Wade has 181 carries for 1,477 yards and scored 21 TDs.
And the receiving trio of juniors Jermiah Braswell (33 catches, 792 yards, 11 TDs) and Marcus Winters (27 catches, 607 yards, 9 TDs) and senior Dayton Copeland-Lee (22 catches, 537 yards, 5 TDs) has added reliable targets for Kizer, along with third-year starter Derich Weiland in the slot.
On the defensive side, the Irish have the area's best 1-2 punch at linebacker with junior Chris Green (96 tackles) and senior Paul Moses (56 tackles, 14 tackles for loss). They also boast a strong front line anchored by J'Quan Fisher and Marwan Allen-Marsenburg and a talented secondary that includes Weiland, Tejuan James, Stephon Campbell, and Ryan O'Hearn.
Clyde is guided by first-year coach Ryan Carter. The offense is highlighted by quarterback Tim Hoppe, who is 111-of-187 passing for 2,104 yards and 24 TDs with six interceptions, and he has rushed 123 times for 533 yards and six TDs.
Damien Coburn has carried 134 times for 998 yards and scored 19 TDs, and the top receivers have been Derek Gray (41 catches, 843 yards, 10 TDs) and Blake Miller (26 catches, 632 yards, 7 TDs).
"They spread the field, they're going to run the football, and their quarterback can make some plays," Dempsey said. "They're going to use a variety of sets and spread the ball around.
"We really have to be prepared for anything. They also have some good size up front. On defense, they're going to move a lot, change up their looks out of their base, and try to confuse you and keep you off balance. They have some good size and athleticism on their defense."
On defense, Clyde is paced by linebacker Kade Long (142 tackles, 12 TFL). Other leaders are Darrius Morton (93 tackles), Jake Jenne (84 tackles), and Drake Camarata (76 tackles, 3 interceptions).
The Fliers have outscored their 12 opponents 438-142 (36.5-11.8) and average 367 offensive yards per game.
Contact Steve Junga at: sjunga@theblade.com, or 419-724-6461 or on Twitter@JungaBlade.
Guidelines: Please keep your comments smart and civil. Don't attack other readers personally, and keep your language decent. Comments that violate these standards, or our privacy statement or visitor's agreement, are subject to being removed and commenters are subject to being banned. To post comments, you must be a registered user on toledoblade.com. To find out more, please visit the FAQ.