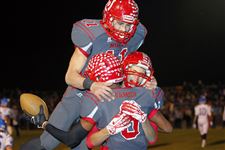 Bedford's Alec Hullibarger, top, Trent Santiago, and Collin Carter (8) celebrate Carter's touchdown against Detroit Catholic Central. The Mules finished 11-1.
THE BLADE/ANDY MORRISON
Enlarge | Buy This Image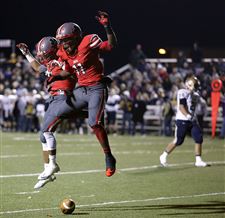 Central Catholic's Jermiah Braswell, right, celebrates a touchdown against Tiffin Columbian with teammate Marcus Winters in a Division III regional semifinal. The Irish lost in the regional final to Clyde.
THE BLADE/JEREMY WADSWORTH
Enlarge | Buy This Image
If anything stood out about the high school football playoffs it was that, despite some superb regular-season finishes by several teams, no area squad advanced to a state semifinal.
Three Rivers Athletic Conference champion Central Catholic and repeat Northwest Ohio Athletic League champion Bryan, as well as Southeastern Conference Red Division champion Bedford, all turned in unbeaten, state-ranked regular-season runs and reached third-round playoff contests before falling in heartbreaking regional finals.
In the Ohio playoffs, second-ranked Central (12-1, 7-0 TRAC) was upset 42-41 by Clyde in a Division III regional final.
And in Division IV, after having beaten third-ranked Northern Buckeye Conference champion Genoa (10-1, 7-0 NBC) 43-36 and fourth-ranked
Calendonia River Valley 49-19, Bryan (12-1, 8-0 NWOAL) clung to a late lead before losing in the final seconds to top-ranked Kenton 46-43.
In Michigan, fourth-ranked Bedford (11-1, 5-0 Southeastern Conference Red) also led until the closing seconds of a 34-33 loss in a Division 1 regional final against eventual state runner-up Detroit Catholic Central. In the Michigan D-8 playoffs, Whiteford (9-3, 5-2) of the Tri-County Conference advanced to a regional final before losing 58-22 to New Lothrop.
Northern Lakes League champion Perrysburg (9-3, 7-0 NLL) won the first playoff game in school history with a D-II first-round 28-21 win over unbeaten Akron Ellet, then led third-ranked Avon late before falling 24-21 in a regional semifinal.
After going just 3-7 in 2012, St. Francis de Sales (8-3, 6-1 TRAC) rebounded impressively this season and reached the Division II playoffs before falling 38-14 to Avon.
Eastwood (8-3, 6-1 NBC) earned a first-round playoff home game in Division V, but the Eagles' fate was a 42-16 loss to defending state champion Coldwater.
Liberty-Benton (9-1, 8-0) won the Blanchard Valley Conference title and earned a No. 2 state ranking in Division V. But the Eagles suffered a 28-14 opening-round loss to Huron.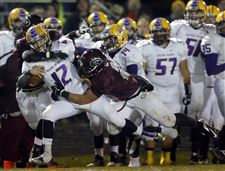 Bryan's Austin Schimmoeller is brought down by Genoa's David Nutter in a thrilling Division IV first-round playoff game won by the Golden Bears.
THE BLADE/JEREMY WADSWORTH
Enlarge | Buy This Image
Toledo Area Athletic Conference champion Northwood (8-3, 7-0 TAAC) shook off an 0-2 start to win eight straight games before falling 34-6 to Tinora (10-2, 7-0) in an opening-round game in Division VI.
Edon (8-3, 6-1 TAAC), McComb (8-3, 6-2 BVC), and Fremont St. Joseph (7-4, 5-2 Midland Athletic League) all dropped first-round playoff games in Division VII.
Bowsher (8-2, 5-0) won its second straight City League football championship, but the Rebels failed to earn enough computer points to secure a playoff berth.
Whitmer (6-5, 5-2 TRAC) in Division I, Napoleon (6-5, 4-3 NLL) in D-III, Wauseon (9-2, 7-1 NWOAL) in D-IV, and Lake (8-3, 5-2 NBC) in D-IV all qualified for the playoffs, only to fall in first-round games.
— Steve Junga
Guidelines: Please keep your comments smart and civil. Don't attack other readers personally, and keep your language decent. Comments that violate these standards, or our privacy statement or visitor's agreement, are subject to being removed and commenters are subject to being banned. To post comments, you must be a registered user on toledoblade.com. To find out more, please visit the FAQ.