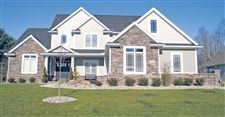 This custom home by Slaske Building Company incorporates the popular Craftsman style.
When Ralph Slaske promises to build you the home of your dreams, he means exactly what he says. Your home will be your plan alone, top to bottom.
"Other builders name their plans because they build the same home over and over," he says. "I don't think I've ever built the same home twice. Your name is on the blueprint.
"Mr. Slaske is the only Master Builder certified by the National Home Builders Association in northwest Ohio, is Green Certified, and is Aging in Place Certi-fied. He is also the only Certified Tyvek Weatherization installer for new construction in the area. He has trav-eled all over the United States to further his education as a home builder.
The man knows his stuff.
A former engineer for Johnson Controls, he wanted out of corporate life. After building his own home, he knew he'd found his niche – and dozens of satisfied homeowners in the area agree.
Building a home is a huge investment, not only monetarily, but of time as well. Perrysburg Kitchens and More, at 221 Louisiana Avenue in Perrysburg, is also owned by Mr. Slaske. It is the personal design center for Slaske Building, and acts as a one-stop design center for homebuilding clients.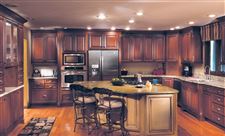 This lovely kitchen is just one example of the fine work by Builder Ralph Slaske and Perrysburg Kitchens and More.
"Everything is turnkey," he says. "Our customers said they didn't want to run around from store to store to find what they needed for their homes.
He and his staff have more than 100 years of com-bined experience in everything from project develop-ment to interior design. Clients can choose everything from kitchen cabinets to home theater technology to custom carpentry – all in one place, with the help of this experienced team.
"Everything is custom-tailored to your needs," Mr. Slaske says. "We don't mind doing this because we have a team to help you. We don't believe in cookie cutter homes.
"Slaske Building Company is the exclusive builder for Hull Prairie Farms and for Riverbend of Maumee, the former site of the Miami Children's Home on River Road. Homes at Hull Prairie Farms will be priced from $250,000. At Riverbend of Maumee, home prices will start at $259,000.
Mr. Slaske is excited about the Riverbend neighborhood.
"This represents one of the last places to build affordable, family-style homes in Maumee," he says. "It's right across from the new Fort Miami School, so that should make it doubly attractive for families with children."
Guidelines: Please keep your comments smart and civil. Don't attack other readers personally, and keep your language decent. Comments that violate these standards, or our privacy statement or visitor's agreement, are subject to being removed and commenters are subject to being banned. To post comments, you must be a registered user on toledoblade.com. To find out more, please visit the FAQ.