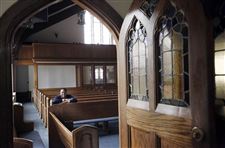 Bishop Chester Trail sits in a pew at Church of Grace located at 2730 Fulton St. Bishop Trail is upset about an abandoned house near his church.
THE BLADE/AMY E. VOIGT
Enlarge | Buy This Image
This is a tale of two Toledo heroes, and healers — Chet Trail and Pam Oatis.
The Rev. Chet Trail, now Bishop Chet Trail, is known to most Toledoans as an outstanding athlete — first at Libbey High School, where he was a basketball, baseball, and tennis star. He was recruited by Ohio State to play basketball. But he chose baseball. In 1962 he signed with the Yankees organization. He had a seven-year pro baseball career (1963-69) as an infielder with minor league teams — 94 home runs.
In later years he has coached girls varsity basketball and track and worked for Blue Cross, and Savage and Associates. But mostly he has worked as a pastor in two Pentecostal churches, Greater St. James Church of God in Christ in Fremont and Grace Temple Church of God in Christ in Toledo. He gave up the Fremont gig a while ago and has been a bishop for about a year.
But when I met him for a chat a few days ago, he was not dressed like a bishop. He was in jeans and a sweat shirt.
Grace Temple, located on Fulton Street, although immaculate, indeed quite simple and beautiful, is no crystal praise palace for officially nice people. It's a people's church that keeps a free clothing store in its basement and feeds people hot meals once a week. As in, "when I was hungry you fed me; when I was naked you clothed me."
Grace Temple has now branched out into the third great work of Christ-like charity: housing.
The church, though neither it nor its minister are wealthy, has purchased two small apartment buildings on the street and rehabilitated the interiors. The idea is to provide inexpensive, affordable housing for the neighborhood, AND to stabilize the neighborhood by trying to control who lives there. They aim for veterans and folks with incomes. But the church does not limit food, clothing, or housing assistance to members of the church.
Bishop Trail is upset about an abandoned house catty-corner from the back of his church. It is forsaken and boarded up. Trouble comes to that house, especially in the summer, and this is retarding his efforts at neighborhood stability and co-operation. AND scaring off some church folks when they come for evening Bible study. He wishes the Lucas County Land Bank would take it down. He wishes the police could do more.
The good news is that David Mann, of the Land Bank (another Toledo hero) says he thinks he has a buyer/​developer, and that if this falls through and the building slips too far, it will come down. And there is good news beyond that. Mr. Mann tells me that the Land Bank is on the verge of getting a large grant from the state and launching a major initiative with the heroic folks at NeighborWorks. Toledo may actually lead the state in the cleanup of blighted homes at the end of this project.
That's a big deal.
Toledo certainly leads the state in good people.
And I put Dr. Pam Oatis at the top of that list.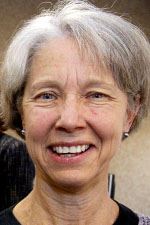 Oatis
A pediatrician at Mercy for more than 40 years, she's also a passionate and compelling human being. She has ridden her bike back and forth to work for most of those years. Even her office, full of art and antique rockers, feels more like the study of an English don than a doctor's headquarters. She told me that she and her husband were married in front of a rock in Yellowstone — by an ex-Catholic priest.
Dr. Oatis got into pediatrics because she knew she'd see results, and relatively quickly, and because she could treat the whole child, indeed the whole family.
She was perhaps one of the first doctors in the area to question the use of behavior-modifying drugs on children. She felt that medicine was not only failing to "do no harm" but was actively doing a lot of harm.
What were the great things she learned about healing children and families? That even two parents are not enough, she said. "We — all of us who are parents — feel we have failed our kids in significant ways." It's not the job of a village, but it is the job of several individual people to raise any child. It's that hard to be a parent.
She also learned, she said, that every parent wants what's best for his or her child and does the best he can with the resources he or she finds available. She told me about a Mom who called child welfare from a pay phone on Christmas eve to say she was not going home. She did not trust herself not to hurt her kids. That was, Pam Oatis says, a very honest and brave mom.
Dr. Oatis told me about a mom who "let me have it" after she corrected the mom for being tough, and rough, with her child. "You have NO IDEA," the mom said. "I hit him now so the cops won't later."
"I cried and then I apologized," Dr. Oatis told me.
What single moms need, she said, is affirmation — for someone to have their backs.
And practical aid. She is excited about the Parent Institute at Lourdes University, and the idea of empowering parents. She is equally jazzed about a program called "hand-in-hand parenting," in which parents are mentored in the most important role of their lives.
Dr. Oatis is much lauded by the medical profession in this community. She is a teacher, a role model, one of our leading medical ethicists. But most people don't know about her or the great work she has done for two generations.
We have a right to be discouraged by our local political leaders. But parallel to that circus, a great Dickensian novel is unfolding in real time in this city — people who go about changing and saving lives day after day, year after year. People like John Edwards at UMADAOP, and the late Jack Ford, and Dan Rogers at Cherry Street Mission, and Baldemar Velasquez — and Bishop Chet Trail and Dr. Pam Oatis. One has fed and prayed with the weary. One had mended the children of moms and dads who, like all of us, did our best and knew it was never enough.
Keith C. Burris is the editorial page editor of The Blade. Contact him at: kburris@theblade.com or 419-724-6266.
Guidelines: Please keep your comments smart and civil. Don't attack other readers personally, and keep your language decent. Comments that violate these standards, or our privacy statement or visitor's agreement, are subject to being removed and commenters are subject to being banned. To post comments, you must be a registered user on toledoblade.com. To find out more, please visit the FAQ.