Some of the excerpts of Michael Wolff's book, Fire and Fury, seem believable, most seem fantastic, even comically fantastic.
But I am not sure what it changes. Trump haters will still hate him, perhaps more if that is possible. Trump fans may love him more. Those with a mixed view of the President — people who, say, approve of some of his policies or his "get 'er done" approach to the presidency but are uncomfortable with his particular presidential style — will also feel the same way only more so.

VIDEO: Fairness and balance
For me, the book, and discussion of the book, is relevant as evidence of our current democratic dysfunction. And that dysfunction has two elements: The first is dividing ourselves into tribes. The second is gathering and disseminating information according to the ideologies of those tribes.
The essence of citizenship is to be able to rise above the ideology or the tribe.
And the core principle of journalism is to adhere to no permanent ideology or alliance.
That is, the country must matter more than my party or my basic political orientation. (It is pretty hard to exist in the world with no orientation.)
And the truth, which usually surprises, has to matter more to a journalist than his prejudices. (He needs some values, some views, to orient himself.) George Orwell was a committed socialist. He was also, probably, the greatest journalist of his time. Truth mattered most.
And I am not sure that any sort of truth — large "t" or small — can be achieved via the "insider" book that purports to tell the "real story" based on one or two sources or unnamed sources.
There is something deeply corrupting in the "real story" concept; something terribly vain and presumptuous.
Isn't true journalism a search for the most complete story we can tell at a particular moment in time, based on as many legitimate and verifiable sources as we can find? That kind of story is always proximate and tentative and contingent, with the promise of more to come. The inside, untold, real story, is, by nature, a caricature, maybe even a fable.
Fables are told to entertain and reaffirm, not to inform or provoke thought.
Fire and Fury is part of a genre — a poor man's version of books by Teddy White or Bob Woodward, both journalists of legend. Years ago, I devoured the "making of the president" books and their lesser versions. And Mr. Woodward's books — on the "inside" of presidencies, wars, Supreme Courts — are masterful.
But I wonder if the whole idea of such books is mistaken. They take you "inside" the fun house, but the view is distorted. They are too close for history and too gossipy for journalism.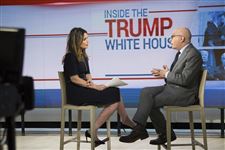 Savannah Guthrie interviews Michael Wolff on the "Today Show" in New York about his book, "Fire and Fury."
NBC Enlarge
Gossip is a not-so-distant relative of journalism, to be sure. All journalists are gossips. But few gossips are journalists. A piece of journalism differs from a piece of gossip in that the information is important in its own right and the receiver of the information can do something useful or edifying with it.
If we are told the President eats three cheeseburgers a day, that's good gossip. It is not information that is meaningful of itself or useful to anyone who possesses it.
If we call books of gossip, even high-level gossip, journalism, we are letting both journalists and citizens off the hook. We don't have to report what the candidate said or the officeholder did because we already know what he is really about.
We know.
And now we are letting ourselves off the hook for the most basic of standards: fairness and balance. Not necessary if we know the guy is bad for the nation.
That's the vanity: We know. We know what's best because we know the secrets.
Yet, in my lifetime as a citizen of this country, much of it as a journalist and the rest as a student of politics and a professor of politics, it seems to me that American journalists have gotten most of our leaders wrong and much about leadership wrong.
The press got Ike, JFK, Joe McCarthy, Gene McCarthy, Jerry Ford, Ronald Reagan, Barry Goldwater, Hubert Humphrey, all wrong. Some of them spectacularly wrong. They told us they'd seen from the inside, but they often mistook the movement and the man.
I watched the current president in an open, televised negotiation with congressional leaders last week, and I find it impossible to reconcile the man I saw, not only with Michael Wolff's book, but with most of what is written in the mainstream press.
That's not a pro-Trump comment, and it's not an anti-press comment. I wish to God Mr. Trump was consistently the sensible, knowledgeable, principled but flexible wheeler and dealer we saw in that meeting, and not the angry Tweeter in Chief.
But I also wish the press covered that guy when he shows up. And I see little of the journalist risking his very life for the freedom to think and write in so many parts of the world, where he must face down tyrants with nothing but his conscience and his laptop, mirrored in the contemptuous know-it-alls of the air and web, who tell us continually: We know.
I don't think Michael Wolff really knows much at all. But I think he is the inevitable heir of Theodore White, minus the footwork, intellect, and sentence structure. Instead of covering politics or politicians, one can purport to go "inside" politics or inside the head and heart of the politician. What hubris. What folly.
Keith C. Burris is editorial page editor of The Blade. Contact him at kburris@theblade.com or 419-724-6266.
Guidelines: Please keep your comments smart and civil. Don't attack other readers personally, and keep your language decent. Comments that violate these standards, or our privacy statement or visitor's agreement, are subject to being removed and commenters are subject to being banned. To post comments, you must be a registered user on toledoblade.com. To find out more, please visit the FAQ.