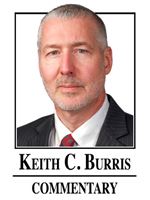 Keith Burris.
THE BLADE
Enlarge | Buy This Image
President Trump deserves enormous credit for convening a White House meeting on the Florida shootings with the families of victims, with survivors, and with victims' families and the survivors of previous shooting catastrophes like Columbine and Newtown, on Wednesday of last week.
The nation watched an extraordinary display of raw grief and righteous anger, and a commander-in-chief mostly listening.
Read last week's column by Keith Burris
There was unanimity on one point: The country cannot continue to numbly accept mass shootings — in schools, churches, in entertainment venues — as if these are natural, or inevitable, or inexplicable disasters. We cannot remain passive.
But there was little consensus on policy — precisely what to do in terms of congressional or executive action.
The incredibly eloquent father of Meadow Pollack, a young woman who lost her life at Marjory Stoneman Douglas High School, may have shown us a way forward, however. Standing with his surviving children at the White House summit, Andrew Pollack said we should leave the gun debate aside for the moment and secure the schools. He said that after 9/​11, we secured our airports and planes. In his words: We fixed it. And after Columbine and Newtown, we should have ended school shootings and secured the schools.
He's right.
Our "fix" of air travel and airports may be imperfect, but the airways and airports are basically secure.
For whatever reason this most recent gun tragedy seems to have galvanized the nation as previous ones did not. Three strains of thought are emerging, all encouraging.
● First, we are not helpless, either as individuals or as a society. And we have to take the first step, to begin a course of action. Some will say that we have to be sure of measurable results before we act. This is a debatable proposition in any case, but it is dead wrong in this case. When it comes to mass shootings, doing something, now, is the key to societal self-respect and respect for human life.
No society that wishes to endure can tolerate mass shootings, especially of children in their schools, on a regular basis.
● Second, we need not be in ideological, partisan, or unimaginative boxes on gun violence. New options and approaches — like gun violence restraining orders, smart guns, improved mental health screening, and background checks, along with raising the age at which a young person can buy a gun — are now all on the table. Mr. Trump, after much talk, and failure, by Congress, has begun to move on bump stocks — devices that make semi-automatic weapons de facto automatics.
There is a lot we can do, and do soon.
● Third, we can and should focus first on securing schools — in a number of ways. We can better train kids and teachers for evacuation and resistance. We can create safe rooms that can be sealed and are bullet proof (rich people and entertainers have them). We can train guards and teachers, who volunteer, in firearm use, and armed self-defense.
We may actually be at a turning point for the country on mass shootings. And Mr. Trump is uniquely positioned to lead the discussion, as he did this week. One day after the emotional listening session, the president tweeted: "I will be strongly pushing comprehensive background checks, with an emphasis on mental health. Raise age to 21, and end the sale of bump stocks!"
He said he would bring the NRA, whose members he called "great Americans," along on raising the age for sales of rifles, including the AR-15 which was used in the Florida attack.
The president is a pragmatist and a doer. And like most of us, only closer up, he heard the cries of the anguished and the wounded last week. Who better to end run the NRA? This is a potentially historic moment for him — like Nixon's opening to China. He can help us to achieve forward motion on gun violence and school safety.
Keith C. Burris is editorial page editor of The Blade. Contact him at kburris@theblade.com or 419-724-6266.
Guidelines: Please keep your comments smart and civil. Don't attack other readers personally, and keep your language decent. Comments that violate these standards, or our privacy statement or visitor's agreement, are subject to being removed and commenters are subject to being banned. To post comments, you must be a registered user on toledoblade.com. To find out more, please visit the FAQ.