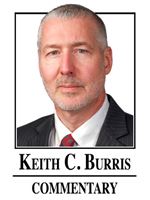 Keith Burris.
THE BLADE
Enlarge | Buy This Image
The case of Alfie Evans, the 2 year old boy whom the medical machinery of Great Britain, backed by the courts, withdrew from life support ought to chill every American and every sentient human being.
And not for some of the bloated reasons that some commentators have insisted upon.
But because the enforced death of this boy was just wrong — appallingly wrong. It violated reason, decency, ancient norms and elemental compassion.
Alfie had brain damage the doctors never could quite figure out. He was treated in Alder Hey Children's Hospital in Liverpool for many weeks. At a certain point, the doctors there gave up and said it was time to let the boy go — not unreasonable. But his parents disagreed and enlisted the help of Pope Francis who grasped the essential point — it was the parents' call.
The Pope enlisted the help of Bambino Gesu Pediatric Hospital in Rome. The Italian government extended citizenship to the boy. Free medical transport was arranged. The Roman doctors had some new ideas. So did some doctors in Munich.
That should have been the next chapter.
But no, the English doctors and courts would write the final chapter. They insisted that their word was the last word. Alfie would stay in England and life support would be discontinued — not just his ventilator, but feeding.
Police were dispatched to keep his parents from interfering. That was most unreasonable.
Alfie lived five days — which the English experts said would not happen — and finally died.
Stunning. Horrific.
And why did it have to happen?
What did the authorities have to lose but their power and their certitude?
Alfie's is a classic case of the triumph of arrogance and expertise over humility and common sense. It does not prove that the state cannot administer health care or that the cult of death, or euthanasia, is on the march, or most of the rest of the parade of imaginary horribles that have been set loose. But it does prove that people who are given great power and think they know best can do appalling things.
The forced death of this child is appalling and horrific.
Insisting that the agents of the state have the right to make the call about when a child should live or die, over the wishes of his parents is a total violation of all we know to be natural and sane. It is utterly ahistorical. Only a clever person, or one who believes in the wisdom of bureaucracies, would find the actions of the authorities in this case anything but revolting.
And insisting that a child must die when there are other doctors who think they can help him and another government, aided by the pope, who will pay for his treatment, is both idiotic and barbaric.
Ask yourself two questions — the first is obvious:
What if Alfie were your child, and you, for whatever combination of reasons, have not yet given up hope? You believe his life is not over and that everything has not yet been done. And the police prevent you from taking your child to another hospital, from bringing the child home, even from feeding the child.
Remember that Alfie lived for five days after the experts said he would die. With food he might still be alive.
Imagine the rage and confusion you would feel.
That the hospital officials refused to second guess themselves, even when Alfie lived on, and that the judge said the boy's parents just didn't really understand the situation, is beyond unconscionable.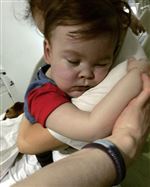 In this April 23, 2018 handout photo provided by Alfies Army Official, brain-damaged toddler Alfie Evans cuddles his mother Kate James at Alder Hey Hospital, Liverpool, England.
ASSOCIATED PRESS Enlarge
It is almost unfathomable.
How would you feel if you made the decision to end life support for your child, spouse, or parent and medical and legal officials, with the power to overrule you, made the opposite call — they overruled your agonized decision to end the fight.
That would be equally appalling — almost.
There is nothing more appalling than forcing the death of a brain-damaged child whose parents still want to fight for his life.
It seems that Alfie, on some level, wanted to fight too — because he did live after the ventilator was removed.
But the doctors and courts of England knew better than the doctors in Italy, better than the pope, better than Alfie's parents. Their ignorant certitude is the only thing that surpasses their arrogance.
Truly competent scientists and physicians know that science knows only some of what is scientifically possible.
The lessons here are limited but profound. They are the oldest ones in the book of old: Beware those who know best. Beware an unlimited state — one that claims the right to decide who should live and who should die, and when. Especially beware the combination.
Keith C. Burris is editor and vice president of The Blade, and editorial director for Block Newspapers. Contact him at: kburris@theblade.com or 419-724-6266.
Guidelines: Please keep your comments smart and civil. Don't attack other readers personally, and keep your language decent. Comments that violate these standards, or our privacy statement or visitor's agreement, are subject to being removed and commenters are subject to being banned. To post comments, you must be a registered user on toledoblade.com. To find out more, please visit the FAQ.