My spouse is an avid deer-lover and hunter. When November rolls around, he has another woman in his life and she has big brown eyes and a white tail.
We love watching deer - at a distance. Sometimes, though, the animals' quest for food raises havoc with landscapes. Some deer in urban areas have been known to pull laundry from clotheslines and eat food from picnic tables.
Methods for managing deer damage vary with deer traffic and gardeners' tolerance.
In her book Deerproofing Your Yard & Garden (Storey Publishing, $14.95) Rhonda Massingham Hart says deer eat on the run and nibble when they can. They usually don't gorge in one area unless they have found somewhere to hide.
If deer traffic is light and an occasional nibble is acceptable, you may need only a few deer-resistent plants in the landscape. If deer traffic is moderate, a more aggressive anti-deer plan may be in order, landscaping exclusively with plants that the animals avoid. If your property has become a smorgasbord for deer, stronger repellents may be needed.
University tests show that contact repellents - substances sprayed on plants' foliage - work best, but wear off quickly. Hart has these suggestions for deterring deer: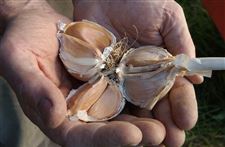 Garlic cloves at a garden's perimeter may deter deer.
CHRIS RAMIREZ / NYT Enlarge
●Wrap a bar of scented soap in cheesecloth or fabric and hang it three to six inches off the ground within three feet of the plants to be protected.
●Blend one egg per cup of water, let the mixture ferment for a few days, then pour or sprinkle it on plants.
●Place garlic cloves, fabric-softener sheets, or chicken feathers around the garden's perimeter.
●Top-dress plants with blood meal and dried blood.
●Choose plants with tags marked "deer repellent." These may include artemisia, lavender, Russian sage, tansy, and yarrow.
Hart recommends "deer-o-scaping" - using fuzzy, stinky, and bad-tasting plants instead of more deer-friendly varieties - to keep the animals from ruining a landscape. For example, she says, if you love spring tulips, plant daffodils, allium, and iris instead. If you need some shade, plant a fig, birch, horse chestnut, or mature common lilac. Plant a new hedgerow with boxwood and rugosa roses instead of hemlock and yews.
If deer are entering the property in one consistent spot, Hart suggests planting undesirable plants there, rather than throughout the yard. If the animals don't have a consistent route, she suggests fouling the fringes: Line the garden with plants that repel deer.
You might also try confusing them. For instance, plant ornamental garlic or chive in and around daylilies. The strong smell may throw them off.
Camouflage smaller plants with unappetizing big ones. Protect early crocus and tulips by surrounding them with lily of the valley, squill, or primrose. Plant aromatic mint and astilbe, foxglove, delphinium, or ornamental grass around vulnerable young trees.
Now, my husband will have to watch "the other woman" in his life with binoculars!
Guidelines: Please keep your comments smart and civil. Don't attack other readers personally, and keep your language decent. Comments that violate these standards, or our privacy statement or visitor's agreement, are subject to being removed and commenters are subject to being banned. To post comments, you must be a registered user on toledoblade.com. To find out more, please visit the FAQ.