Kelly Heidbreder
Have you ever wanted to create a formal landscape in your back yard? Beautifully manicured hedges with trellises full of roses, arbors covered with climbing hydrangea, sculpture and bubbling fountains.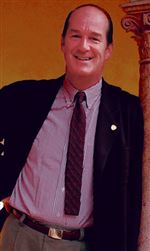 Eric Haskell
How would you like to get some landscape ideas from a designer that has been knighted by the French government not just once, but twice?
Eric Haskel is a noted Francophile and has studied the history of French aristocrats and royals who used their landscapes as status symbols.
He will be in Toledo soon to show you how you can transform your garden into a space fit for a king.
"For French nobility, having an exceptional garden might have been the equivalent of purchasing a private jet — it often elicited envy," said Mr. Haskell, a professor of French studies and interdisciplinary inquiry at Scripps College and director of its Clark Humanities Museum. "One aristocrat was even jailed for the self-aggrandizing aesthetics of his estate."
Mr. Haskell digs into the landscape architecture of André Le Nôtre, who designed the amazing landscape at the Palace of Versailles and the Tuileries for King Louis XIV. Le Nôtre changed the face of French landscape for the rest of history.
His lecture is part of the Masters Series at the Museum's Peristyle. The series is sponsored in part by the TMA Ambassadors, a group of active Museum supporters and fund-raisers. Mr. Haskell's lecture is also sponsored in part by the Country Garden Club of Perrysburg, Ohio, a member of the Garden Club of America.
Grab your notepad and get some ideas first hand from Mr. Haskell at 6 p.m. March 13 at the Toledo Museum of Art Peristyle, 2445 Monroe St. For more information, go to toledomuseum.org.
Contact Kelly Heidbreder at getgrowing@gmail.com
Guidelines: Please keep your comments smart and civil. Don't attack other readers personally, and keep your language decent. Comments that violate these standards, or our privacy statement or visitor's agreement, are subject to being removed and commenters are subject to being banned. To post comments, you must be a registered user on toledoblade.com. To find out more, please visit the FAQ.