As a lifelong Dallas Cowboys fan, Sunday's Super Bowl LII matchup between the New England Patriots (hate them) and the Philadelphia Eagles (hate them far, far more) is unwatchable. Or, at least, unbearable to watch.
As someone once explained to me about why she was tuning into a game between hated rivals, "I'm rooting for injuries." That's a little too harsh for me — even if it is the Eagles.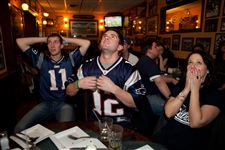 New England Patriots fans watch Super Bowl XLVI on February 5, 2012 in Boston, Massachusetts. The New York Giants defeated the Patriots 21-17.
Getty Images Enlarge
And since I won't be watching the game in the hopes of seeing players limp to the sidelines, my plans for Sunday night on the couch are limited to three options: hate watching the big game, which starts at 6:30 p.m. and can be seen locally on WNWO-TV, Channel 24; mute the volume during the actual game but turn it up for the commercials; find something else to watch during those three to four hours.
The first two options are essentially choosing whether to drop a 10-pound weight on my foot (watching the game) or to drop an 8-pound weight on my foot (watching only the commercials). One choice is slightly less painful than the other, but neither is appealing (or recommended).
That makes my third option — the only real alternative to watching the Super Bowl by literally not watching it — the winner by default, much like my prediction for a Patriots lowercase victory over the Eagles, 38 to 10. Sure, New England wins, but there are no real winners here.
Yes, it's the Super Bowl, and I'm supposed to watch it, but I can think of many things I'd rather watch instead. I suspect many of you feel likewise.
Here are a few alternatives, each with a Super Bowl bent.
For those who hate the New England Patriots, relive Brady and coack Bill Belichick's glorious big game defeats at the hands of Eli Manning and the New York Giants. Not once, but twice: 17-14, in Super Bowl XLII and 21–17, in Super Bowl XLVI.
For those who hate the Philadelphia Eagles, relive the team's defeat — and this gets tricky — at the hands of Brady and Belichick's New England Patriots, 24-21, in Super Bowl XXXIX.
And if your loathing of these NFL franchises knows no earthly limits, take the YouTube time machine back even further to these full-game Super Bowl thrashings of the Patriots and Eagles from yesteryear:
The Green Bay Packers humbling the Patriots, 35-21, in 1997's Super Bowl XXXI.
The Chicago Bears humiliating the Patriots, 46-10, in 1986's Super Bowl XX.
The Oakland Raiders crushing the Eagles, 27-10, in 1981's Super Bowl XV.
Of course, maybe you don't like football but are concerned if you don't at least casually watch the Super Bowl you'll be left out of those important water cooler conversations with friends and coworkers the next day.
Sure, you can watch many of Sunday's big commercials ahead of time — on your own terms — so that you're in the know.
Even better, though, is to throw some serious Monday morning shade at Sunday's game by going old school/hipster with references to classic Super Bowl commercials.
"Yeah, that commercial was OK, but it can't compare to [insert classic commercial here]."

As for chatting about this year's halftime entertainment, Justin Timberlake, remind everyone of this legendarily awful Up With People performance from 1982.
It's perhaps the one time the Super Bowl featured something more nauseating on the football field than the Patriots and Eagles.
Contact Kirk Baird at kbaird@theblade.com or 419-724-6734.
Guidelines: Please keep your comments smart and civil. Don't attack other readers personally, and keep your language decent. Comments that violate these standards, or our privacy statement or visitor's agreement, are subject to being removed and commenters are subject to being banned. To post comments, you must be a registered user on toledoblade.com. To find out more, please visit the FAQ.