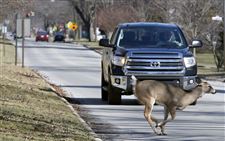 A deer sprints in front of a truck on Broadway St. in Maumee near Sidecut Metropark.
THE BLADE
Enlarge | Buy This Image
Please stop showing us cute photos of deer in lush pastures.
I agree with the experts that the herds need to be culled to limit damage to their environment and prevent overpopulation that results in sickness and starvation.
Instead, show pictures of dead deer from accidents with cars, and get interviews with the drivers and passengers who were terrified or hurt.
You're making your readers feel empathy for the deer.
What readers should see is the carnage, rather than the cuteness.
BOB KELLER
Metamora, Ohio
Click here to submit a letter to the editor
Americans need tax reform
Contrary to media belief, the GOP tax bill benefits all.
The middle class will save on average $2,400 a year. That money can be used for groceries, a family vacation, or college savings.
The corporate tax rate is not competitive at 35 percent, so it must be lowered to 15 percent or 20 percent. Small-business owners win big with this plan. They would be able to deduct the cost of purchasing new equipment and their "pass-through" tax rate would be lowered down to 25 percent.
The standard deduction is doubled under the plan, which would put more money in American workers' pockets. Under this plan, wages will go up, and the economy will continue to grow. The death tax is extremely unfair and doesn't allow people to pass their life's long work onto their heirs.
The current tax code is broken beyond belief. Constituents in Ohio's 5th Congressional District, along with all Americans, need tax relief that boosts wages and puts more money in their pockets.
MATT GARGAS
Ottawa Hills
Guidelines: Please keep your comments smart and civil. Don't attack other readers personally, and keep your language decent. Comments that violate these standards, or our privacy statement or visitor's agreement, are subject to being removed and commenters are subject to being banned. To post comments, you must be a registered user on toledoblade.com. To find out more, please visit the FAQ.